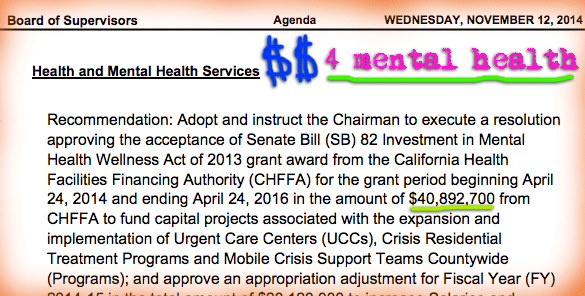 LA DISTRICT ATTORNEY JACKIE LACEY'S MENTAL HEALTH DIVERSION PUSH LEADS SUPERVISORS TO ALLOCATE $41M FOR TREATMENT, OTHER SERVICES
On Wednesday, LA County District Attorney Jackie Lacey presented a report to the Board of Supervisors detailing how the county is failing the mentally ill by funneling them into the criminal justice system.
Thanks, in part, to Lacey's urging, the Supervisors voted Wednesday to devote $41 million in state funding to opening up more 24-hour psychiatric emergency rooms, expanding the county's mobile crisis response teams by 14 units, and increasing residential treatment programs' capacity by approximately 560 beds.
My News LA posted this story from the City News Service. Here's a clip:
The money will be used in part to expand mobile crisis support teams that work in tandem with police officers and sheriff's deputies to identify mentally ill offenders.

A consultant hired by Lacey concluded that not enough law enforcement officers have been trained on how to deal with people undergoing a mental health crisis, and recommended more resources.

Health officials also plan to open three new 24-hour urgent care centers and expand residential treatment programs for the mentally ill by about 560 beds.

Civil rights activists — who protested outside the Kenneth Hahn Hall of Administration prior to speaking before the board — have been pushing the county to fund community-based programs in lieu of increasing the number of jail cells.

Lacey acknowledged that the county will need to do both, noting the state of deterioration of the Men's Central Jail.

"It's unfit even if you're not mentally ill," she said.

Effective community-based crisis treatment can cut costs associated with inpatient or emergency room care and jail time, officials said.

Supervisor Zev Yaroslavsky highlighted the expense involved.

"The cost of checking somebody in (to the jail) is probably greater than the cost of checking into a Four Seasons hotel," Yaroslavsky said.
An LA Times editorial says having DA Lacey spearheading the mental health diversion endeavor has made all the difference. Here are some clips:
In the ideal world, police responding to a disturbing-the-peace or petty crime call arrive at the scene with the training to discern whether the subject's behavior is due at least in part to a mental health problem. They defuse the situation and turn the subject over to the just-arrived psychiatric evaluation team, or else they take the subject to a crisis center where the intake process is efficient, allowing the officers to go back on patrol while the subject is stabilized, diagnosed and monitored by mental health professionals. Or, if the alleged crime is dangerous and the alleged criminal poses a risk to public safety, he or she is taken to jail.

The family is quickly contacted, and if jail is not the right track, trained experts identify available funding and choose the most appropriate clinic bed from an ample supply across the county. Services continue after the subject is stabilized. County workers and contractors find housing, if it is needed, connect the person with medical care and help him or her find work.

[SNIP]

In the real world, jail remains the easiest and sometimes the only option for police arresting mentally ill people…

But the gap between the real and the ideal worlds is slowly shrinking…

Lacey's efforts have given renewed vigor to mental health and law enforcement professionals who got into their lines of work to help people but for too long have been beaten down by the sheer scope of Los Angeles County's mental health needs.
Read the rest.
---
PRISON BANKING COMPANY DROPS FEES FOR MONEY ORDERS TO INMATES
Private financial institution, JPay, has stopped charging families fees to send money orders to inmates in Indiana, Ohio and Oklahoma, benefiting around 100,000 families with incarcerated loved ones. After the change, Kansas is the last state in which families are charged a money order fee. (There are, of course, still tons of fees charged by JPay and other companies, but this is a step in the right direction.)
The Center for Public Integrity's Daniel Wagner has the story. (For more backstory, read some of Daniel Wagner's earlier reporting on this issue.) Here's a clip:
The move comes after a Center for Public Integrity report showed that the families of hundreds of thousands of U.S. inmates had no way to send money to their incarcerated loved ones without incurring high fees. Several of the prison systems that had no free option for money transfers contracted with JPay for their inmates' financial services.

JPay is one of the largest prison bankers, companies that provide financial services to inmates and their families, sometimes charging high fees and sharing their profits with the agencies that contract with them. The company handled nearly 7 million transactions last year and expects to transfer more than $1 billion this year.

JPay and other prison bankers have become central players in a multi-billion dollar economy that shifts the costs of incarceration onto families of prison inmates, according to the Center's report. Families must send money to help pay for necessities like toilet paper and winter clothes that used to be provided by the government. JPay says it handles money transfers for 1.7 million offenders, or nearly 70 percent of the inmates in U.S. prisons.

JPay did not respond to several emails and phone calls requesting comment about the decision to eliminate some fees. The company's founder and CEO Ryan Shapiro earlier said The Center's questions about money order deposit fees forced him to consider the impact of policies that affect the company's poorest customers. He said he would seek to convince states to provide families with a free deposit option.

The change was confirmed by John Witherow, director of Nevada CURE, an inmates'-rights group. Witherow said he received an email announcing the change from JPay's public relations manager sometime in the past two weeks. A spokesman for the Indiana Department of Corrections also confirmed the change. Spokesmen for the Ohio and Oklahoma departments did not respond to requests for comment.
---
DEPUTY CHIEF ROBERT LUNA TO BECOME LONG BEACH'S FIRST LATINO POLICE CHIEF
On Tuesday, Long Beach officials appointed Deputy Chief Robert Luna the city's new police chief. Luna, who will replace outgoing chief, Los Angeles Sheriff-elect Jim McDonnell, is the first Latino to serve as an LBPD chief.
KPCC's Erika Aguilar has the story. Here's a clip:
Luna, 48, has been with the police department for 29 years. He commanded the patrol bureau and was second-in-command to McDonnell. He will be the city's 26th police chief and the first Latino to serve in that role.

Mayor Robert Garcia and City Manager Pat West announced the selection of Luna on Tuesday at police headquarters.

"I truly have a passion for this profession, this city and I absolutely love this police department," Luna said after the announcement.

Luna said he plans to meet with the community to learn where the police department needs to improve. Last year, the department had a spike in officer-involved shootings compared to 2012. The deaths of several unarmed civilians have cost the city millions in legal settlements.
---
THE MAJORITY OF STATES SUCCESSFULLY CUT INCARCERATION RATES AND CRIME RATES
A Pew Charitable Trusts infographic released this week takes a look at the FBI's newly released crime data against the Bureau of Justice Statistics' incarceration data, and shows that in the 33 states where imprisonment numbers decreased, the crime rate was lowered an average of 13%. In the 17 states with increases in incarceration, crime rates still fell an average of 11%.