A brand new report released by UCLA's Million Dollar Hoods Project contains disturbing data about the high numbers of encounters between Los Angeles County school kids and LA's school police.
While the Los Angeles Unified School District has cut back substantially on school suspensions and school expulsions in recent years, the new report found that police contacts, most specifically arrests of students, are unsettlingly high.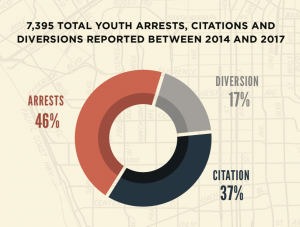 The Los Angeles School Police Department (LASPD), which serves the sprawling LA Unified School District, has over 410 sworn police officers, and 101 non-sworn school safety officers (SSO), making it the largest independent school police force in the nation, and the 14th largest law enforcement agency in California.
According to the new report by the UCLA research team, between 2014 and 2017, the LASPD made 3,389 arrests of students, issued 2,724 citations, and participated in 1,282 diversions.
And, despite the fact that black students represent less than nine percent of the district's student population, black kids made up 24 percent of the total arrests, citations, and diversions, the Million Dollar Hoods team found.
Worse, boys of color made up 76 percent of all LASPD involvement.
Equally disturbing was the report's discovery that middle-school and elementary school kids accounted for one in four of the total LASPD arrests.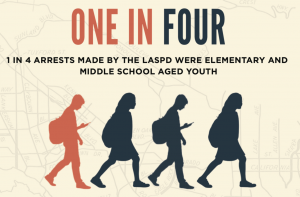 "We hope this report restarts the policy conversation about the appropriateness of having such a large and robust police presence on school campuses," said Isaac Bryan, who is one of the leads on the Million Dollar Hoods Project, and the public policy advisor of the Ralph J. Bunche Center for African American Studies at UCLA (where the report's team is housed).
"We've been having a lot of conversation about youth diversion, and we have SB 439," Bryan said, referring to the bill recently signed by Governor Jerry Brown, which prevents the prosecution of kids under twelve.
"Now we need to talk about the harm that can be caused when school kids come in contact with law enforcement."
---
The bad old days
To understand the context in which this report arrives, it helps to rewind time to the the late 1980s, and early 1990's when, across the nation, zero tolerance became the newest and most fashionable school-discipline policy, fueled in part by the trauma of high profile school shootings, like the 1999 tragedy at Columbine High School in Littleton, Colorado, plus other influences such as the rise of the war on drugs, and the broken windows theory of policing, which advanced the idea that cracking down on lesser crimes prevents bigger ones.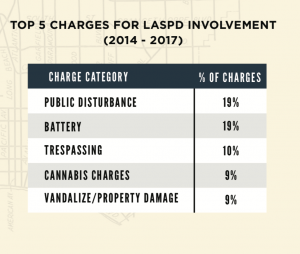 Once zero tolerance took hold, suddenly kids were being expelled for ordinary adolescent lapses in judgment that, in past decades, would have, at most, gotten them a trip to the principle's office or a few hours of detention, a la The Breakfast Club. But with the new discipline policies, schools began using the juvenile justice system to handle infractions that would not previously have been considered dangerous or threatening.
Yet, despite the popularity of the strategy in many school districts, as the years went by, study after study showed that, in fact, zero tolerance did not improve school safety. Instead, research began to find that it did a great deal of harm to the emotional climate of the school in general, and even more damage to the students who were being over-disciplined.
For instance, in a 2008 report on zero tolerance by the American Psychological Association, a special task force of researchers found that there was "no evidence that the tactic increases discipline." the authors stated. Furthermore, while school violence remained about the same, the APA authors reported, between the mid-1980s and 2008, what changed instead, were the outcomes—academic and otherwise– for the kids who attended schools that had the highest suspension and expulsion numbers. They got worse.
Specifically, wrote the APA authors, there was a "negative relationship between the use of school suspension and expulsion and school-wide academic achievement, even when controlling for demographics such as socioeconomic status."
The new patterns of discipline also had "negative mental health outcomes" for the youth who were being punished, creating a sense of "alienation, anxiety, rejection, and breaking of healthy adult bonds."
In addition, zero-tolerance exacerbated school profiling, said the APA researchers, causing an over-identification of "students from minority populations as potentially dangerous," despite the fact, the authors wrote, "that no minority students were involved in the most prominent late-1990s school shootings."
---
Finally reform
In the last decade and a half, California in general and Los Angeles County in particular, discovered that zero-tolerance produced a long list of negative collateral effects such as reducing instructional time, bringing students unnecessarily into contact with the justice system, and increased dropout rates as repeated suspensions caused whole groups of school children to fall further and further behind in their schoolwork until they simply left school altogether.
As the APA had noticed earlier, it turned out that it wasn't only the kids who were suspended or expelled who were hurt by the practice. In 2014, a landmark study by researchers at Indiana University and the University of Kentucky tracked 17,000 students over three years, and found that high rates of school suspensions not only harmed the academic performance of those kids who were being disciplined, the policy also harmed math and reading scores for non-suspended students.
Unsurprisingly, the policy did disproportionate harm to black students, foster youth, and students with disabilities.
Part of the problem was, in the newly-embraced rush to get misbehaving students out of the classroom, there was little, if any, thought given to getting those kids back on track, educationally.
And even if school officials didn't call the cops, kids who were expelled or repeatedly suspended, were statistically far more likely to come in contact with the justice system than non-suspended students were.
The term "school to prison pipeline" became shorthand for the devastating causal pattern researchers were witnessing.
Finally, the research, plus energetic youth advocacy, and some new state laws, caused California school districts—LAUSD included—to drastically rethink their discipline policies. Suspensions fell by 46 percent in six years. In the 2011-12 school year, there were 709,702 suspensions. By 2016-17, LAUSD suspensions dropped to 381,845.
The state's falling suspension rates generally mirrored national trends, which also plunged alongside California's.
Even so, as WitnessLA recently noted, the "discipline gap" for black children remained as high as ever.
Which brings us back to the new UCLA report.
---
School police contacts
"I think what's gotten lost in the conversation about school suspension and expulsion and its disproportionate application," said Isaac Bryan, "is that there needs to be a parallel conversation about on-campus contacts with school police, and the fact that some students—particularly boys and young men of color—are much more likely to have a contact with a police officer on their campus, than their peers are."
Terry Allen, another team member, said that this racially disproportionately contact with L.A. school police, measurably "disrupts opportunities to learn for black students."
Allen, who is doctoral student at UCLA's Graduate School of Education & Information Studies, an adjunct staff member at RAND Corporation and a data fellow for Denver Public Schools, emphasized that the contact with law enforcement the report had measured, can "impair mental health and well-being, induce trauma, erode trust in the criminal justice system, and negatively impact educational achievement, advancement, and subsequent attainment."
Or to put it another way, according to Allen, "Positive conditions for learning and safety do not exist when black students are disproportionately subject to contact with law enforcement."
When asked about the main takeaways from the report, Andrew Guerrero, an undergraduate member of the team, said he was struck by "how young the kids are who are coming into police contact."
As it happens, Guerro had been through his own contact with school police during his high school years, gives the topic extra meaning for him.
"Our team includes multidisciplinary scholars…and formerly incarcerated scholars," said Bryan, and also team member-scholars like Guerro, who because of their own life experiences "have a passion for unmasking injustice in our legal system and finding solutions to remedy it."
---
The power of Big Data
In addition to arrests and citations by school police, the report also gathered information on the number of kids whose police contacts eventually resulted in diversion since, in addition to the reforms in school discipline, Los Angeles is making important strides when it comes to youth diversion, as WitnessLA has reported here and here.
But, said, Kelly Lytle Hernandez, who is the project leader for the Million Dollar Hoods research team, "one of the most important data points" that the team discovered showed that "yes, diversion is on the rise, but we're not seeing an accompanying reduction in the contacts with police on campus."
Increasing diversion without decreasing arrest, Hernandez said, "won't get us to the point that I think most advocates are hoping to see, which is to approach problems in the school and with our youth in a way that doesn't involve criminalization. We have to ask ourselves, 'Is this the way we want to handle our school children when they're in distress?'
"We have got to expand our toolkit when it comes to supporting our students," added Hernandez, who is the author of such award-winning books as Migra! A History of the U.S. Border Patrol, and City of Inmates: Conquest, Rebellion, and the Rise of Human Caging in Los Angeles.
"And we have to have a conversation about what is going on with our policing of black youth in LAUSD."
Interestingly, until the Million Dollar Hoods team managed to pry out the arrest numbers and other school police contact stats, the information was simply not available. The LASPD wasn't producing the data, said Hernandez. And no one else was either.
"So what we're doing is taking Big Data, and data analysis, and putting it in the hands of communities who have traditionally not had access to the data that shows what we're doing with our public resources," she said.
According to Hernandez, this means that, though the work of Million Dollar Hoods Project research, LA communities are having access to data that shows "what we're doing with our public resources," data that was previously not available to those it most affected.
In order to decide where they are going to next focus their research lens, Hernandez said that she and the team meet repeatedly with such community-based groups as the Youth Justice Coalition, and others, to see what important facts and figures the groups have been unable to acquire.
"Algorithms and Big Data are becoming more and more important when it comes to making policy in every realm," Hernandez told WLA.
"So the communities impacted by that data and [those] algorithms "need to be building capacity through access to this kind of data analysis."
But, obviously, to use data as a tool, one needs access to it. And that's where Million Dollar Hoods research comes in.
"Right," said Hernandez. "And so that's what we're doing here at UCLA as the local public institution of higher education and research!"