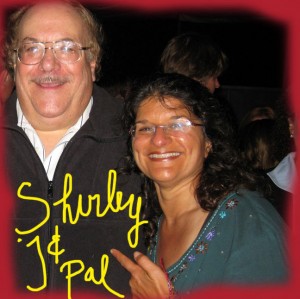 After long days of working, sans air-conditioner, in last week's three-digit heat (long story, don't ask, all fixed now), a purely social evening filled with writerly types seemed like a fabulously bracing idea.
Et voila! The LA Observed Annual Summer Party was right there on my calendar! Below you'll find a few randomly commemorative photos and an entirely frivolous report.
One of the reasons that it's fun to party with writers and journalists is that we are all visibly startled to be away from our computers and out in…you know…public. This causes the veneer of social appropriateness and dignified behavior to be flimsy and, as a consequence, much in the way of good-natured blurting occurs giving way to warm and quirky conversations that are a lot more fun than the kind of stultifyingly careful small talk that too many LA events feature.
Such was the case at Friday night's LA Observed party that Kevin Roderick threw for several hundred of his closest journalist friends on the rooftop of the Formosa Cafe.
Attendees included many print and online folks, as well as such radio people as the above-pictured Shirley Jahad, with Alex Ben Block (Senior editor of the Hollywood Reporter) and various of her KPCC colleagues, like Patt Morrison and others.
(I saw Shirley and Alex early in the evening so no blurting was involved.)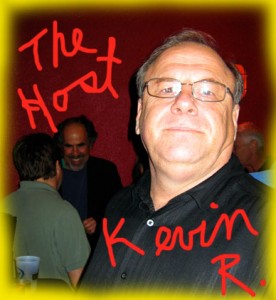 Kevin Roderick, our stellar host, isn't really a blurter by nature, although near the end of the evening when several of us confessed a long-term, secret desire to write noirish murder mysteries, Kevin was among those confessing.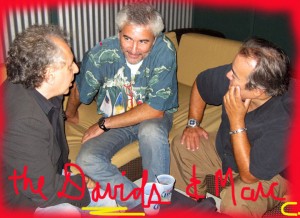 In chatting with these three—journalist, columnist and author David Rensin, book critic, former NEA maven, and newly launched Boyle Heights book store owner, David Kipin (more on his unique bookstore venture, Libros Schmibros, in a week or two) and journalist, author, reporter, blogger, Annenberg prof, Marc Cooper—it came to light that a large number of us journos of a certain age had, in our…um…callow youth, written for questionable LA publications involving centerfolds. I'll leave it at that—except in the interest of accuracy it is important to mention that, of the four of us, only Kipen was devoid of this particular kind of shady past, yet all four of us harbor the aforementioned secret desire to write mystery novels.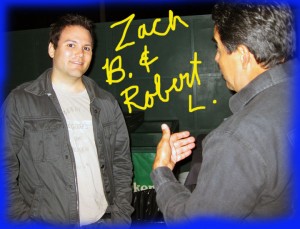 It was not surprising to find Zach Behrens, LAist's editor-in-chief and most intrepid reporter, chatting with the LA Times' Robert Lopez, since both have much in common, what with their snazzy black jackets and the fact that both seem to report a lot, and sleep very little. In Robert L's case, this is caused by the fact that, in addition to his regular investigative reporting and multimedia duties, he is the new night editor/reporter for the Times' LA Now. While Zach, as both editor, reporter and writer, is often up late reporting 'till all hours (I know this because he's often also up tweeting about what he finds), then up again early filing timely stories online.
(On Friday night, the aforementioned caused me to launch into a motherly lecture about the value of REM sleep, although Zach assured me he catches up on the weekend.)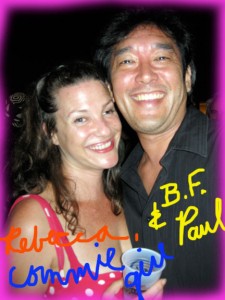 Rebecca Schoenkopf, who for years wrote the award-winning political column, Commie Girl, for OC Weekly before becoming the editor-in-chief of CityBeat (which soon-after became a casualty of the ongoing news biz implosion). Now Rebecca (pictured with her charming art director/graphic artist boyfriend, Paul Takizawa) has decided to go back to grad school at Annenberg as a fellow in their Specialized Journalism program, and assures me that being back in school as a grown-up is the coolest thing ever.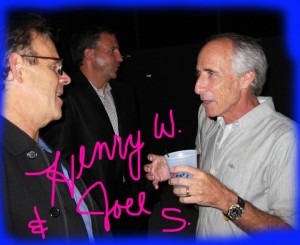 Henry Weinstein and Joel Sappell, both much-awarded former LA Times reporters who have each reinvented themselves in different realms, Henry as a law school prof at UC Irvine and Joel as Special Projects Deputy for LA County Supervisor Zev Yaroslavsky, tasked with scrutinizing misbehaving county agencies, both said they sometimes miss the crazy, collegial hive of the newsroom.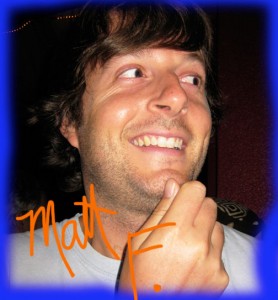 Here, of course, is our own Matt Fleischer contemplating Part 2 of his investigative look into the city's gang program, written for the LA Justice Report. I know this because we had been exchanging emailed notes on the story just before both of us left our respective houses to show up on the Formosa's rooftop. (The story itself will be out late this week, so stay tuned.) After this photo was taken, however, I seem to remember he stopped contemplating and had a beer.
Okay, that's my social report for the month of August.
Happy Sunday.