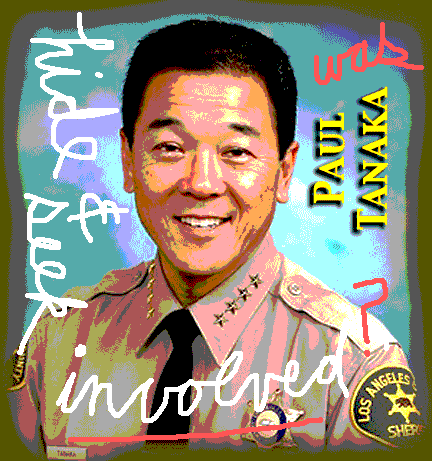 A Federal Grand Jury is now investigating whether certain members of the LA County Sheriff's Department moved FBI informant, Anthony Brown, from place to place inside the county jail system, giving him phony names and fake inmate numbers, all done specifically to keep him away from his Fed handlers. A convicted bank robber, Brown was reportedly gathering information for the Feds about possible deputy misconduct inside the jails.
The LA Times' Robert Faturechi and Jack Leonard report that Sheriff's Department spokesman Steve Whitmore explains the whole thing, saying they were only doing this for the inmate's own good, and in response to his request:
Here's the relevant clip:
Sheriff's officials insist that they were not hiding the informant, Anthony Brown, from the FBI but protecting him from other deputies.

Department spokesman, Steve Whitmore said Brown wrote a letter after his identity was discovered, complaining that he feared for his life and felt abandoned by the FBI.

"He was frightened not of inmates but of deputies because he was snitching on deputies," Whitmore said. "We were moving him around to protect him from any kind of retaliation."
Yes, well….our sources say otherwise. In fact one of our sources told us he has direct knowledge of what went on because he was part of the team of deputies ordered to participate in the hiding of Anthony Brown. He said unequivocally that there was no ambiguity whatsoever about what he and his fellow team members had been instructed to do:
"Our job was to keep this inmate away from the FBI," he said.
Moreoever, according to our source, the supervisor who ordered the deputies to hide Brown was Lt. Greg Thompson, the former head of Custody Investigative Services Unit (CISU)—AKA the intelligence-gathering and investigative unit inside the jail system.
(Thompson, if you'll remember, was the lieutenant accused earlier this year of interfering with a criminal investigation that implicated a deputy working in the jails of wrongdoing. In that instance, Thompson allegedly took the report on the deputy's actions and, instead of turning it over to the department's Internal Criminal Investigations Bureau (ICIB) where it belonged, instead gave the unredacted report to the deputy being investigated—among others—thus blowing the investigation entirely.)
According to our source, Thompson announced to the team tasked with hiding the FBI informant, that he, Thompson, "was ordered to do so by Paul Tanaka."
"He said, 'It's our job to keep the FBI our of our jail,' or, [if they come in] to make it as unpleasant as possible for them.'"
Since our informant admitted he participated in hiding Brown, in talking to us he was acting against self-interest.
However, like so many Sheriff's Department members who have talked to WitnessLA (or to the LA Times) at risk to themselves, this informant said he contacted us because he was sick of the corruption.
More in this vein after we come back in January.
In the meantime, read the story in the Times for additional details.
---
EDITOR'S NOTE: Although we keep trying to be on break, we'll have one more story tomorrow on an unrelated topic that, again, we couldn't ignore. (After that, we're fervently hoping for a series of nice boring news cycles.)