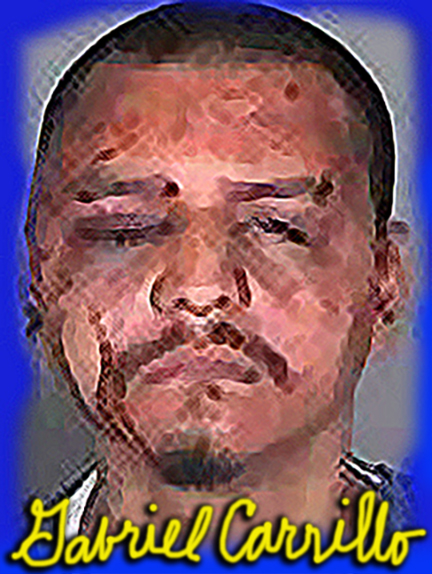 On Wednesday, a jury acquitted Byron Dredd, an LA County sheriff's deputy indicted for his alleged involvement in a conspiracy to cover up of a brutal beating of a handcuffed visitor to Men's Central Jail, Gabriel Carrillo, by falsifying official reports, thus causing Carrillo to be criminally charged as the aggressor. The charges could have resulted in a fourteen year prison sentence for Carrillo. (Backstory: here.)
Dredd was acquitted on two counts—one of writing a false report, and one of conspiracy to violate Carrillo's civil rights. Jurors deadlocked on a third count of lying to the FBI.
In December 2013, five LA County Sheriff's department members were indicted for the Carrillo beating and cover-up. Three of the men involved were convicted, and two struck plea deals (these two deputies later testified against Dredd). Dredd is the sixth LASD member to be tried. Dredd testified in his own defense, saying that his written report was manipulated by his boss.
U.S. District Judge George King set a Monday deadline for prosecutors to decide whether they will retry Dredd on the third count.
---
UPDATE: On Monday, government prosecutors announced that they would indeed retry Dredd on the third count that caused the jury to deadlock. If convicted of the charge of lying to FBI agents, Dredd could face as much as five years in federal prison. The new trial is set to begin on October 25.
---
Dredd is on paid leave from the department and reportedly employed at FedEx, and according to one of Dredd's family members, likely does not wish to return to the Los Angeles Sheriff's Department.
LA Times' Joel Rubin has more on the story. Here's a clip:
The verdict marks a rare loss for the U.S. attorney's office in Los Angeles, which has won a string of abuse and obstruction cases against deputies and higher-ranking sheriff's officials following an FBI investigation into county jails.

[SNIP]

Carrillo and his girlfriend were handcuffed and taken into custody after deputies said they found them carrying cellphones, which is against state law. After Carrillo reportedly mouthed off repeatedly to the deputies in a secluded room, he was punched, kicked and pepper-sprayed in the face.

After the beating, which left Carrillo bloody and bruised, the deputies and their supervisor claimed in reports that when one of Carrillo's hands was uncuffed for fingerprinting, he attacked deputies and tried to escape.

Based on those reports, Carrillo was brought up on criminal charges. After Carrillo's attorney brought to light photographs showing injuries to both of Carrillo's wrists, corroborating his assertion that he was handcuffed during the beating, prosecutors from the county district attorney's office dropped the charges.