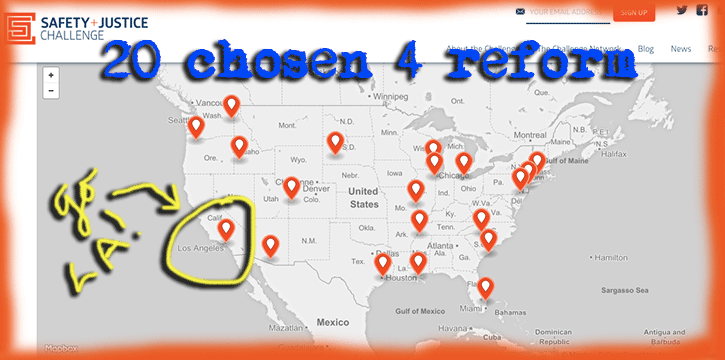 LA COUNTY ONE OF 20 SELECTED OUT OF 200 ENTRANTS IN $75 MILLION NATIONAL CHALLENGE TO REFORM U.S. JAILS
On Monday, Los Angeles County received news that it has been chosen as one of 20 jurisdictions in the nation that will take part in the MacArthur Foundation's ambitious Safety and Justice Challenge, a $75 million initiative that hopes to "reduce over-incarceration by changing the way America thinks about and uses jails."
This is very good news.
The 20 areas selected for this first phase of the challenge include New York City, New Orleans, LA, Pima County, AZ, Harris County, TX, Pennington County, SD, and the entire state of Connecticut. (Full list below.) The idea is for these cities and counties (and one state) to be mentored by the nation's experts in such things through the process of creating and refining a plan to reform their respective jail systems.
Then in phase two of the Justice Challenge, the 20 jurisdictions, will be whittled down to ten. Those fortunate ten will receive a second round of mentoring plus funding of between $500,000 and $2 million annually to implement their respective plans for reform.
In other words, those who are part of the 20 are, by their participation, committed to a real, no-kidding substantive plan for jail reform, which will include strategies to reduce the jail system's population and more. Then if they're chosen to be one of the ten, they're committed to implementing that plan, and will get an infusion of cash to better make that implementation possible.
(The 20 that were recently selected have jails systems that range in size from 239 beds in Mesa County to LA County's 21,951 bed system, so for the second phase, the yearly funding for the remaining ten, will depend on the size of the jurisdiction's jail system.)
According to MacArthur, the criminal justice organizations that will provide "technical assistance and counsel" to the 20 jurisdictions as they design and prepare their "comprehensive plans for local reform" are the Center for Court Innovation, the Institute for State and Local Governance at the City University of New York, the Justice Management Institute, Justice System Partners, the Pretrial Justice Institute, and the Vera Institute of Justice.
The Vera institute of Justice in particular, has been deeply involved in MacArthur's jail reform initiative with two MacArthur-funded studies released this year that both illuminate problems in the nation's jail systems and point toward the way toward solutions.
For instance, we learned from this month's study by Vera that U.S. jails are draining a lot more dollars from our public coffers than most people think. And in February of this year, another Vera study, Incarceration's Front Door: The Misuse of Jails in America, showed the ways that the nation's jail policies can do harm.
Vera's February study makes clear that jails serve an important function in local justice systems, both for short term incarceration, and to hold those charged with crimes who are either deemed too dangerous to release pending trial, or who are considered flight risks unlikely to turn up for trial.
Yet, according to what the study's authors found, the above categories no longer represent what jails primarily do or whom they hold. Instead, Vera reported, three out of five people in jail are unconvicted of any crime, yet are simply too poor to post even a low bail in order to be released while their cases are being processed.
For instance, in 2013 in New York City, more than 50% of the jail inmates who were held until their cases were settled, stayed in jail solely because they couldn't afford bail of $2,500 or less. Most of these inmates were arrested on misdemeanor cases.
All of this time spent in jail purely for fiscal reasons, the report states, has collateral consequences in terms of lost wages, lost jobs, loss of a place to live, and loss of time spent with spouses and children, producing further harm and destabilization of those incarcerated and, by extension, their families and communities.
Moreover, nearly 75 percent of both pretrial detainees and sentenced offenders are in jail for nonviolent traffic, property, drug, or public order offenses—some of which could be more successfully handled through diversion programs that utilize community based services. "Underlying the behavior that lands people in jail," write the Vera authors, "there is often a history of substance abuse, mental illness, poverty, failure in school, and homelessness."
(The report notes that, in Los Angeles County, they found that the single largest group booked into the jail system consisted of people charged with traffic and vehicular offenses.)
It is these problems and others that the Justice Challenge of which LA County is now a part hopes to help cure.
The fact that jails can do harm is, of course, a fact with which LA is very familiar, what with the scathing report on our jails delivered in September 2012 by the Citizen's Commission on Jail Violence, the looming federal consent decree pertaining to the way the mentally ill are treated in LA's jails, and the recent landmark settlement of "Rosas v. Baca," the giant federal class action lawsuit brought by the So-Cal ACLU that has resulted in a court enforceable roadmap to correct the use of force policies inside the jail that led to a pattern of brutality by sheriffs deputies against inmates.
Back in February, when the challenge was first announced we spoke to one of the MacArthur people, and also to one of the Vera study authors, both of whom said they hoped very much that LA County—the home of the nation's largest jail system—would be one of those jurisdictions that applied.
To its credit LA County—which, in this instance, means the Los Angeles Sheriff's Department—did apply and, as we know now, was selected.
We look forward to hearing about LA's strategy for reform of its massive system as that plan evolves.
And, of course, but we cannot help but hope that LA will be one of the final ten that get MacArthur bucks to put their stellar plans into action.
The full list of jurisdictions selected for the first round of Justice Challenge is as follows:
· Ada County, ID
· Charleston County, SC
· Cook County, IL
· Harris County, TX
· Los Angeles County, CA
· Lucas County, OH
· Mecklenburg County, NC
· Mesa County, CO
· Milwaukee County, WI
· Multnomah County, OR
· New Orleans, LA
· New York City, NY
· Palm Beach County, FL
· Pennington County, SD
· Philadelphia, PA
· Pima County, AZ
· St. Louis County, MO
· Shelby County, TN
· Spokane County, WA
· State of Connecticut
---
AND IN OTHER NEWS…..A USC DEAN OF SOCIAL WORK ENCOUNTERS MEN WORKING HARD TO HOLD ON TO HUMANITY IN CALIFORNIA'S PELICAN BAY PRISON
In the Chronicle of Social Change, Wendy Smith, an Associate Dean and Clinical Associate Professor at the University of Southern California's School of Social Work has written an extraordinary story about her trip to Pelican Bay Prison to meet with men who were incarcerated for crimes they'd committed as teenagers.
Smith traveled to Pelican Bay with a group of lawyers, advocates, and law students with the purpose of talking to 250 of these inmates convicted as juveniles about California's Senate Bill 260, a law passed and signed in 2013, which allows youth offenders given life sentences, the possibility of a new type of parole hearing at their 15th, 20th or 25th year of incarceration.
But the trip was much more than simply an imparting of information. In many instances, it was a walk back into humanity with men who were terrified that humanity was lost to them.
Here are some clips. But be sure to read the whole thing. It's more than worth it.
During the small groups, we learned that some men had not been to the visiting room to receive a visitor for a long time; some had never been there. Some had exchanged no conversation with anyone but another prisoner or a guard in months or years. During the groups, described in the evaluations by many as the best part of the workshops, some men spoke and asked questions readily; others did not speak at all.

In the insight groups, some struggled with the distinction between excuses and explanations of crime, wondering if there was one. We spoke of examining and reflecting on the people and events in their early lives, and the environments in which they grew up as steps along the road that led to the crime and to where they are now.

Several men recognized aloud that they did not know how to begin this work. They wondered if there could be someone to ask the questions that could help them see into their own lives, to see the boy who was and the man who might yet be. Hope had entered the room, bringing with it fear and worry about how to make a turn from habitual ways of feeling and being, and especially, how to conceive of such a turn without help.
And then here's a section from her meeting with men in solitary:
I told them that their crime was not the total of the person they were, and asked them to try to remember the very first illegal act they ever committed. In a moment or two, they all did. Most told me they were eight, nine, 10, or 11 at the time. A few were five or six, and a few were teenagers. All were old enough to remember a self that existed before that first act. I asked them to remember the boys they were before the crime.

We talked about how to begin to remember and piece together what happened after that, trying to dig deep to include the many steps along the road to the moment of a crime, and the decisions they made at the time and since. We acknowledged together the difficulty and shame of thinking and talking about their crimes.

In the SHU, as in the general population the day before, many men told me that they wished there were someone they could speak with on a regular basis to be able to do this work—they could not imagine how they would be able to do it. Some believed their inability to put things into words would make it impossible, now and at any parole hearing in the future.

Our conversations were brief and constantly interrupted by movement – our own as we rotated among the groups, and those of the guards and inmates, as bathroom trips and meal and water deliveries were made, as men were taken back to their cells and new groups of men were brought in.

Somehow, amid the locking and unlocking of cells and cuffs, and the congestion in narrow halls crowded with our group and guards, conversations continued. It became clear that for many of these men, we were the first people other than prison personnel or other inmates that they had spoken with in years. Some were nevertheless able to engage with little apparent difficulty, asking questions, enjoying the opportunity to interact with us.

For others, speech came slowly or not at all, and for some, even eye contact was too much to manage. These men spend all their time alone, in their cells or in the exercise area. The solitude of their confinement is absolute. Many had been there for five or ten years. Some had been there 20 years or more.

One man had spent the previous four months "debriefing," telling what he knew about the gang life he had decided to renounce. Debriefing is the primary avenue by which inmates can obtain transfer out of solitary confinement. It is dangerous, as gang members often retaliate when someone leaves.

Those who debrief must be isolated from other inmates and their locations kept secret. For this reason, each of us met individually with this man in a separate visiting corridor. It was a relief to have the relative quiet of this space and a full twenty minutes in which my focus could be undivided.

He had been incarcerated at 17, already the father of two very young children. Now he is 41 and a grandfather. We spoke little about his crimes—he lived the gang life both before and during his imprisonment—but rather about the rocky course of his marriage over many years and how his wife helped him to get sober and to find the religious faith that strengthened his will to leave the gang life.

His eyes filled as he described his hopes for the future and his pain over how he had lived his life. Only lately had he begun to understand the impact of events of his early life: the loss of his baby brother, his mother's wild grief that led her to cruelly abuse him, habitually pouring scalding water over his hands and body.

We wept together. There was much more he needed to say, but already the next advocate was waiting to meet and speak with him, and another group of inmates waited around the corner for me. It was awful to leave him with only the hope that he had found comfort in the humanity of those few shared moments….