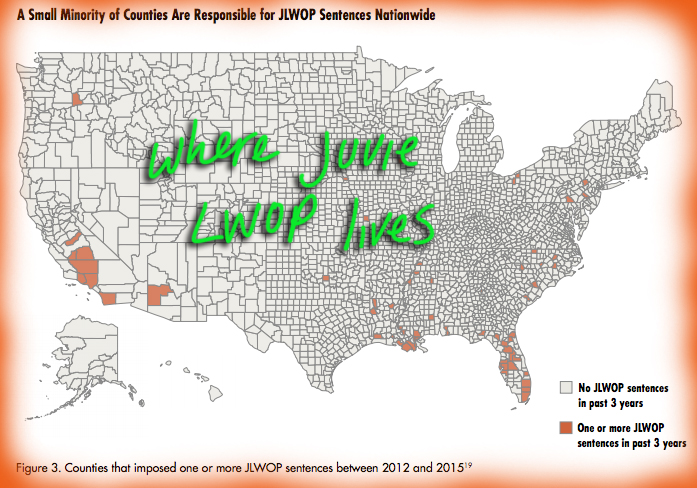 REPORT: IN THE LAST DECADE, LA COUNTY HAS SENTENCED THE MOST KIDS TO DIE IN PRISON
Five counties, including Los Angeles, are responsible for 22% of all juvenile life-without-parole sentences in the United States, according to a new report by the Phillips Black Project.
The other four counties are Philadelphia, PA, Orleans, LA, Cook, IL, and St. Louis, MO.
Los Angeles leads the pack on the highest number of juvie LWOP sentences in the last decade at 6.6%, but Philadelphia has the highest count over the last 60 years. The Phillips Black Project researchers put Philadelphia's tally at 214, 10% of all juvenile LWOP sentences, although one of the county's public defenders told the Marshall Project the number is actually much higher.
The Phillips Black report shows a growing trend away from locking kids up for life, a practice which rose in popularity during the "superpredator" fear-mongering of the 90′s.
Fifteen states have eliminated juvie LWOP altogether, nine of which made the shift after the 2012 Miller v. Alabama US Supreme Court ruling that mandatory sentencing of juvenile offenders to life without parole was cruel and unusual.
California has made heartening progress toward scaling back use of LWOP sentences for kids, starting in 2012, when California passed the Fair Sentencing for Youth Act, which gave kids sentenced to life-without-parole, allowing courts to review cases of minors sentenced to life without parole after 15 years, and possibly resentence them to 25-to-life.
And in 2013, CA Governor Jerry Brown signed a law that gave a second chance at parole to kids who committed murder before the age of 18 and sentenced to life-without-parole. (A new bill awaiting the governor's signature, SB 261, would go even further by expanding the age of eligibility for early parole hearings to include lifers whose crimes were committed before the age of 23.)
---
LA COUNTY SHERIFF JIM MCDONNELL SEZ DEPT. WILL FOLLOW STATE LAW, ONLY SEND UNDOCUMENTED INMATES TO FEDS FOR SERIOUS OFFENSES
On Tuesday, LA County Sheriff Jim McDonnell said that he would hand over undocumented jail inmates to federal immigration officials seeking deportation only if the inmates qualify for deportation under the California Trust Act. The state law passed in 2013 stipulates that local law enforcement agencies can only transfer people to Immigration and Customs Enforcement (ICE) who have been charged with or convicted of serious offenses.
LA Daily News' Sarah Favot has the story. Here's a clip:
McDonnell said he will allow U.S. Immigration and Customs Enforcement agents to have access to county inmates for potential transfer to ICE under the Priority Enforcement Program once the inmates are preparing to be released as long as the inmates qualify under the California Trust Act. If ICE wants custody of an inmate, but the inmate has not committed a serious or violent felony, the inmate will not be transferred to ICE, McDonnell said.

The California Trust Act, passed by the state Legislature in 2013, limits the criteria under which people can be transferred to ICE custody for potential deportation to serious or violent felony convictions.

"While I have made clear my desire to abide by and implement PEP [the Priority Enforcement Program] as it applies to the county's jails, the department will not do so when and if that program conflicts with the California Trust Act or applicable case law," McDonnell wrote. "Our federal and state leaders have developed approaches in regard to this important issue that are at times in tension with each other. It is the department's aim to balance and reconcile these provisions."

The L.A. county supervisors voted in May to participate in the program and directed the sheriff to come up with policies and procedures to carry out the program within the county jail system. At the supervisors' request, the sheriff held community meetings throughout the county before the policies were developed.

McDonnell said his objectives in developing the policies were to work with federal authorities to identify "undocumented persons who pose a danger to our community," "partner with some of the most diverse and immigrant-rich" communities and promote public safety.

PEP was unveiled by federal Homeland Security officials this year as a successor to the controversial Secure Communities Program. PEP uses fingerprint data to identify potentially deportable noncitizens when the FBI performs criminal background checks for local police.
---
FIXING THE UNITED STATES PRISON SYSTEM
This Sunday, we recommend tuning into a VICE special on the inner workings and effects of incarceration in America on HBO. The documentary features President Obama's historic visit in July of Federal Correctional Institution, El Reno in Oklahoma, and his meetings with inmates and prison staff.
The show, VICE Special Report: Fixing The System, will air Sept. 27, at 9:00p.m. (Pacific and Eastern).
/>

http://youtu.be/QTE3xgBSoPc