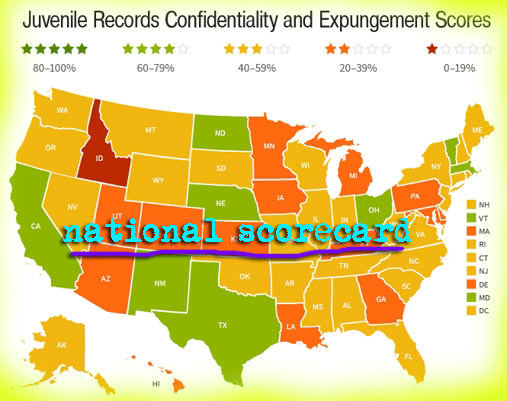 MOST STATES FAILING TO PROTECT JUVENILE RECORDS AND PROVIDE REASONABLE ACCESS TO EXPUNGEMENT
While California does a reasonably good job of protecting kids' juvenile records, many other states have harsh policies with regard to expungement and the privacy of juvenile records. And when states don't protect records, they create massive roadblocks for kids and young adults trying to get jobs, go to college, and find housing.
A new study by the Juvenile Law Center gives states a performance score based on how well they protect kids' sensitive records and how available expungement is for the kids. Here's a clip from the JLC website (click over to the report to see each state's score card):
Millions of youth are arrested each year in the United States; 95% of these youth are arrested for non-violent offenses. Arrests and court involvement leads to the creation of juvenile records – all containing details about a child's family, social history, mental health history, substance abuse history, education. and involvement with the law.

While access to this information by law enforcement and youth-serving agencies is necessary to provide treatment and rehabilitative services to youth, many states also allow widespread access to media, employers, government agencies and victims or sell the data to for-profit companies. Once disclosed, this information is difficult, if not impossible, to recall and can permanently stigmatize youth – interfering with their ability to obtain a job, secure housing, pursue higher education, join the military, or access public benefits. To ensure that records do not limit future opportunities, sealing (closed to the public) and expungement (destruction) of juvenile records should be available to all youth.

"The juvenile justice system is intended to rehabilitate youth and prepare them for a productive future, yet our mishandling of juvenile records creates a paper trail that can lead to failure," said Lourdes Rosado, Associate Director of Juvenile Law Center. "These records can follow children and youth into adulthood and often limit opportunities for success."

Many youth and parents are completely unaware that they need to proactively seal or expunge their records until they run into a roadblock as adults. In many states, the process to seal or expunge a juvenile record is also lengthy, costly and may require the services of an attorney.

"There is a misperception that juvenile records are confidential and automatically destroyed when a youth is no longer under court supervision. The reality is that juvenile records are widely accessible long after a young person has become an adult," said Riya Saha Shah, Author of Scorecard Report and Staff Attorney at Juvenile Law Center. "Retention of juvenile records does little to improve public safety but creates significant barriers to success for youth who are trying to move beyond the mistakes they made as a kid. Permanent, open records are like a ball and chain that prevents youth from becoming productive adults, reducing opportunities for employment, eroding the tax base and can lead to increased recidivism due to reduced job prospects."
The Juvenile Justice Information Exchange's Lynne Anderson tells the story of Dina Sarver, a young woman whose childhood offenses prevent her from achieving her dream of becoming a nurse, or even chaperoning her kids' field trips. Here's a clip:
She was so determined to become a nurse that after this she sent 242 emails to different nursing schools, she said, hoping she could be admitted to a program without her juvenile record being held against her. As it turns out, she cannot even be a chaperone for her children's field trips. Her juvenile offenses block her.

At age 12, Sarver became "defiant," she said, about the time her parents divorced. She moved from a nice home in the suburbs into Section 8 housing with her mother and several of her brothers and sisters. Because her mother is Haitian and needed help translating complicated forms for vouchers and Medicaid, Sarver became her mother's helper. It took a toll.

"I couldn't concentrate in school," she said. "I acted out."

Her first arrest, she said, was for getting into a fight at school at age 12.

By age 15, she was serving time for auto theft. And, she was pregnant.

Having a baby was the best thing that ever happened to her, she said.

"I realized I had another life I was responsible for," she recalled. "It was time to get my life together."

She did. She got her GED, married and went to college…
Read the rest of Dina's story.
---
SMALL TREND OF PEOPLE CLAIMING INNOCENCE BEING GRANTED PAROLE, WITHOUT HAVING TO EXPRESS REMORSE
Thanks to increased awareness about wrongful convictions via media attention and DNA testing, a small, but growing number of inmates—some in NY, California, and Alaska—are winning parole despite their continued claims of innocence, an outcome virtually unheard of until recently.
One New York man, Freddie Cox spent 28 years behind bars for second-degree murder. Cox went before the parole board three times, maintaining his innocence (backed by a co-defendant's admittance of his own guilt and Cox's innocence), and was turned down. Inmates have consistently had better chances of winning parole if they admit guilt and express remorse. But Cox was granted parole on his fourth try, with help from a petition by Exoneration Initiative lawyers.
The NY Times' Stephanie Clifford has more on the issue, as well as the rest of Cox's story (and a lovely video). Here's a clip:
The predicament that had confronted Mr. Cox is known as the parole paradox: Admitting guilt has historically given inmates a better shot at parole. "Claiming to be innocent was, in the past, considered to be denial," said Daniel S. Medwed, a professor at Northeastern School of Law.

But now, as New York and other states confront a growing number of wrongful-conviction claims, lawyers, inmates and parole experts say the beginnings of a change are occurring.

On his fourth try, Mr. Cox's request was granted. Lawyers from the Exoneration Initiative successfully petitioned this summer that there was enough evidence to cast Mr. Cox's guilt in question, and that his claim of innocence should not be held against him.

Rebecca E. Freedman, one of his lawyers, said they would soon ask a review unit created by the Brooklyn district attorney to review his case.

At least three other men, convicted in Brooklyn courts, have won their freedom despite not admitting guilt: Derrick Hamilton, charged with a 1991 Bedford-Stuyvesant murder, got parole after 20 years in prison; Sundhe Moses, who was convicted in a 1995 shooting that killed a 4-year-old child, was granted parole last year; and Robert Hill, who was convicted of a 1988 murder, was granted parole in May.

"They're considering actual innocence," said Tom Grant, a New York State parole board member from 2004 to 2010. With DNA evidence and news media coverage of wrongful convictions, he added, "you can justify a release now."

On the West Coast, men in California and Alaska who maintained their innocence were granted parole this fall; lawyers in those states said such decisions were exceedingly rare.

"Parole commissioners, like the rest of society, have come to recognize that there are far more innocent people in prison than we had ever imagined, so they're more receptive to that argument," said Ron Kuby, a civil rights lawyer who represents Mr. Moses.
---
DOES THE PRESIDENT ALONE HAVE THE POWER TO SOLVE AMERICA'S OVER-INCARCERATION CRISIS?
The Atlantic's Stephen Lurie makes the argument that President Barack Obama has the ability to fix the nation's mass incarceration dilemma, as neither Congress, nor courts, nor public movement can. Here's how it opens, but do go read the rest of this provocative essay:
Today, like any other day, there are around 2.4 million people incarcerated in America's federal, state, and local prisons and jails. Together, the nation's inmates would constitute the fourth biggest city in the United States, knocking Houston down a notch. Expand that grouping to everyone under correctional control, including probation and parole, and you'd have a metropolis of nearly 7 million, second only to New York. Finally, reunite the number of people that see the inside of a jail cell in a given year, and you'd have a prison city with a population as big as New York and Los Angeles combined (11.6 million).

This is not because society is struck by criminality. Incarceration has increased by 700 percent in 40 years despite crime rates dropping. It is a result of deliberate choices. As it spends more than $50 billion each year on the War on Drugs, America still hands down life sentences for non-violent drug crimes, incarcerates African-American males at six times the rate of white males (Latino men 2.5 at times the rate of white males), and has a justice system with proven racial disparities in sentencing, death-penalty verdicts, the granting of probation or parole, and employment prospects after incarceration.

Mass incarceration cripples families and communities, perpetuates poverty, recreates conditions for crime, and institutionalizes a form of racial control. As a result about one in four American adults (65 million) now have a criminal record.

Consider that for a moment—even in the context of historically disastrous periods of American history. One quarter is also the proportion of Americans unemployed in 1933, at the height of the Great Depression, which included the "worst month for joblessness in the history of the United States." It's the same proportion as the casualty rate for Civil War soldiers. It's almost three times the percent of Americans enlisted in World War II.

The issue has been slow to enter public discourse, perhaps because the most affected populations are also the most marginalized. From scenes of armored vehicles and snipers in Ferguson to the totalitarianism of the prison system as presented in Orange is the New Black, that may slowly be changing. Various advocacy groups are organizing movements, some in Congress see an opportunity for bipartisan reform, and litigators continue to seek incremental victories against practices like stop-and-frisk.

But these efforts will not be enough to significantly affect a problem of this scale—at least not alone. Like the critical junctures of past generations, the Civil War or the Great Depression, this is a problem that requires presidential leadership. As the executive, Obama wields straightforward and fundamental power to reduce the scale of mass incarceration; as president, and in particular as a black male president, his ability to address the racial dimension of the system is significantly less clear. Nonetheless, with Attorney General Eric Holder stepping down, the Democrats' loss of the Senate in the midterms, and and the end of Obama's presidency looming ever closer, the time and space for action continue to shrink and all signs point in one direction.

It isn't that presidential action is necessarily a great choice. It's that other options are structurally impossible or temporarily unavailable. For most policy issues, change can come about three ways, besides from the executive: popular movement, Congress, or legal challenge in the courts. The nature of mass incarceration in the U.S., though, prevents serious change through these alternative routes—even despite some recent signs for hope.
---
LA TIMES: BOARD OF SUPERVISORS SHOULD WAIT TO MAKE BIG DECISIONS UNTIL TWO NEW SUPERVISORS TAKE OFFICE
An LA Times editorial (we didn't want you to miss) urges the LA County Board of Supervisors to wait on key decisions until the two Supervisors-elect, Hilda Solis and Sheila Kuehl, take office on December 1.
On Veteran's Day, the current board met in a closed session to discuss appointments to two important positions, the child protection czar, and the director of public health. They are also looking for a new county CEO. (We would also like to point out that the Supes forged ahead in discussions of $2 billion plans to replace Men's Central Jail, despite the fact that all sheriff candidates supported the board tabling the issue until the new sheriff was elected.) Here's a clip:
…It is the incoming supervisors, and not the termed-out incumbents, who should select top staff.

These are not small decisions. The CEO virtually runs the county, preparing what was this year a $26.1-billion budget and overseeing thousands of employees delivering services to 10 million county residents. The successor to William T Fujioka must have the confidence of all five supervisors to whom he will report, not merely three of them plus two who will be gone.

There is a serious question as to whether the CEO position will even exist, given that two holdover supervisors, Michael D. Antonovich and Mark Ridley-Thomas, have called for eliminating the post and reverting to the pre-2007 model — a chief administrator with less authority. That decision, obviously, is also one that belongs to Kuehl and Solis and not Yaroslavsky or Molina.

As for the chief of the Office of Child Protection, it is a new position overseeing a still nonexistent office. Whoever is to hold the job will report directly to the Board of Supervisors and must deftly navigate through unexplored political territory. The new supervisors, clearly, should be in on that appointment too.