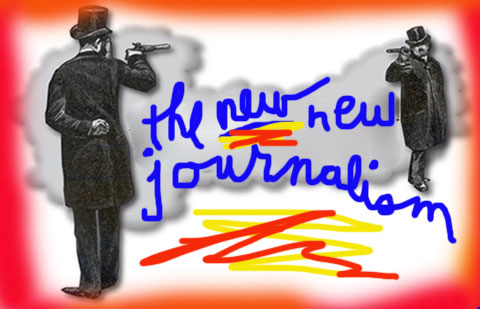 In this month's issue of Atlantic, Mark Bowden, (the author of Black Hawk Down among other worthy pieces of work) has written an examination of what is going on contemporary journalism. As is usual with such articles, there is much bemoaning of the terrible, awful, no-good, very bad influence of (gasp) bloggers and the news media destroying horrors of the democratizing web.
Bowden, however, is a smart man and an excellent, often inspired journalist. So, in his case, his overall thesis went deeper. The result is both dead wrong and utterly right.
For instance, the subhead for the article is the following:
With journalists being laid off in droves, ideologues have stepped forward to provide the "reporting" that feeds the 24-hour news cycle. The collapse of journalism means that the quest for information has been superseded by the quest for ammunition.
Well, no. And yes. "The quest for ammunition' is a great phrase—and exactly what much of TV journalism, in particular, has become. But this "quest for ammunition" ethic was ramping up well before the news business began bottoming out. In fact, it is one of the elements that is part of the cause of it.
Bowden wants to blame this zero-sum news trend on blogging and the web. But he's aiming at the wrong target. There are more and more bloggers working on either a local and/or a national level—plus many of those who run niche news sites—who are digging after truth, not deadlier bullets. To choose a very few examples, Scott Henson's Grits for Breakfast, Doug Berman's Sentencing Law and Policy, Andy Rotherham's Eduwonk, Josh Marshall's Talking Points Memo, come randomly to mind. And there are many in the mainstream media who have replaced a search for truth with an idiotic notion of "balance"—or worse, with a cynical quest for readers and viewers, whatever that takes, no matter what the sacrifice in terms of integrity.
The most recent and repellent demonstration being Time Magazine's cover story on Glenn Beck. (No, it's not the fact that Time put Glenn Beck on the cover. As others have noted earlier than I have, he was a rather appropriate choice, actually. It's the cloying dishonesty with which that story is written. One need only read the first paragraph.)
If, on the other hand, one reads these paragraphs snipped from the end of Bowden's essay and, simply deletes the word "blogger" and substitutes some phrase like…say…zero sum commentator then Bowden is smack on.
I would describe their approach as post-journalistic. It sees democracy, by definition, as perpetual political battle. The blogger's role is to help his side. Distortions and inaccuracies, lapses of judgment, the absence of context, all of these things matter only a little, because they are committed by both sides, and tend to come out a wash. Nobody is actually right about anything, no matter how certain they pretend to be. The truth is something that emerges from the cauldron of debate. No, not the truth: victory, because winning is way more important than being right. Power is the highest achievement. There is nothing new about this. But we never used to mistake it for journalism. Today it is rapidly replacing journalism, leading us toward a world where all information is spun, and where all "news" is unapologetically propaganda.

[SNIP]

There's more here than just an old journalist's lament over his dying profession, or over the social cost of losing great newspapers and great TV-news operations. And there's more than an argument for the ethical superiority of honest, disinterested reporting over advocacy. Even an eager and ambitious political blogger like Richmond, because he is drawn to the work primarily out of political conviction, not curiosity, is less likely to experience the pleasure of finding something new, or of arriving at a completely original, unexpected insight, one that surprises even himself. He is missing out on the great fun of speaking wholly for himself, without fear or favor. This is what gives reporters the power to stir up trouble wherever they go. They can shake preconceptions and poke holes in presumption. They can celebrate the unnoticed and puncture the hyped. They can, as the old saying goes, afflict the comfortable and comfort the afflicted. A reporter who thinks and speaks for himself, whose preeminent goal is providing deeper understanding, aspires even in political argument to persuade, which requires at the very least being seen as fair-minded and trustworthy by those—and this is the key—who are inclined to disagree with him. The honest, disinterested voice of a true journalist carries an authority that no self-branded liberal or conservative can have. "For a country to have a great writer is like having another government," Alexander Solzhenitsyn wrote. Journalism, done right, is enormously powerful precisely because it does not seek power. It seeks truth. Those who forsake it to shill for a product or a candidate or a party or an ideology diminish their own power. They are missing the most joyful part of the job.
Yep. But about that last. Because I teach, I get to see first hand that there are plenty of young journalists who do get it—who want that "most joyful part of the job."
So, yeah, it's the worst of times. But also the best of times. Journalism is crashing and burning. Journalism is being remade.
Anyway, read Bowden's piece. Let me know what you think.