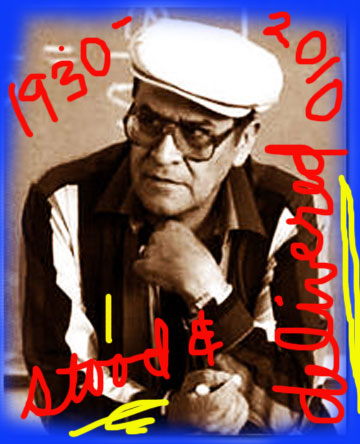 The best thing I can think to do to honor the remarkable Jaime Escalante—and the other excellent teachers like him who give everything to the task of helping, cajoling, nagging, luring, wrestling, enchanting kids into the joy of learning—is to urge you to read Esmeralda Bermudez' stellar article about Mr. Stand and Deliver in the last months and weeks of his life.
Here's the opening:
There was a time in East Los Angeles when el maestro's gruff voice bounced off his classroom walls. He roamed the aisles, he juggled oranges, he dressed in costumes, he punched the air; he called you names, he called your mom, he kicked you out, he lured you in; he danced, he boxed, he screamed, he whispered. He would do anything to get your attention.

"Ganas," he would say. "That's all you need. The desire to learn."

Nearly three decades later, Jaime Escalante finds himself far from Garfield High School in East Los Angeles, the place that made him internationally famous for turning a generation of low-income students into calculus whizzes. Twenty-two years have passed since his classroom exploits were captured in the film "Stand and Deliver.

He is 79 and hunched in a wheelchair at a cancer treatment center in Reno. It is cold outside, and the snow-capped mountains that crown the city where his son brought him three weeks ago on a bed in the back of an old van remind him of his native Bolivia.

He can't walk. He struggles to eat. Stomach acids have burned his vocal cords, reducing his voice to a whisper. The doctors who diagnosed his bladder cancer told him recently he has weeks — at best a few months — to live.

But don't let the frail man fool you. The teacher is not done teaching. Behind his large square glasses, that intense, mischievous look that once persuaded students to believe in themselves still lives in his eyes. He smiles at nurses, flashes a thumbs up.

When asked about his former students — the engineers, lawyers, surgeons, administrators and teachers now spread across the country — he wastes no time. He steals a nearby pen and slowly, in capital letters that have now grown faint, begins to write in Spanish:

THEY UNDERSTOOD THE SIGNIFICANCE OF GANAS, THE GIANT STEP TO SUCCESS. I HAD MANY OPPORTUNITIES IN THIS COUNTRY, BUT THE BEST I FOUND IN EAST L.A. I AM PROUDEST OF MY BRILLIANT STUDENTS.
And here is the LA Times obit.