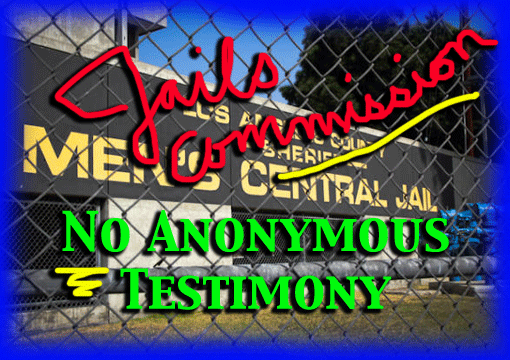 SHERIFF'S DEPUTIES CAN'T BE GUARANTEED CONFIDENTIALITY IN JAILS COMMISSION TESTIMONY

The controversy over whether or not those testifying before the Citizens Commission on Jail Violence can be offered anonymity may have just been settled.
LA Times reporters Robert Faturechi and Jack Leonard spoke to the Commission's lead attorney, Richard E. Drooyan, who explained that legally, a promise of anonymity wouldn't hold up if deputies were asked to testify in future criminal or civil cases in court.
(By the way, Drooyan is also the president of the Los Angeles police commission.)
Here's how the LAT story opens:
A commission investigating allegations of deputy brutality inside Los Angeles County jails cannot guarantee confidentiality for deputies who want to testify, dealing a blow to efforts to combat what has been described as a code of silence among some jail guards.

Members of the special commission created by the county Board of Supervisors had raised the possibility of allowing deputies and others to provide anonymous testimony as they attempt to determine the scope of any brutality against inmates.

But Richard E. Drooyan, the panel's general counsel, has told commissioners that a court could compel them to provide the identities during a criminal investigation or civil litigation. Allegations of excessive force against inmates is the subject of an FBI probe as well as civil lawsuits, including one filed last week by the American Civil Liberties Union of Southern California.

In an interview with The Times on Saturday, Drooyan said he hoped former deputies and current guards would be willing to come forward despite the limits on confidentiality.

"There is at least some chance that we'll be able to preserve confidentiality, but it's not something we can guarantee," he said.
Drooyan notes that the Commission will be looking at systemic issues, not criminality by individual deputies. In other words, the issue is reform, not nabbing people. So hopefully everyone with something important to say will say it anyway, even without anonymity.
---
A CALIFORNIA CASE OF WARRANT-FREE TRACKING HEADS FOR THE SUPREMES
Howard Mintz of the San Jose Mercury News has this well-reported story. Here's how it opens:
A year and a half ago, a Silicon Valley community college student wound up in the cross hairs of a shadowy but common law enforcement practice now at the center of an unfolding legal drama in the U.S. Supreme Court.

On his way to school, Yasir Afifi, an Arab-American, stopped for an oil change and later discovered that the GPS tracking device he found on the underbelly of his car had been put there by the FBI without a warrant.

Now the Supreme Court is expected to decide any day whether the government has a right to use that tactic without a search warrant in a case that highlights the tensions between law enforcement needs and the privacy implications of new technologies that can track our every move.

In a Washington, D.C., case, the Supreme Court is considering whether warrantless GPS tracking violates the Fourth Amendment's ban on unreasonable search and seizure, one of the core rules in any criminal case. The scope of the court's ruling could have far-reaching implications when everything from smartphones to dashboard gadgets offer authorities a generous menu for tracking suspects.

The Obama administration and law enforcement groups say GPS tracking is no different from ordinary police surveillance on public streets. There is no constitutional barrier to GPS tracking in public places, they argue.
Really? Really?? Yeah, okay, we all know that privacy's a thing of the past, but this sounds a little police state-ish.
The problem is that if the Supreme Court rules against the tracking, some righteous convictions will be tossed out. On the other hand, if one has a warrant, no problem with slapping on that tracker.
No one seems to have a clear bet as to which way SCOTUS will go.Yet, whatever their ruling, it will be significant, as this case will set the course for other technologies that have yet to appear.
UPDATE: THE SUPREMES REJECTED WARRANT-CHALLENGED TRACKING: GO, SCOTUS!
Ars Technica has a very interesting write up on the split in thinking on the court that went into the unanimous decision.
---
JUVENILE LIFE FOR NON-HOMICIDE CASES—LOUISIANA STRUGGLES WITH WHAT TO DO
In a 2010 decision (Graham vs. Florida), The U.S. Supreme Court ruled that kids convicted of crimes that don't involve murder cannot be locked up for the rest of their lives.
The states with cases affected by the ruling are now struggling with how things should play out with their non-homicide LWOP cases. Louisiana is one of those states. Here's the opening to a story from the New Orleans Times-Picayune, that deals with one such case that has pushed the issue into the open.
Giovanni Brown was 16 when he and another teen forced their way into a home in an upscale Harvey subdivision in 1999, armed with pistols and intent on mayhem. After holding four people against their will for hours, ransacking the home and trying in vain to force the homeowner to withdraw cash from an ATM, the teenagers stole two cars loaded with the family's property.

Brown was prosecuted as an adult and convicted of aggravated kidnapping and four counts of armed robbery. He was sentenced in 2000 to life in prison with no chance of probation, parole or suspended sentence for the kidnapping, and another 40 years for robbery. Under Louisiana law, Brown would never leave prison, a reality his public defender Marquita Naquin argued during the trial.

"What can a 16-year-old do in the first 16 years of his life that demands that we throw him away?" Naquin asked the jury just before it unanimously rejected her plea.

Her argument proved prophetic.
Louisiana's DA's Association is arguing that inmates like Giovanni Brown should not be eligible for parole until they are 60 years old.
And while we're having this discussion, at the risk of doing my broken record thing again (which I'll be doing once more in the next week or so because California's legislative attempt to modify juvenile LWOP may be coming up for a vote soon), please do remember that the U.S. is the only country in the world—IN THE WORLD— that imprisons kids for life. So either we have a much worse class of kid in this nation, or we've got a policy that……let's just say it needs some improvement.