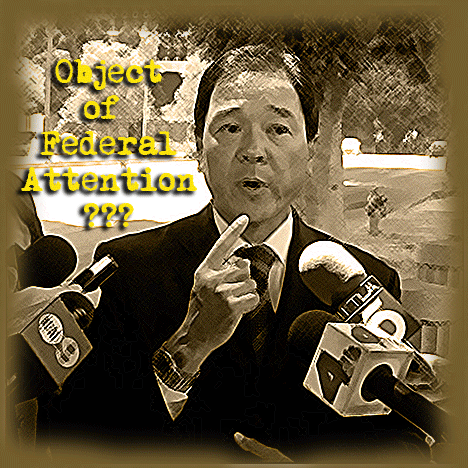 OPERATION PANDORA'S BOX GOES TO TRIAL: TANAKA TESTIFIES, PART 2
Last December, seven members of the LA County Sheriff's Department were indicted for conspiracy to obstruct justice pertaining to the alleged hiding of federal informant Anthony Brown from his FBI handlers, and related actions, an assignment that came, unofficially, to be be called "Operation Pandora's Box."
In total, 20 members of the LA County sheriff's department have been indicted as part of the FBI investigation into allegations of civil rights violations and corruption, a probe that U.S. Attorney Andre Birotte described last year as "ongoing and wide-ranging."
In May of this year, Deputy James Sexton, one of the seven obstruction defendants, was tried separately. The result was a mistrial. The remaining six—deputies Mickey Manzo and Gerard Smith, sergeants Scott Craig and Maricella Long and lieutenants Greg Thompson and Stephen Leavins—are on trial now.
---
---
It was near the end of Monday's cross examination of former undersheriff Paul Tanaka that Assistant U.S. Attorney Brandon Fox asked Tanaka a curious question.
Monday was Tanaka's second day of testimony at the federal trial of six members of the Los Angeles Sheriff's Department. The six—which included two deputies, two sergeants and two lieutenants— were being tried for obstruction of justice having to do with their respective parts in allegedly hiding a federal informant by the name of Anthony Brown from his FBI handlers, and other similar actions that, in the summer and fall of 2011, according to the government's lawyers, were intended to get in the way of the feds' undercover investigation into wrongdoing by deputies in the LA County jail system.
Last month, Tanaka testified at the trial of a seventh department member, Deputy James Sexton, who was also charged with obstruction of justice. (Sexton's case resulted in a mistrial due to a hopelessly deadlocked jury.)
At the Sexton trial, prosecutor Fox made news when he asked the former undersheriff—who is also still a candidate for sheriff—if he was aware that he was the subject of an ongoing criminal investigation.
Now, Fox seemed to be continuing that same conversation when he asked—mid-cross—if Tanaka "received the the letter that informed you that you that you were not the target of a criminal investigation before your grand jury testimony…?"
"Yes," Tanaka replied. The jury and others in the courtroom already knew that the former undersheriff had testified before the grand jury regarding the whole obstruction of justice issue in December 2012, which pegged the "not-a-target" letter to around eighteen months ago.
Fox followed up. "You've not been given any representation about whether or not you're a target since then?"
Tanaka's expression shuttered.
"I have not," he said.
---
DISCREPANCY IN TESTIMONY
The twosome of questions was particularly interesting in that last month, at the Sexton trial, Fox specifically said Tanaka was the subject of a criminal investigation, which is reportedly one step less ominous than being the target.
At the opening of Monday's cross examination Fox again brought up that the former undersheriff is the "subject of an ongoing criminal investigation."
Then some minutes later, while Fox didn't say Tanaka was a target, he seemed to strongly imply that any not-a-target assurances the former undersheriff may have received back in 2012, were now null and void.
The remark was additionally provocative in that it came after a series of exchanges during Fox's cross examination of Tanaka in which Fox confronted the former undersheriff with the fact that certain elements of his testimony at this trial (and at Sexton's trial, for that matter), differed in important ways from his December 2012 grand jury testimony, and also with the way he answered in a separate FBI interview in November 2012.
In his testimony at this and Sexton's trial, Tanaka had made a point of saying that an LASD team had moved inmate and federal informant Anthony Brown around to outlying areas of the jail system, and changed his name and other identifiers, as part of a "mission" to "insure the inmate's safety," which had been his and the sheriff's primary concern, he said.
However in his November 2012 FBI interview and his 2012 grand jury testimony, it seems that Tanaka "never talked about Anthony Brown's safety and security."
"In assessing the whole situation over a period of three years," Tanaka said on Monday when confronted with the discrepancy, he had the "clear recollection" of having given the order to keep Anthony Brown safe.
---
FEAR OF FEDERAL BUGS
At another point in his testimony, Tanaka admitted to Fox that "it's possible" that he and the other LASD higher-ups had the LASD executive offices swept for bugs, evidently out of the conviction that the FBI may have planted hidden microphones. And, yes, it was also possible they'd had the "task force offices" swept as well, meaning the temporary task force formed to handle the Anthony Brown matter, and related.
More on the trial later this week.