I'm headed out into the John Muir Wilderness with my smart son, Will, and Loup-Loup-the-wolf-dog. (I will no doubt freeze my butt off, but, hey, if your kid asks you to go back-packing, you go.)

I may not post again until Tuesday morning. Then back in full force.
(But, if you don't hear from me by Tuesday, send out the mounted patrol.)

In the meantime, read the excellent Time Magazine cover story, titled "The Incredible Shrinking Court," about the emerging trend of the Roberts court to take on smaller and smaller issues, focusing on narrower and narrower points of law, shying away from the larger questions of the day–and what this all portends.

(Sorry no photos. I'm doing this from my blackberry.
****************
UPDATE: Back safe, sound, slightly sore, shower-challenged and supremely happy.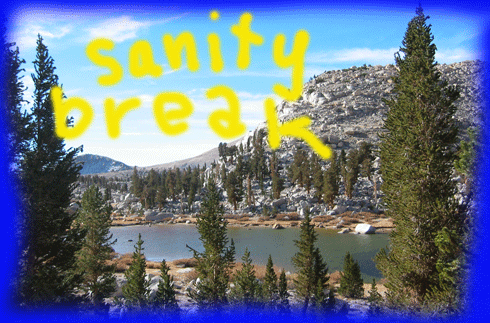 Went to Cottonwood Lakes, an enchanting place to backpack. It did, however, get down to below 22 degrees at night, with an occasional nice, bracing breeze thrown in for good measure. So even the dog was a bit chilly after dark. (We wrapped a tarp wrap around her, nest-like, which she seemed to appreciate, while we relied on the miracle of down.)