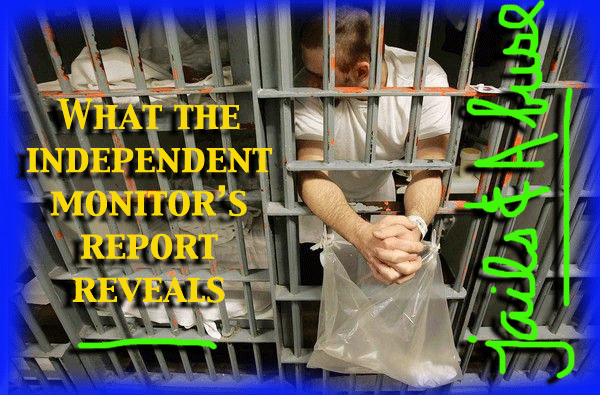 In his most recent report on the jails, Michael Gennaco, head of LA County's Office of Independent Review (OIR), details 12 incidents, in relation to which, a total of more than 30 jail employees have been fired or suspended for either abusing inmates or helping to cover up abuse they witnessed. (The report, which WitnessLA has obtained, is to be released publicly at noon on Thursday.)
In one case Gennaco describes, blows to an unconscious inmate resulted in "significant injuries requiring surgery, including brain swelling."
In another, three deputies "assaulted the inmate resulting in a fractured cheekbone and injuries to his ribs." The deputies then "left the inmate in a cell without medical attention."
In a third, a deputy and a custody assistant beat a mentally ill inmate with flashlights. Although the injured inmate's head bled profusely and needed sutures, none of the four employees who participated in or witnessed the assault took him for medical care. Instead, the custody assistant simply told a second inmate, a "trustee," to clean up the mentally ill man's bloody cell.
In addition to the recounting of the individual instances of abuse, Gennaco's report includes observations regarding larger, systemic issues regarding the jails that merit concern.
Here are a few excerpts from the report's notable points:
INSTANCES OF DEPUTIES ABUSING INMATES AND NOT GETTING CAUGHT ON THE RISE?

"One troubling aspect of our initial review of the recent ACLU report is that the times in which deputies "get away" with using excessive force may be on the rise."

SLACK HIRING STANDARDS MAY HAVE CONTRIBUTED TO EXCESSIVE FORCE CASES

"Over two years ago, OIR took the Department to task for not following LASD's own hiring standards the last time there was an uptick in hiring. Some of these hires are responsible for the excessive force cases that have occurred in the jails."

PREVIOUS JAILS REFORMS THWARTED

"Over the years, there have been proposals to address jail violence issues systemically that did not take root. For example, a proposal to rotate employee jail assignments was initially approved but scotched by Department executives when deputies complained about it. A related plan to place first line supervisors inside the modules was also halted despite initial positive signs of a reduction in force in the areas in which it was implemented."

[Editor's Note: The above belies the Sheriff's contention on Tuesday night's Which Way LA? broadcast that Undersheriff Paul Tanaka acted appropriately when Tanaka blocked 2006 reform efforts that would have helped to break up the problematic deputy gang-like cliques inside Men's Central Jail.]

JAIL SUPERVISORS MAY HAVE KNOWN ABOUT "GANGLIKE" DEPUTIES' BEHAVIOR AND DONE NOTHING

"Perhaps most concerning [About last year's Christmas party incident] is the evidence that jail supervisors apparently knew about the use of "gang-like" signs and other troubling behavior well before the eruption of violence at the Christmas party. OIR believed that while the assault was clearly propelled by alcohol, some LASD executives were too swift to conclude that intoxication was the sole cause of the incident."
The initial full 26-page report may be accessed HERE— with an updated version HERE.
---
FRUSTRATION OVER CASES THAT CAN'T BE PROVED
When I spoke to Gennaco on Wednesday night about his findings, he expressed frustration about a number of matters the report contained.
"I see this report as a bad news/good news/bad news story," he said. "It's not good that deputies are using excessive force. But when it does happen, when it can be proven, obviously that's a good thing.
"In too many cases we can't prove it," he said.
That's why, Gennaco said, he is ardently in favor of a comprehensive system of video cameras being installed in the jails. He then cited a case of an inmate beating involving nine deputies in the county's East Facility jail located in Castaic, near Magic Mountain. "We were able to prove it, and discipline nine people, because we had a video. Otherwise it would have been a case of he said/he said. A video is an evidentiary tie-breaker."
Although there are some cameras in a few of the jails, inside Men's Central Jail (CJ), the facility where most of the recently reported alleged abuse has taken place, there's almost nothing.
Recently, Sheriff Lee Baca told The LA Times that he planned to install 69 video cameras inside CJ by the end of the year.
However, according to WitnessLA's Dangerous Jails report by Matt Fleisher, back in 2006, a $12 million plan was drawn up for a closed-circuit surveillance system that would have caused 1,200 cameras to be installed inside CJ. But the plan that was subsequently abandoned.
"It's taken way too long for these cameras to get in," said Gennaco. "We also need them in Twin Towers, which is where we have most of the mentally ill inmates." Too often when there's a report of excessive use of force at Twin Towers, he said, the mentally ill inmate isn't capable of explaining to Gennaco's investigators what has happened. "That's why cameras are so important."

"LOW LEVEL FORCE"
Gennaco was also bothered by the difficulty of proving occurrences of what he described as "low level force."
"These are incidents that don't trigger injuries—or major injuries. Maybe it's a case where a deputy just shoves an inmate hard. But those incidents are important. You want to catch that one shove."
He explained that the one shove, if not caught, may lead an otherwise good deputy into a pattern of escalating behavior. "And it doesn't just affect the person who did the shoving. It also affects those who saw it and didn't report it." Nipping those incidents in the bud is critical to reform, said Gennaco.
On the topic of reform, I asked him what he thought about the FBI probe and the other recent revelations of abuse.
"Sometimes it takes a fulcrum of events to cause real change."
So, did he think we had reached the necessary fulcrum now?
At first Gennaco didn't answer directly. "I'm glad that everything is getting out on the table," he said.
I pressed.
"Well, I haven't seen this much attention paid to a public agency and not had reform result."
"Look," Gennaco said just before we rang off, "nobody likes to think about the jails and the prisons. But we have to think about them: A society is only as good as the way we treat our most vulnerable individuals."
Like inmates.
"Like inmates."
---
---
NOTE: Gennaco also reportedly intends to ask the FBI and the US Attorney to help create a system by which the Feds "independently review the Sheriff Department's internal investigations of excessive force and other misconduct."
---
Frank Stolze of KPCC has a good interview with Gennaco this morning.