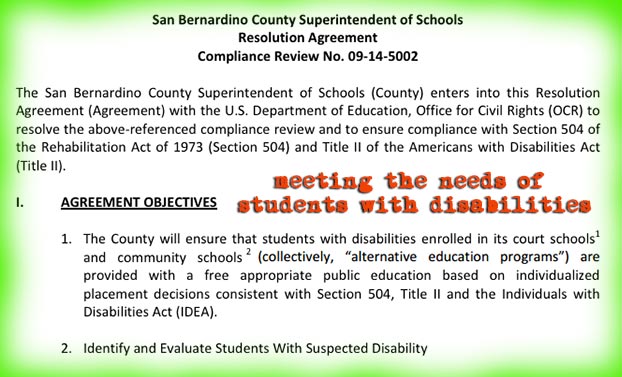 SAN BERNARDINO, FEDS REACH AGREEMENT OVER ACCESS TO SPECIALIZED SCHOOLING FOR DISABLED STUDENTS IN ALTERNATIVE AND COURT SCHOOLS
On Friday, the US Department of Education (DOE) announced a resolution agreement with the San Bernardino County Superintendent of Schools after a DOE review found the district was violating federal law by not having a system in place to identify students in alternative and juvenile court schools who may have disabilities and need specialized education services.
In addition to not having an adequate identification system, the county also lacks a record-keeping system to track the students and make sure they are evaluated, regularly re-evaluated, and given a "free and appropriate public education" as required by law. The alternative schools are also failing to provide specialized instruction—like speech therapy—and are not tracking the use of these services.
According to the review by the DOE's Office for Civil Rights, San Bernardino County is in violation of the Rehabilitation Act and the Americans with Disabilities Act. The county operates 14 community schools, where kids are moved to from traditional schools for things like expulsion, truancy, or parent referral, and two juvenile court schools, which teach kids locked up in the county's juvenile detention centers.
By identifying and evaluating students who are or may be disabled, and by making sure students with disabilities receive specialized—and equal—education, "schools can stop the cycle of revolving placements, place students with disabilities on a path to educational success, and remove them from the school-to-prison pipeline," says Catherine Lhamon, assistant secretary for OCR.
The agreement requires the county to hire a project manager to develop a full action plan for resolving the issues raised by the DOE review. The county has reportedly already started making required changes.
---
LASD DEPUTIES NO LONGER ALLOWED TO SHOOT INTO VEHICLES UNLESS OTHER WEAPON IS PRESENT
The Los Angeles County Sheriff's Department has updated its policy to bar deputies from firing at moving cars, except when threatened by a gun or other deadly weapon. The LASD's changes bring the department policies in line with the Los Angeles Police Department, which, in recent years, has had far fewer officers shoot into cars than the LASD.
While the LAPD shot into vehicles only twice between 2010 and 2014, members of the LASD shot into moving cars at least nine times during the same years, according to an investigation by KPCC's Annie Gilbertson with Aaron Mendelson.
The deputies involved justified the shootings by saying that they feared they would be hit by the cars. The suspect was armed in only one of the nine instances of LASD deputies shooting into vehicles.
The new policy, which went into effect last week, bans deputies from shooting at stationary or moving cars, or the people inside them, unless the deputies are threatened by a deadly weapon other than the moving vehicle. The department also provided a training video that explains the policy change.
KPCC's Frank Stoltze has more on the issue. Here's a clip:
"There was a concern about the number of shootings at moving vehicles we were having," said Assistant Sheriff Todd Rodgers.

The policy rewrite, which went into effect August 4, states "firearms shall not be discharged at a stationary or moving vehicle" or its occupants unless deputies are being threatened with a gun or some other "deadly force by means other than the moving vehicle."

The previous policy stated that fear would not "presumptively" justify a shooting.

"This is more descriptive and specific," said Assistant Sheriff Todd Rogers. "We are trying to impress upon deputies that its generally ineffective to shoot at a moving vehicle."

The department also published a new training video for deputies that describes the new policy and why it's not a good idea to shoot at moving cars. Any departure from policy will be reviewed on an individual basis, Rogers said.

One case involving shooting at a car could cost L.A. County millions of dollars. The L.A. County Board of Supervisors Tuesday is expected to vote on a $2.8 million settlement for a man who was sitting in the back seat of a moving car when he was shot by a sheriff's deputy.
---
LAWMAKERS, LAW ENFORCEMENT GROUPS COME TO AN AGREEMENT TO PUSH ASSET FORFEITURE REFORM BILL FORWARD
California Senator Holly Mitchell (D-Los Angeles) has reportedly come to a compromise with law enforcement groups on a bill to rein in police officers' ability to seize money and/or property that may be tied to a crime (usually a drug crime).
Law enforcement agencies in California and other states circumvent their own states' forfeiture laws through the controversial federal Equitable Sharing Program, which authorizes law enforcement agencies to use seized money as revenue, with only "probable cause" that laws have been broken, by bringing the feds into an investigation. Across the nation, local agencies are abusing the tool, using it as a cash cow, by taking money and property from people who have not been convicted of a crime.
Originally, Sen. Mitchell's SB 443 would have required a criminal conviction for nearly every instance of asset forfeiture. The changes to the bill, which were introduced last week, would require a criminal conviction for assets under $40,000, but a the current lower burden of proof for permanent seizure of assets over that amount. Now, law enforcement groups have ended their opposition to SB 443.
Last year, Sen. Mitchell's earlier version of the asset forfeiture reform bill could not survive lobbying from law enforcement groups.
The LA Times' Liam Dillon has the story. Here's a clip:
The $40,000 threshold is an attempt to balance advocates' desire that those in poverty don't lose their property unless they're convicted of wrongdoing and law enforcement's interest in preserving its ability to go after large criminal enterprises, Mitchell said.

"It's those private citizens who could not be convicted of a crime whose assets that we need to protect," Mitchell said.

As a result of the compromise, major law enforcement groups, including organizations representing police chiefs and district attorneys statewide, have dropped their opposition to the bill, SB 443…

Ventura Police Chief Ken Corney, the head of the California Police Chiefs Assn., said in a statement that his group was comfortable that under the new language police could still use the practice for its primary purpose.

"With the agreement on SB 443, conflicting sides took into consideration each other's views and found a compromise that enhances safeguards on Californians' rights, while ensuring law enforcement has the tools necessary to combat the gangs and drug traffickers damaging our communities," Corney said. "This kind of proactive and collaborative effort demonstrates the strength between California law enforcement, political leadership and our communities."