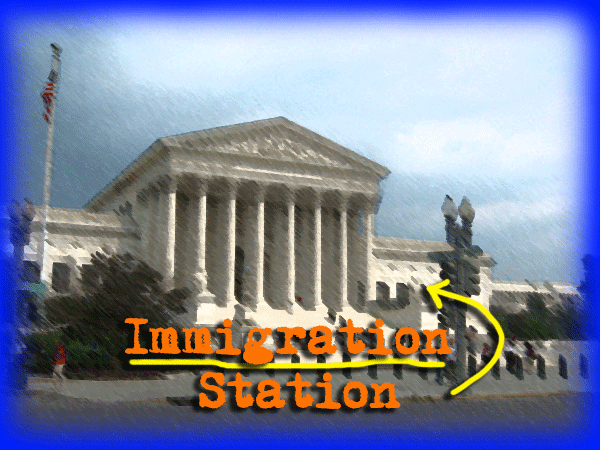 COMING SOON TO SCOTUS: IMMIGRATION
Three cases will likely go before the US Supreme Court that affect immigration law during the 2012 term. The first, Moncrieffe v. Holder, is a challenge to a law that often deports even legal immigrant non-citizens for minor legal infractions like a marijuana charge, which under federal law was prosecuted as a misdemeanor. In the second, Chaidez v. U.S., the Court will decide if an earlier SCOTUS ruling—relating to the same 1996 law that subjects permanent legal residents to deportation for criminal convictions both serious and minor—should be made retroactive. The third case expected to be added to the docket this year is the constitutionality of the Defense of Marriage Act (DOMA), which blocks family unification immigration benefits for many same-sex couples.
Daniel Kowalski, immigration expert and attorney, posted a rundown of the cases on LexisNexis' immigration law community:
"The Supreme Court began its 2012 term this week coming off of a controversial year in which the Court played a central role in the ongoing effort to determine the parameters of U.S. immigration policy and the extent of federal authority. In the Court's fall session, the Justices will again delve into immigration law in two cases that deal with the consequences of criminal convictions for non-citizens.

First up before the Court is Moncrieffe v. Holder in which the Court will decide whether a conviction under a provision of state law that encompasses, but is not limited to, the distribution of a small amount of marijuana without remuneration constitutes an aggravated felony subjecting the non-citizen to removal from the U.S., notwithstanding that the non-citizen was convicted of possessing such a small amount of marijuana that it would qualify as a misdemeanor under federal law rather than as a felony.

Shortly thereafter the Court will shift its attention to Chaidez v. U.S. to decide just how expansively to read its prior decision in Padilla v. Kentucky, in which the Court held that criminal defendants receive ineffective assistance of counsel under the Sixth Amendment when their attorneys fail to advise them that pleading guilty to an offense will subject them to deportation. The scope of the question presented in Chaidez is whether Padilla applies retroactively to persons whose convictions became final before its Padilla ruling.

Finally, while not yet on the docket, many Court watchers anticipate the Court will take up the question of the constitutionality of the federal Defense of Marriage Act ("DOMA"), which has a strong immigration component as currently written—DOMA prevents many same-sex couples from availing themselves of family unification immigration benefits." – Adam Francouer, Oct. 3, 2012
---
COLOSSAL FUND DRIVE FOR LAUSD ARTS EDUCATION
In a push to revive LAUSD arts education, the LA Fund for Public Education launched a gargantuan LA public art exhibition and fundraising campaign "Arts Matter" worth $4M in donated art, services, and ad spaces. The fund drive kick-off was celebrated at East Los Angeles Performing Arts Academy Monday afternoon. The drive will continue to showcase works from local artists around the city through February 2013.
KPCC's Tami Abdollah has the story. Here's a clip:
"Arts Matter," with CBS Outdoor as a primary sponsor, will feature the work of L.A.-based artist Barbara Kruger on about a dozen city buses and on hundreds of billboards, bus shelters, wall postings, mall media and bulletins, LA Fund officials say.

"You can go from DreamWorks to Amgen, from Boeing to Mattel, they all say their No. 1 challenge is finding creative thinkers who can problem solve and who have the capacity and desire to learn new ways of doing things in an increasingly competitive market place," said LA Fund Chair Megan Chernin.

Kruger's "School Bus" will appear on city buses in L.A. through October; other bits of approximately 900 million impressions will appear through July 2013 in various "flights" of the campaign, said the LA Fund.

The artist was at the kickoff Monday and Kruger said she was "thrilled" and honored to be involved. Kruger, who called herself a product of public education, said she aimed to include thoughts that tied the "lack of education" to "catastrophe" in a humorous and critical way. One line on the bus reads "Give Your Brain as Much Attention as You Do Your Hair and You'll Be a Thousand Times Better Off."

"It's huge that [this campaign is] happening and hopefully it's a wake-up call for people to understand the real importance of the arts in education and the importance of public education — not the defunding of public education," Kruger said.

[SNIP]

"You can't be a citizen or fully human unless you participate in the arts, and you participate in many ways," said LAUSD Superintendent John Deasy.

L.A. Unified, like school districts across the nation, is working on rolling out a new "core curriculum" in 2014; Deasy said the arts should be a full part of that.

[SNIP]

"Every one of you deserves what every adult had when we went to school, and that's a fully-funded arts program," Deasy told the students at the event launch Monday.
---
NO HUGGING IN SCHOOL—OR ELSE!
In a prime example of how extreme Zero Tolerance can be, students at a North Carolina middle school were told to quit hugging, or face an in-school suspension. The delinquent hugging was in support of Parker Jackson, a student who'd had a seizure during school.
GOOD's Liz Dwyer has the story. Here's a clip:
After seeing the supportive hugs Jackson was getting, the assistant principal told him that hugs aren't allowed in school. He and his friends cooked up the hugging protest and used social media to get the rest of the school's eighth graders to participate. The next day Principal La'Ronda Whiteside brought the hammer down.

"She was like, 'y'all have no rights to that, even though y'all think you do,' it was very inappropriate, and that if any teachers catch us hugging that we would get (in-school suspension)," Jackson told local television station KSLA 12.
---
EDITOR'S NOTE: At a special meeting at 9:30 Tuesday morning, the LA County Board of Supervisors will meet with some of the members of the Citizen's Commission on Jail Violence in order to discuss the Commission's 194-page final report. Next week, it is Sheriff Baca's turn to come in and discuss the CCJV report with the Board of Supes.
So stay tuned.