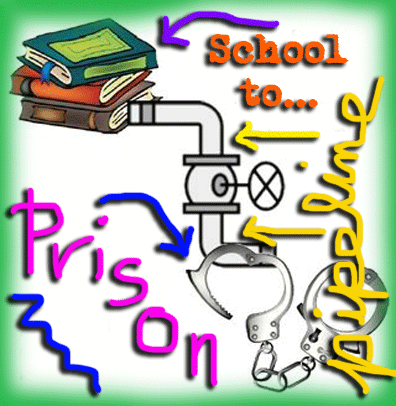 As we mentioned earlier, the US Senate Subcommittee on on the Constitution, Civil Rights and Human Rights, chaired by Dick Durbin, will hold a hearing Wednesday on the issue of "Ending the School to Prison Pipeline."
Since the hearing was announced, hundreds of kids and adults have sent statements to the subcommittee about their own views and experiences of the way in which millions of American kids are needlessly over-disciplined in school and subsequently, all too often, end up bouncing out of the classroom and into the juvenile justice system.
Some of the letters point to the fact that when schools, like Garfield High School in Boyle Heights, try systems that feature appropriate adult intervention and attention rather than punishment, in the majority of cases, a kid's negative trajectory can be rerouted.
Here's a snippet of what CA Assemblyman Roger Dickenson wrote in his 6-page statement to the committee:
"….[In California] we remove over 500,000 students from instruction each year through suspensions and expulsions, many of them for minor acts of misbehavior, we are sadly condemning a significant number of our youth to unproductive, problem-filled lives that not only threaten their own well-being, but the well-being of the communities within which they reside.
And this is from the statement by Robert Ross, President of the California Endowment:

As part of our Building Healthy Communities planning process, we sat down with young people in our target neighborhoods and asked them: What are the obstacles to getting ahead in your neighborhoods and in your schools? What blocks you from leading a healthier life?

We kept hearing the same answer, over and over again. Young people told us that extreme school discipline policies were among the biggest barriers they faced. Excessive suspensions were pushing them away from school, making it harder to earn a diploma. These young people understand the value of graduating high school, and they want to attend college, too. They believe that education is the key to a successful life—and they're right, of course. All the research shows that educational attainment is strongly correlated with increased earnings, reduced chronic disease rates, and longer and happier lives…
And there is this from the statement to the committee by California's Chief Justice, Tani Cantil-sakauye:
…As Chief Justice of California" I am deeply concerned about the well-known connection between school suspensions and our criminal justice system. One Texas study shows that one suspension triples the likelihood of a juvenile justice contact within that year. And that one suspension doubles the likelihood of repeating the grade. And nationally, the studies show that suspensions have a racially disparate effect: African-Americans, Latinos, American-Indians appear to have a far greater risk of suspension.
Yet, the most compelling letters are those from kids who have personally felt at the mercy of an over harsh discipline system.
This is a clip of a letter from Michael, a 10th grader from Manual Arts H.S. in Los Angeles:
….Even for minor things, tt seems like police are always involved in our lives at school. It's a big part of how we get pushed out of school. When you get treated like this it is demeaning. So, a lot of people I know just stop caring about school, they just don't care
anymore. And it fits with how police treat us in South LA…the message is: "You are nothing."
The hearing will be webcast tomorrow here. at 2 pm, eastern, 11 am, pacific.
Let us hope that something worthwhile comes of it.
---
MAINSTREAM MEDIA LARGLY IGNORES SINGING SUPERSTAR JENNI RIVERA UNTIL HER DEATH
This is not our usual reporting area, but it seems important to mention:
I've been so struck in these past days at the extraordinary importance of the 43-year-old Mexican superstar singer and reality show star, Jenni Rivera, for a great many of my women friends who grew up in East LA. For them, the songs and the presence of the Long Beach-raised Rivera conjured vivid messages of self-reliance, humor, independence, self-acceptance and down-to-earth courage that my friends found deeply compelling. And helpful.
When news broke on Sunday that the plane she'd been riding in had crashed, with no survivors, I read expressions of grief from my friends that were similar to what one feels in losing a close cousin or a sister.
Yet, the mainstream media outlets in Southern California, hardly mentioned her at all until her death.
Until then, it was as if Rivera didn't exist.
Prior to her death, I can't say that I paid Rivera much attention myself.
The Washington Post has an interesting story on the matter by Paul Farhi.
OC Weekly columnist and author Gustavo Arellano has a withering essay on the matter.
Here's the opening clip from Arellano's story:
The media requests for me to opine on the death of Mexican regional superstar (and Long Beach) gal Jenni Rivera are already coming in, and I expect them to only increase as the American media trips over themselves to cover the story. After all, I'm America's Mexican, right? I'm more than happy to take them, if only to help the MSM correct their pathetic record on reporting on a mega-superstar that operated in plain sight under a media that, like usual, didn't bother to pay attention while she was alive because she was a Mexican and popular mostly to Mexicans–and they never matter unless you can get a diversity grant to cover them.

Now that she's dead? Look everyone: we cover Mexicans!

Madeleine Brand of KCET has a" frameborder="0" allowfullscreen> cool interview with Arrellano on Rivera.