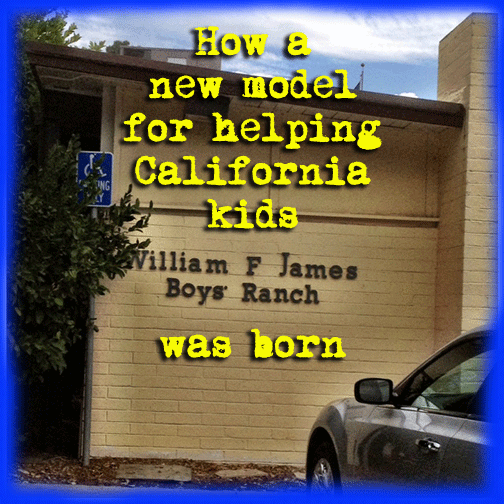 EDITOR'S NOTE: For the past two weeks, we've published stories from the series by John Kelly for the Chronicle of Social Change. The series—in which WitnessLA is collaborating—is taking a close look at programs that use a strategy known as Positive Youth Justice to help kids who have come in contact with the juvenile justice system.
First we ran a story that explored an Oakland, CA, program that uses a process called community conferencing, which asks lawbreaking kids to confront the effects of their crime.
Then last week, the series looked at a program in Tarrant County, Texas, that has been successful in helping reboot the lives of kids who, two decades ago, would have been sent to a state-run juvenile lock-up.
Today, we'll look at Santa Clara County's James Ranch.
---
This story was produced as a collaborative project with The Chronicle of Social Change.
---
PLAGUED WITH A HIGH RECIDIVISM RATE, AND A RASH OF RUNAWAYS, THE OFFICIALS RUNNING SANTA CLARA COUNTY'S JAMES RANCH DECIDED TO TRANSFORM THE PLACE

by John Kelly

---

There are few issues in juvenile justice more hotly debated than the appropriate use of incarceration—which youth can be served and rehabilitated in the community, and which youth need to be confined?

In general, the number of youths incarcerated in America is down. Way down. A report released in 2013 by the Annie E. Casey Foundation charted a decline from 107,500 confined juveniles in 1997 to 71,000 in 2010.

"This decline has not led to a surge in juvenile crime," the report made clear. "On the contrary, crime has fallen sharply even as juvenile justice systems have locked up fewer delinquent youth."

Yet relatively few of the hundreds of facilities that house juveniles in America have embraced a positive youth development (PYD) approach to engaging and strengthening juveniles while they are locked up. One of the unique programs that does is Santa Clara County's William F. James Ranch.

When the ranch first opened half a century, its model was based primarily on tight behavior control. Then 2005, the facility reinvented itself using a PYD framework built heavily on strong prosocial interaction between its staff and its wards. The drastic changes to its programs and employees have resulted in far fewer incidents at the facility and lower recidivism rates after ranch residents return to the community.

---

HOW IT STARTED

Since 1956, the James Ranch has served as Santa Clara County's placement option for older, violent offenders. It is operated by the juvenile division of the county's probation department, which also oversees a massive juvenile hall that includes detention and incarceration beds.

In the early 2000s, violent incidents and escape attempts at the ranch were commonplace.

"When I first started with the old [ranch] program, the training was about safety and security: how to keep yourself safe, how to keep the kids safe," recalls Santa Clara Probation Manager Anne Elwart, who started as a guard and went on to direct the ranch.

Just fewer than 100 youths were held at the ranch at any time, and they were guarded by a relatively small group of line staff trained only to keep the peace.

"We did the best that we could with what we had", recalled Elwart. "Often, we were just watching."

In 2004, the county hired Sheila Mitchell as chief probation officer. Mitchell came from neighboring Alameda County, where she was the deputy chief of probation, and prior to that had served as deputy commissioner of Georgia's Department of Juvenile Justice.

Mitchell said her initial impression was that the ranch was little more than a way station for serious offenders.

"The kids would tell you they were just doing time," she said. "You had two, even three kids a week trying to run away. The community was outraged, the county executive was outraged."

An assessment of the ranch's outcomes revealed that four out of 10 kids were failing the program and returning to incarceration.

"When we looked even closer, it wasn't that they were failing as much as that the program was not designed for them to succeed," Mitchell said.

Pushed by the Santa Clara County Board of Supervisors for a plan that would cut her budget, in 2005 Mitchell instead asked the board for a proposed budget increase of $3 million. The funding would increase the number of staff at the ranch, and recalibrate its program around a PYD framework.

Although there was initial resistance, matters were helped slightly by the fact that some of the supervisors had been part of a 2003 Santa Clara delegation that visited juvenile facilities in Missouri, where the state Division of Youth Services (DYS) had become a national model for reframing juvenile incarceration.

The "Missouri model," as it is called, requires the use of small, campus-style facilities with youth work professionals serving as the line staff. Youth are clustered into small, "family-style" groups.

That arrangement has helped Missouri's Department of Youth Services maintain a recidivism rate below 10 percent among the juveniles released from their facilities. In 2008, DYS won Harvard's Innovations in American Government Award for its approach.

Back at Santa Clara, however, "there was interest, but no traction" on the idea of moving towards a California version of the Missouri's model, Mitchell said—until she presented her $3 million proposal with a cost-savings pitch.

"I was able to give them a return on investment report," Mitchell said.
"I argued that when you look at the failure rate now, it was going to save us money in the long range to invest in this program. They took a leap of faith, and decided to invest."

And so it was that the Santa Clara Board of Supervisors approved $3 million to bring a PYD approach to the James Ranch. Elwart led the writing of a curriculum that would focus on what is known as aggression replacement training [for more on that click here], education and mentoring relationships, along with extensive training of the camp's workforce.

The county also hired the Missouri Youth Services Institute to help with the design of the new service model. The institute had recently been founded by longtime DYS Director Mark Steward, and was working on similar assistance projects with Washington, D.C. and Louisiana.

Missouri operates eight very small facilities using its system, but that was not possible in Santa Clara, which to this day still has one barracks-style living unit.

Instead, Elwart had to corral the staff into doing a one-night, makeshift renovation of the unit before its reopening using rope and blankets to create the dorm-like settings prescribed by the Missouri model. The department eventually agreed to build actual walls into the unit. But then, facing a $1 million price tag for the project, it opted instead to spend $60,000 on the kind of partition walls used in many office buildings.

Yet, the partitions did the trick.

---

A WELL-EDUCATED, WELL-TRAINED STAFF

Elwart worked at the ranch for a total of 19 years, most recently as the director of the facility. She rotated to a new post in adult probation in late December and was succeeded by Jermaine Hardy, who rotated to the ranch from the juvenile services division of the probation department.

The facility employs six supervisors; 68 full-time line staff; six teachers and a small team of part-time staff devoted to mental health and substance abuse. The teachers are employees of the Santa Clara Unified School District.

Each member of the line staff must have a four-year degree. By comparison, the state of California requires its correctional officer candidates to produce a high school diploma or equivalent.

Staffers' education continues when they are hired by Santa Clara County where, before a worker is allowed to work directly with youth, he or she will go through 80 hours of core training. For the first six months, they are trained on the correctional component of their job — "on how to be a good guard," Elwart said.

After that each line staff receives 12 days of training on the core principles of the ranch program. This includes two full days of training on aggression replacement, motivational interviewing, and substance abuse counseling.

---

HOW IT WORKS

The key to the success of the ranch program, Elwart said, is the interaction between the line staff and the youth. The full-time line staff are responsible for one of the six living units, but they are also counselors assigned to help and mentor two offenders.

"We work out of a 1958 building with pivot walls, so it's not the building," she said. The magic is in the interactions.

"We don't sit there and do shaming and blaming. These staff build rapport and actually work with [the youth]. That's the secret sauce."

At the center of that interaction is the technique called aggression replacement training. "It's about understanding that all behavior has purpose, not getting caught up in the behavior itself," Elwart said.

She used an example of acting out that occurs with regularity at the ranch: a youth cussing out one of the line staff.

"If he's cussing you out, realize it might be about something else," Elwart said. "Like, 'Oh, mom was supposed to visit today and she didn't.'"

Instead of writing the youth up or punishing him, Elwart described how staff are trained to attempt to unearth what's beneath the behavior. "You just engage him. 'Dude, what's going on? All of a sudden, you're cussing me out.' Get them talking."

Aggression replacement is meant to first help the youth learn to take a deep breath, stop the impulse to react in anger, Elwart explained. Second, the youth are taught the ability to seek further calm through self reflection, asking "why did I even get pissed in the first place?"

The third step is to build in moral reasoning and victim empathy. "That's getting them from carjacking someone and thinking, 'Well, they have insurance!' to thinking, 'That was someone's mom.'"

For camp residents the day's schedule opens with morning group, run by line staff and teachers. After that, the school day commences.

School stretches into early afternoon in 45-minute blocks, with career technical education courses mixed in. Students can earn up to 50 credits toward graduation while at the ranch, though some of the older teens are so far behind that they elect to pursue a GED while they are there.

The ranch school's counselor also conducts what Elwart calls a "credit cleanup" program. Many youth have been in and out of juvenile hall by the time they arrive at the ranch, and some have attended several schools. The cleanup is aimed at piecing together as much of the academic history as possible to move the youth closer to graduation.

Vocational programs are available during the school day as well. The ranch operates an automotive repair program and a welding apprentice shop for older teens. (Examples of former campers welding creations can be found around the campus.)

Afternoons are dedicated to a rotating schedule of programs that include landscaping, recreation, and gang intervention. For some youth this is also the time for a range of targeted treatments and programs, including drug counseling, sex offender therapy, and anger management.

Dinner is at 5pm, followed by downtime in the units before lights out. Weekends include sessions on victim awareness and scheduled work crew shifts on the ranch, but mostly focus on family visits and free time.

Although there is bed space for 84 at the ranch, though the average daily population is usually in the forties, according to Elwart. A planned $27 million expansion of the ranch will add a new kitchen, a gym and a new housing unit that would increase capacity to 108.

Most of those youth will stay at the ranch for eight months in a program that passes them through four levels:

1) Listening and learning, following basic expectations.
2) A self-insight phase about following rules and being "better than a good inmate," as Elwart put it. Family counseling begins to happen toward the end of this phase.
3) Reunification with family and community. "We determine when a kid is ready for this," Elwart said. "They'll get a day pass three or four times, then a two-day pass. It's to get them using refusal and coping skills."
4) Determining the youth's plan for coming back to the community and staying there.

---

OUTCOMES

In 2005, 47 percent of youth at the ranch received a violation and/or a new arrest during their stay, and 42 percent of those who were released received a violation or arrest within 12 months of release.

By 2011, those figures were 9 percent and 11 percent, respectively.

Incidents in facilities are often a driver of extended incarcerated time and longer records for juvenile offenders. As Santa Clara adopted a PYD approach, the number of incidents plummeted.

---

GETTING STAFF BUY-IN

One big challenge in moving the needle from a correctional approach to a positive youth development approach is that, by definition, the line staff on-hand is grounded or at least well-trained in the old way of thinking.

"Their title was always "counselors," Mitchell said of the pre-transformation staff, "but over time they became more like guards that made sure nobody escaped or was hurt."

Mark Steward said the quality of the staff at the James Ranch was better than his Missouri Youth Services Institute was used to. "The line staff were…by and large, more correctional, but they had a better education level and more receptiveness than most places."

Another point in Santa Clara's favor, said Steward was that "they weren't forced into change by a court order or consent decree."

Still, Elwart said, there was "major resistance from the union, [and] staff saying, 'This is not what I signed up for."

It was helpful that the number of line staff was slated to rise significantly, bolstering the union's ranks, she said. "But yes, there were problems. We were changing work schedules, and the work environment." And there was push back.

Eventually, Elwart said, "we got most people to buy in. The people we lost were mostly those with 25 years in already."

---

FOCUS ON REENTRY

Early in the reform of the ranch, the recidivism numbers weren't improving as much as its leaders hoped. "It took some time to realize that we were putting them back in the community with little support," Elwart said.

To address the problem, the ranch established the Reentry Assistance Program (RAP) in 2012. The RAP team consists of line staff and probation officers who are assigned only to work with youth after their stay at the ranch.

RAP usually spans a 10-week period following a youth's release, and is based on a gradually receding level of involvement with the youth. During the first week, the RAP staff help set up job interviews and appointments with family counselors or drug and alcohol treatment programs.

During the first 30 days, a youth is allowed to be home, at work, in school or at a scheduled appointment. They must make a nightly curfew call to their RAP officer, who will also be checking in with the youth at least twice a week in person.

After 30 days, in-person checks generally drop to once a week, and youth are allowed to move freely.

In its most recent evaluation of the program the National Council on Crime and Delinquency credited RAP with significantly increasing the quality of reentry services for youth released from the ranch.

---

THE 30-DAY LEEWAY

A further help with recidivism came when Elwart was able to secure two agreements from the courts that gave the ranch flexibility on how it handles two key issues: incidents at the facility and violations committed during the reentry period.

Ranch managers are able to place a youth involved in a serious incident back in juvenile hall for up to 30 days, essentially to cool off. Then the ranch can recall the youth to the program at any time during those 30 days.

Youth who violate the terms of the reentry program can be recalled to the ranch for a total of 30 days. Both are written into the boilerplate language for every youth's court order.

Why is this significant? Because in many juvenile justice systems, a violent incident might mean a youth is drummed out of a therapeutic program. A violation after release might lead to new charges and re-incarceration.

The two standing orders allow ranch staff to mitigate certain concerning behaviors without derailing what progress has been made.
For example, Elwart said, one mom recently lost it on her son who tested positive for cocaine, violating the terms of his release.

The 30-day clause enabled Elwart to find a place for the boy to stay for the night while helping the mother cool down. Then, because the teen had already gotten a full-time job, she arranged for substance abuse services on the weekends.

And so it was that a brief backslide that might resulted in additional incarceration, instead resulted in some new, tentative steps forward.

---

John Kelly is editor of The Chronicle of Social Change.