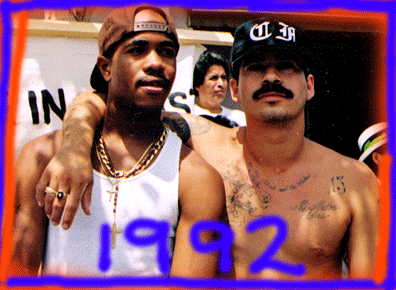 Last night I was going through scores of old snapshots for possible use in a new edition of my gang book, G-Dog and the Homeboys. The photos were all taken around fifteen years ago during the time I was researching the book, and they brought back a torrent of memories. All of the young men and women were in their teens or early 20's when the camera caught them. Now they're in their 30's. (If they're alive, that is.) Some have since gone to prison. Yet a lot have managed to steer clear of danger and have made good lives for themselves.
Just for the heck of it, I figured I'd post a tiny sampling of the photos here, together with notes about what those photographed are doing now.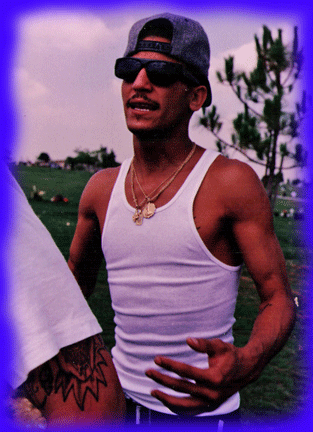 Street name, Cartoon. Wild, funny, with a cyclone of a temper in his youth. Now he's a working man and enthusiastic father who, last time I saw him, was horrified to find himself dealing with a dating daughter.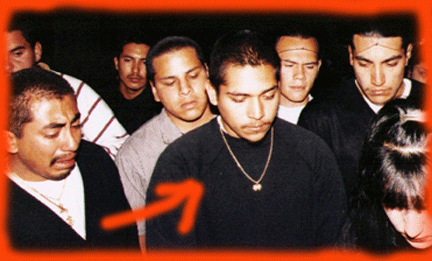 Green, at the center, was at a young homeboy's funeral in this photo. An unlikely gang leader who tested well into the gifted range before he dropped out of school, he was the king of fast and funny street patter. I always felt if Green could just make it to adulthood without something horrible happening, he'd be okay. And he is okay. Better than okay. Once he started working, there was no stopping him. He is now a husband, a dad—and an associate producer on a long-running, very popular network TV series, the name of which you would assuredly know. Eventually he wants to direct. (He's also in the midst of writing his own feature script. Naturally. )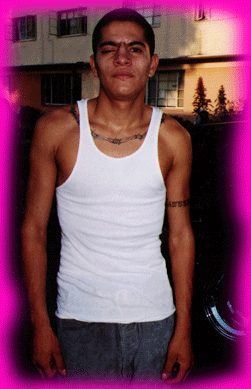 As a teenager, Stranger got his eye shot out by an enemy homeboy. As a consequence, he was so cynical and angry back then I wouldn't have bet on him changing. But now he's the nicest of men—a working guy and soccer dad. When I saw him a year or so ago, he told me that he was even writing a little poetry.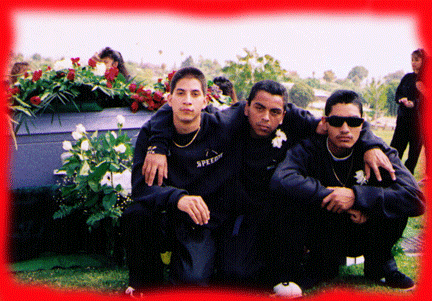 Kali, Moreno and Termite were three of a quartet of best friends. Here, they are sitting in front of the casket of the fourth friend. The dead boy, Edgar, was called Triste—Sad Boy. He was a sweet-faced kid whose eyes often did seem sad when his face was in repose. He had recently confessed to his girlfriend that he wanted to be a cop. There were bad months, way back then, when I wondered if Kali and Termite would live through the weekend, their actions were so personally reckless. But they did make it. Only Edgar did not.

I remember it rained the morning of the late Spring day Edgar was shot. But then the sun came out, and walked to the little corner store to get ice cream. He was killed by boys he had known all his life. Edgar's was the first death between two gangs that had traditionally been friendly. Now there have been more deaths between those gangs than I'd want to count.

Kali is married with three kids on whom he dotes. He has great industrial job (something about gas storage) where he keeps getting promoted. Last year he was over-the-moon happy when he and his wife finally bought a house of their own.

Moreno is a working man and a born again Christian. He is working on getting his own trucking business. He was married, but he and his wife have divorced.

Termite has lived in the US since he was three, but is not a citizen. He has three kids, two step kids, a common law wife and two years ago, he and his brother started a sub-contracting company in another state that specialized in framing houses. He likes watching the history channel and Bill O'Reilly. He was deported this year, due to a felony conviction that occurred when he was 19. He is trying to start over in Mexico, and hopes that his family will be able to join him. Thus far, it's been difficult.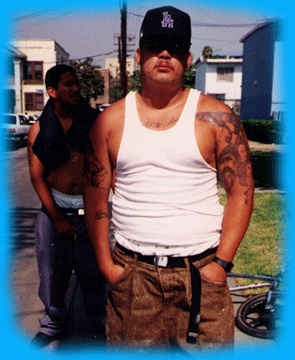 Once a gang shot caller (but more level-headed than most), Cezar—gang nickname "Piolin," which translates, in all seriousness, as "Tweety Bird'— is married with kids, and has an excellent union construction job working for the city. He is studying (no kidding) to be an evangelical pastor.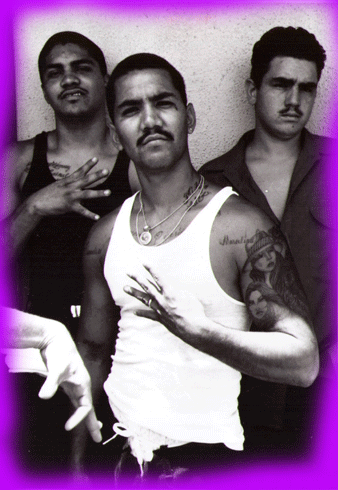 Titi was quite the hard-head back then, with a sometimes hair-trigger temper, and nerves of ice. Yet, he was a natural leader, and the type that, had circumstances been different, would have made a great military man. He struggled a lot when he got out of prison a few years ago. Much of it had to do with the fact that his baby brother was shot and killed while Titi was locked up, and he was beset by roiling emotions about it.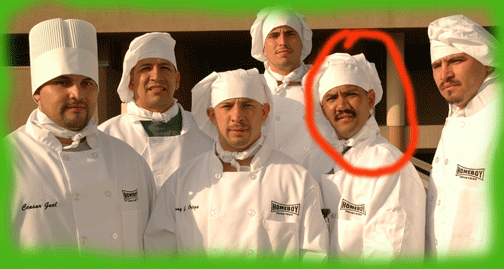 Now here he is as one of the new Homeboy Industries bakers. (FYI: The Homeboy Bakery is having its grand opening next Tuesday.)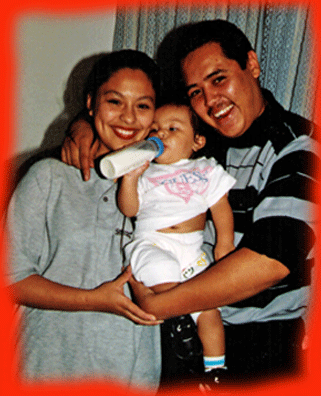 The day this photo was taken, Grace and Danny AKA Stranger, had just baptized their daughter, Beatriz. (I drove Grace to the hospital to have the baby a month before her sixteenth birthday) Grace is now a successful production coordinator for the TV commercial industry. She was married, but has recently separated. Danny is serving life without possibility of parole for a murder he didn't commit. Beatriz, who is also my god daughter, turns sixteen next month.