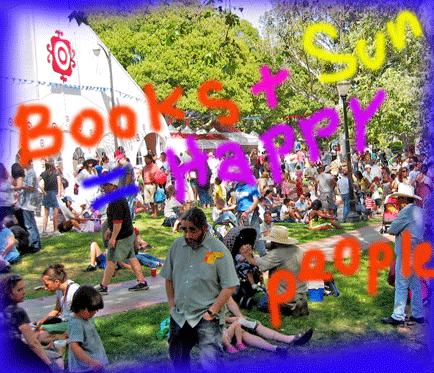 *****************************************************************
UPDATE: For those of you who didn't get to go to the Festival, reading my pal Tod Goldberg's Festival of Books Primer is almost as good, wa-a-a-ay funnier, and doesn't require either driving time or sunscreen.
******************************************************************

Yesterday was glorious. Today is likely to be more glorious still. (If you live in LA, you still have time to get over there. Or tune in right this minute to hear good stuff like blogfather Marc Cooper moderating a panel on C-SPAN Books)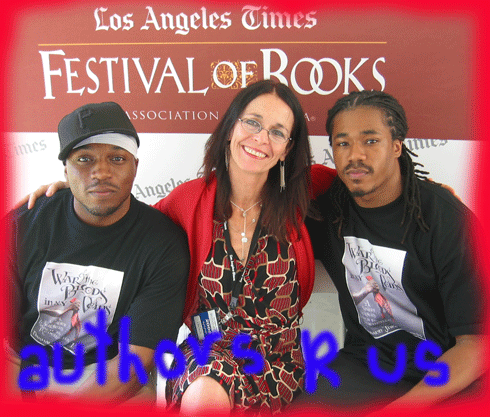 My panel, moderated by Jill Leovy (The Homocide Report), with Miles Corwin and brand new author Dashaun Morris, in which we talked about literature based on stories from the streets, could have easily gone twice its length judging by the enthusiasm of the questioners from the audience. (The photo above of me is with Dashaun and his brother, and clearly I look very cheered up by being flanked by two handsome, smart guys.) Dashaun is a former gang member who, after prison, transformed himself into a man with a great deal of worth to say to those trying to understand the problem of gang violence and how to solve it.
But the day was filled with a plethora of terrific panels and author talks, and thousands and thousands of men, women and children who come together at this event—all for the love of books.
Some of the panel and talks I most enjoyed were:

1. Dialogue-wizard Richard Price talking about his new novel Lush Life, a beautifully constructed and fabulously entertaining book that I'm betting will be up for multiple book awards this time next year.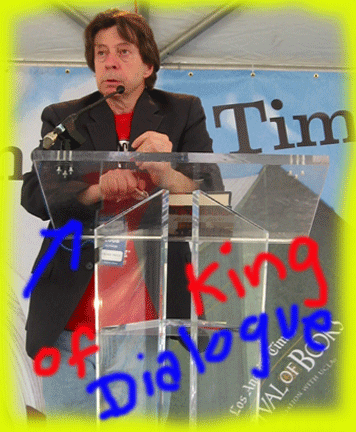 2. The amazing Maxine Hong Kingston in conversation with my good pal LA Times Book Editor David Ulin, a wonderfully inspiring hour of talk about writing as a form of activism and how to convey the complexity of human experience through the interweave of truth and myth.

3. Mega-popular mystery writer Michael Connelly (LAPD Chief Bill Bratton's favorite crime novelist) interviewing police procedural master Joe Wambaugh about his new novel, Hollywood Crows. Wambaugh entertained the adoring, packed-to-the-rafters crowd with his wild and woolly tales of the art of getting great stories out of cops, and the perils of getting Hollywood actors to do nude scenes. (Wambaugh himself in part produced the movie of his classic true crime bookThe Onion Field.)
So rush over now…..or watch it on C-Span Books, ….or buy the recordings of the panels and talks you wish you could have seen…..or just go out and have fun reading.

Books make the world a better place to be.