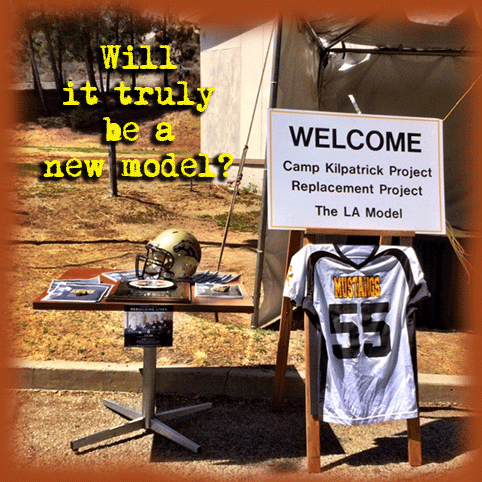 FRIDAY CEREMONY KICKS OFF WORK ON A NEW MODEL FOR HELPING LAW-BREAKING KIDS IN LA AND BEYOND
"Rehabilitative, not punitive. That's the message," said Supervisor Zev Yaroslavsky at Friday's groundbreaking ceremony for the demolition and replacement of Camp Vernon Kilpatrick.
The now-closed camp, located in the rural hills above Malibu, will be rebuilt as a new kind of juvenile facility that, if all goes as hoped, will not only positively redirect the lives of the kids it serves, but will also fundamentally reboot the direction of LA County's juvenile probation as a whole.
Camp Kilpatrick is the county's oldest juvenile camp, and its most run down. So when Probation (with the approval of the LA County Board of Supervisors, and aided by a $29 million state grant) began to develop ambitious plans to completely rethink and rebuild one of its juvenile facilitates, the half-century-old, 125-bed camp Camp Kilpatrick was an obvious choice.
The idea is to transform the aging Malibu facility—which, at present looks like a series of dilapidated prison barracks— into a cluster of homelike cottages that sleep a maximum of 12. Thus both the structure and the programmatic strategy of the new facility will be designed to promote a relationship-centric, therapeutic and educational approach to helping kids, rather than simply trying to control their behavior.
The $48 million project will borrow some elements from the famed "Missouri Model"—-developed by the State of Missouri, and long held up as the most widely respected juvenile justice system for rehabilitating kids in residential facilities. Planners also looked at innovative programs in Santa Clara County, and Washington D.C..
Yet, nearly everyone present on Friday was quick to emphasize that Los Angeles has a particularly diverse youth population, and so needs its own specially-tailored approach.
The goal, therefore, is to create a unique "LA Model," which borrows from other successful programs, but imagines into being its own original strategy. Ideally, it is hoped that this LA Model will be comprehensive enough that it can be replicated throughout the county system and, with any luck, serve as a model for the state and the nation.
That is, of course, a tall order.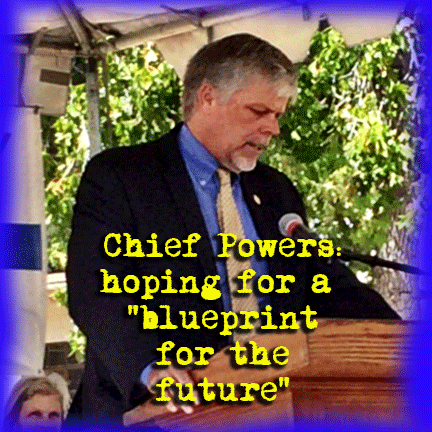 Probation Chief Jerry Powers pointed out that the project—which he calls "a blueprint for our future"—is an unusually collaborative one, with a planning committee that includes juvenile advocates like the Children's Defense Fund (among others), along with the LA County Office of Education (LACOE), the Department of Mental Health, the Los Angeles Arts Commission, the Juvenile Court Health Services, the Department of Public Works, and so on.
There are even two formerly incarcerated youth who are part of the planning group.
Plus, in the end, it is probation's project.. And, finally, there is the LA County Board of Supervisors, which has say-so over probation.
Getting this diverse array of people, agencies, and interests to agree on a coherent direction, without that direction becoming hopelessly homogenized, has reportedly been—and still is—challenging, and there have been a plethora of delays. (The new Kilpatrick is set to be completed in late 2016 and open in January 2017.)
All that said, a genuine sense of optimism and we-can-do-it commitment seemed to rule the day on Friday in Malibu.
"If we are going to remove young people from their homes and schools and community at a pivotal time in their development, we better get it right," said Carol Biondi, of the Los Angeles Commission for Children and Families. Biondi is part of the planning group and was one of the day's speakers. "There will be no warehousing in the LA Model because we know children do not thrive in storage."
Indeed they do not.
Alex Johnson, the new head of California's Children's Defense Fund, put the optimism of the afternoon in context. "Today's initiation of demolition efforts at Camp Kilpatrick marks an important step forward for Los Angeles County's juvenile justice system," he saidy. "However, much work remains to ensure that all justice system-involved youth are treated humanely and fairly. We applaud the County's leadership and vision on this initiative, and look forward to continuing to work together to make sure that the Camp Kilpatrick project becomes a springboard for system wide reform."
Naturally, WLA will be reporting a lot more on this high importance, high stakes project as it progresses.
---
NEW STATE REPORT SHOWS CALIFORNIA'S DRAMATIC RACIAL DIVIDE WHEN IT COMES TO SCHOOL TRUANCY
On Friday, California Attorney General Kamala Harris released her 2nd annual report on school truancy. This time she also broke the numbers down according to race and income.
The results showed that african American students are chronically truant at a rate that is nearly four greater than California students as a whole. Researchers flagged poverty and school suspensions as significant causal factors.
The report also noted that this attendance crisis has largely remained hidden, simply because the critical data has not previously been tracked. And although the causes of the racial divide require further study, we do know, wrote the researchers, "that African-American children experience many of the most common barriers to attendance—including health issues, poverty, transportation problems, homelessness, and trauma_–in greater concentration than most other populations."
Julie Watson of the AP has more. Here's a clip:
The report by the California attorney general's office is the first time the data has been broken down according to race and income levels. Officials say such data is needed to address the problem.

It comes as new research from the U.S. Education Department's civil rights arm earlier this year has found racial disparities in American education, from access to high-level classes and experienced teachers to discipline, begin at the earliest grades.

Black students are more likely to be suspended from U.S. public schools — even as tiny preschoolers, according to the March report by the Education Department's civil rights arm.

The Obama administration has issued guidance encouraging schools to abandon what it described as overly zealous discipline policies that send students to court instead of the principal's office. And even before the announcement, school districts have been adjusting policies that disproportionately affect minority students. Overall, the data show that black students of all ages are suspended and expelled at a rate that's three times higher than that of white children. Even as boys receive more than two-thirds of suspensions, black girls are suspended at higher rates than girls of any other race or most boys.

The data doesn't explain why the disparities exist or why the students were suspended.

In California, the study found 37 percent of black elementary students sampled were truant, more than any other subgroup including homeless students, and about 15 percentage points higher than the rate for all students.

Overall, more than 250,000 elementary school students missed 10 percent or more of the 2013-2014 school year or roughly 18 or more school days. The absences were highest at the kindergarten and first-grade levels when children learn to read, according to experts.

Statewide, an estimated 73,000 black elementary students were truant last school year.
---
TOXIC STRESS: THE WAY POVERTY REGENERATES
The New York Times Nicholas Kristoff and Sheryl WuDunn have an op-ed essay on the effects of "toxic stress" in a child's early life, how it helps fuel the cycle of poverty, and what can be done about it.
It's not a cheery read, but it's an interesting and makes some important points. Below are a couple of clips to get you started, but it's really worth it to read the whole thing.
AS our children were growing up, one of their playmates was a girl named Jessica. Our kids would disappear with Jessica to make forts, build a treehouse and share dreams. We were always concerned because — there's no polite way to say this — Jessica was a mess.

Her mother, a teen mom, was away in prison for drug-related offenses, and Jessica had never known her father. While Jessica was very smart, she used her intelligence to become a fluent, prodigious liar. Even as a young girl, she seemed headed for jail or pregnancy, and in sixth grade she was kicked out of school for bringing alcohol to class. One neighbor forbade his daughter to play with her, and after she started setting fires we wondered if we should do the same.

Jessica reminded us that the greatest inequality in America is not in wealth but the even greater gap of opportunity. We had been trying to help people in Zimbabwe and Cambodia, and now we found ourselves helpless to assist one of our daughter's best friends.

[BIG SNIP]

The lifelong impact of what happens early in life was reinforced by a series of studies on laboratory rats by Michael Meaney of McGill University in Canada. Professor Meaney noticed that some rat mothers were always licking and grooming their pups (baby rats are called pups), while others were much less attentive. He found that rats that had been licked and cuddled as pups were far more self-confident, curious and intelligent. They were also better at mazes, healthier and longer-lived.

Professor Meaney mixed up the rat pups, taking biological offspring of the licking mothers and giving them at birth to the moms who licked less. Then he took pups born to the laissez-faire mothers and gave them to be raised by those committed to licking and grooming. When the pups grew up, he ran them through the same battery of tests. What mattered, it turned out, wasn't biological parentage but whether a rat pup was licked and groomed attentively.

The licking and grooming seemed to affect the development of brain structures that regulate stress. A rat's early life in a lab is highly stressful (especially when scientists are picking up the pups and handling them), leading to the release of stress hormones such as cortisol. In the rats with less attentive mothers, the cortisol shaped their brains to prepare for a life of danger and stress. But the attentive mothers used their maternal licking and grooming to soothe their pups immediately, dispersing the cortisol and leaving their brains unaffected.

A series of studies have found similar patterns in humans…

[SNIP]

Dr. Jack P. Shonkoff, founder of the Center on the Developing Child at Harvard University, has been a pioneer in this research. He argues that the constant bath of cortisol in a high-stress infancy prepares the child for a high-risk environment. The cortisol affects brain structures so that those individuals are on a fight-or-flight hair trigger throughout life, an adaptation that might have been useful in prehistory. But in today's world, the result is schoolchildren who are so alert to danger that they cannot concentrate. They are also so suspicious of others that they are prone to pre-emptive aggression.

Dr. Shonkoff calls this "toxic stress" and describes it as one way that poverty regenerates. Moms in poverty often live in stressful homes while juggling a thousand challenges, and they are disproportionately likely to be teenagers, without a partner to help out. A baby in such an environment is more likely to grow up with a brain bathed in cortisol.

Fortunately, a scholar named David Olds has shown that there are ways to snap this poverty cycle.