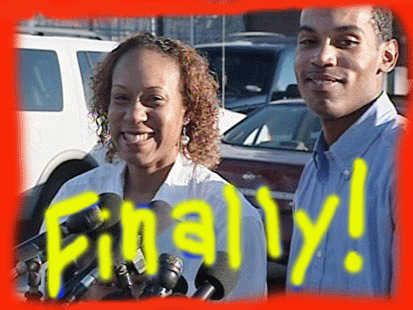 The California fires are now estimated to cost in the billions, George Bush's administration continues to poke sticks at Iran (then claims it's a only negotiating ploy)….but there is one genuinely good piece of news today:
The Georgia Supreme Court ruled earlier today that Genarlow Wilson's ten year sentence for having oral sex with another teenager (he was 17, she was 15), is indeed cruel and unusual, and the court ordered him released.
This afternoon, his mom drove over to the prison with a nice bunch of new clothes for her about to be released kid. Now he's OUT! And, as you can see from the ABC photo above, his mom looks mighty happy about it!
(Earlier WLA stories on the subject here, here, here, here and here.)
Good going Georgia Supremes! (At least, the four of you that voted in favor of release.)
Here are some clips from the NY Times story.

In a 4-to-3 ruling, the court's majority said the sentence was "grossly disproportionate" to the crime, which the justices said "did not rise to the level of culpability of adults who prey on children."

…Writing for the majority in Friday's 48-page opinion, Chief Justice Leah Ward Sears noted that changes to the law made after Mr. Wilson's conviction "represent a seismic shift in the legislature's view of the gravity of oral sex between two willing teenage participants.

"The severe felony punishment and sex offender registration imposed on Wilson make no measurable contribution to acceptable goals of punishment," she wrote.

Very nicely said, Justice Ward.
NOTE: Chapeau Tip to commenter Woody for snapping me out of my deadline-ridden, post-fire haze long enough to notice this news.
(photo from ABC)