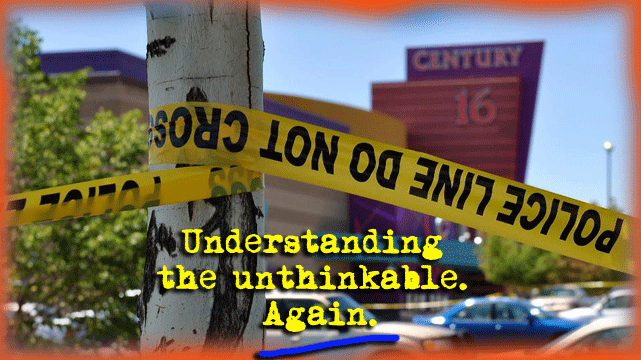 Over the weekend, it was hard to focus on news other than the shootings in Aurora, Colorado, where 12 people were killed, 58 wounded, at the midnight showing of The Dark Knight Rises. With this in mind, we've set aside other issues and have gathered some reports and stories that you might have missed.
---

DON'T JUMP TO CONCLUSIONS ABOUT THE KILLER, WRITES DAVE CULLEN
Journalist and author Dave Cullen has first hand experience about the perils of jumping to conclusions about mass murder—and mass murderers. He is the author of the excellent book Columbine, which deconstructs in harrowing detail the myriad events that led to the Columbine school massacre, after which everyone reporting on the tragedy, including Cullen himself, seemed to get it wrong.
Here's the opening of his essay about the Colorado shooting for Sunday's NY Times.
YOU'VE had 48 hours to reflect on the ghastly shooting in Colorado at a movie theater. You've been bombarded with "facts" and opinions about James Holmes's motives. You have probably expressed your opinion on why he did it. You are probably wrong.

I learned that the hard way. In 1999 I lived in Denver and was part of the first wave of reporters to descend on Columbine High School the afternoon it was attacked. I ran with the journalistic pack that created the myths we are still living with. We created those myths for one reason: we were trying to answer the burning question of why, and we were trying to answer it way too soon. I spent 10 years studying Columbine, and we all know what happened there, right? Two outcast loners exacted revenge against the jocks for relentlessly bullying them.

Not one bit of that turned out to be true.

But the news media jumped to all those conclusions in the first 24 hours, so they are accepted by many people today as fact. The real story is a lot more disturbing. And instructive.
---
MENTIONING THE POLITICALLY UNMENTIONABLE
It is nearly impossible not to talk about gun control after this shooting (pro and con). And yet the presidential candidates have managed it.
Here are some of the more articulate pleas for a real discussion on the matter.
In the New Yorker, Adam Gopnik writes about what the politicians—on the right and the left—won't talk about.
The murders—it dignifies them to call them a "tragedy"—in Aurora, Colorado, have hit us all hard, though the grief of the friends and families of the victims is unimaginable. Still, it hits home, or someplace worse than home, for any parent who (as I did, as so many did) had a kid at one of the many midnight screenings of the new Batman movie last night, they having gone to see it the moment it opened. Once again, as so often before, the unthinkable news is disassembled, piece by piece, into its heartbreaking parts. After the Virginia Tech shooting, the horrifying detail, as I wrote at the time, was that the cell phones were still ringing in the pockets of the dead children as their parents tried to call them. In Colorado, you can't expunge the knowledge of the sudden turn from pleasure to horror that those children experienced.

[SNIP]

The truth is made worse by the reality that no one—really no one—anywhere on the political spectrum has the courage to speak out about the madness of unleashed guns and what they do to American life. That includes the President, whose consoling message managed to avoid the issue of why these killings take place. Of course, we don't know, and perhaps never will, what exactly "made him" do what he did; but we know how he did it.

[SNIP]

The reality is simple: every country struggles with madmen and ideologues with guns, and every country—Canada, Norway, Britain—has had a gun massacre once, or twice. Then people act to stop them, and they do—as over the past few years has happened in Australia. Only in America are gun massacres of this kind routine, expectable, and certain to continue. Does anyone even remember any longer last July's gun massacre, those birthday-party killings in Texas, when an estranged husband murdered his wife and most of her family, leaving six dead?
But nothing changes: the blood lobby still blares out its certainties, including the pretense that the Second Amendment—despite the clear grammar of its first sentence—is designed not to protect citizen militias but to make sure that no lunatic goes unarmed
And then there is James Fallows' Sunday night post at the Atlantic, after readers wrote him to say he was too pessimistic and furious in his earlier post about his certainty shootings like this would happen again.
Here's a clip from the first post:
Like everyone, and I'd say especially like every parent, I am of course saddened and horrified by the latest mass shooting-murder. My sympathies to all.

And of course the additional sad, horrifying, and appalling point is the shared American knowledge that, beyond any doubt, this will happen again, and that it will happen in America many, many times before it occurs anywhere else…..
Now here's a clip from the second post that went up Sunday night (in which he doesn't back off in the least):
….I never mean to give in to jaded fatalism, so I will reflect on this again.

….Meanwhile, this sample of the insanity of today's "security" thinking.

The latest Colorado shooter — like Jared Loughner of Tucson, Seung-Hui Cho of Virginia Tech, and the countless others whose names we forget after they have done their damage — could not legally have walked onto an airplane carrying a water bottle, or without taking off his shoes.

But he could walk down the street with a legally purchased assault rifle, body armor, and as much ammo as he could lift.

At some point the madness of this disproportion may sink in. To be clear on my own views: I see no reason why a civilian should be allowed to possess an assault rifle like this shooter's AR-15, a civilian version of the military M16, or similar high-capacity weapons. These are for soldiers and others formally authorized to administer deadly force.

And while we're on the "madness" topic, please consider:

The lasting distortion in our airport operations and travel "security" rules if these same 12 people had been killed and dozens injured on an airplane. We'd have Congressional hearings, sackings of TSA officials, new inspections and screening machines "to keep us safe," and so on.
The military, diplomatic, and cultural consequences if the Batman murderer had happened to yell "Allahu Akbar!" or "Death to America!" before dispatching his victims….
---
THE MURDERS AND THE DEATH PENALITY
This weekend Doug Berman, the attorney/law professor/sentencing expert who blogs at Sentencing Law and Policy, generated a LOT of heated discussion in response to this post on the shooting rampage in which he said how relieved he was that Colorado is a death penalty state.
(A little later, he revisited his thoughts on the matter with a cooler head here in his Sunday post, but he didn't dial back his point.)
Here's a small clip from the post that stirred everyone up:
….In the immediate aftermath of these sorts of horrific mass killings, I find it so very hard to react with my head without also listening to my heart. And in these kind of awful cases, my heart (or is it my gut) often suggests to me that ultimate punishment of death is the only one which feels fitting. I suspect Colorado prosecutors (and perhaps also federal prosecutors) will have similar feelings…..
(Readers here know that we at WLA are big fans of Doug Berman,which doesn't mean we agree with him on absolutely everything).
---
BILL BRATTON TALKS ABOUT ARMED MOVIEGOERS
In the midst of much nattering by TV talking heads on the issue, former LAPD chief Bill Bratton was refreshingly sane and specific on Meet the Press as he responded to the argument that, if only theater goers had been carrying their own guns, much of the theater shooting tragedy could have been averted.
(NOTE: You have to listen to quite a bit of blather before you get to Bratton's comments at about minute 2:03.)
Earlier in the weekend, Bratton told FOX News that "What we need is "some sanity in our gun control laws."
---
Photo by Alan Mittelstaedt