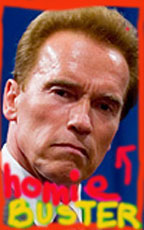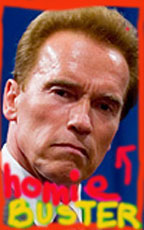 On Friday, Arnold Schwarzenegger unveiled a "sweeping new" $48 million dollar gang plan. (I love sweeping new plans, don't you?) The plan comes complete with lots of "cracking down" (Yawn, been there….over and over and over again), some gee-whiz gadgetry in the form of satellite electronic tracking devices to be strapped on the ankles of truly bad gang members, and….the new must-have accessory for all 2007 gang crack downs: A GANG CZAR.
It's not that I don't think a gang czar is a good idea, it's that the chances of getting someone who has the breadth of knowledge and experience to genuinely problem solve in the arena of gang violence are….well, I wouldn't bet the ranch on it. Plus, in order for them to have a prayer of being even slightly effective, said Czar would need some real control and authority. This is likely to happen….let's see, what's the term I'm looking for? Oh, yeah. Never. Given what Arnold is suggesting now, it appears to be one step above a vanity position—in other words, another committee head.
Since, the state is facing a $3 billion budget shortfall, it's unclear where the $48 million is actually going to will come from anyway. Plus the democrats, quite rightly said that the plan has virtually nothing planned for prevention and intervention, that it's mostly a strategy to beef up law enforcement.
And in a sop to the CCPOA-–the prison guards' union—Arnold wants to add 70 new corrections officers to try to do something about the prison gangs that all but run certain of the state's correctional institutions. (And they will do what exactly, to accomplish this?) Unfortunately, this seems emblematic of the governor's approach to most criminal justice issues in the state: build more prisons; hire more guards.
The state, like the city of Los Angeles, has very real gang problems that call for the will and the willingness to craft the kind of comprehensive and creative approach that we have yet to see come out of either city or state leadership. Connie Rice's Advancement Project report pointed the way to the kind of thinking necessary to get started. Yet it has all but been ignored.
Instead we get new "sweeping plans" that look a lot like old sweeping plans—or, as they say in Texas, all hat and no cattle. Politics as usual.