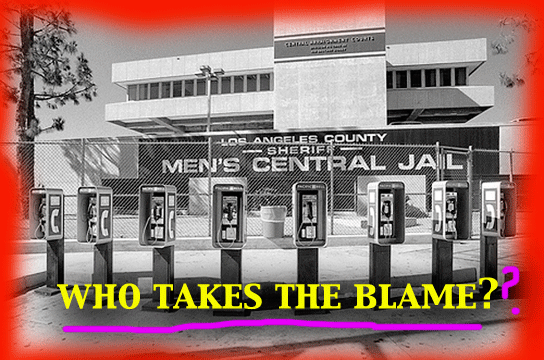 The former commanding officer of Men's Central Jail, Captain Daniel Cruz, was relieved of duty. He was reportedly told on Tuesday night, according to sources close to the Los Angeles Sheriff's Department. Word of the action surfaced in the department early Wednesday morning.
The leave and the attendant investigation was triggered primarily by Cruz's performance as the commanding officer of Men's Central Jail, which he oversaw from April 2008 to December 2010—in other words, during many of the years that produced a bulk of the incidents that have come to light in the widening jail abuse scandal. (There were other bad years, but Cruz assuredly presided over a troubling period where previous attempts at reform went by the wayside.)
According to two insider sources, Cruz has been on the radar for other incidents—one being being his actions on the night of December 9, 2010 at the now infamous Men's Central Jail 3000 Boys Christmas Party at the Quiet Cannon banquet hall in Montebello, where a brawl broke out that resulted in the firing of 6 deputies the following spring.
---
CODE 4
Evidently, Cruz was one of two captains present when the fight broke out, and acted as the supervisor on the scene, according to sources. When the Montebello police got the call that there was a fight at the Quiet Cannon, and went to investigate, it was Cruz who reportedly told the Montebello cops that it was a "Code 4," no big deal, nothing to see here, and that the sheriff's would handle it.
"He's a Sheriff's Department Captain," said Lt. Michael Bergman of the Montebello PD. "So when our sergeant saw no obvious victims, and the supervising officer says, 'We've got a handle on this,' we took his word for it."
But a few days later, Bergman said, they found it was a big deal after all when two LASD deputies contacted the Montebello PD. "They said, 'We were at the party, we were the victims, we want to file a crime report, and we want to fully cooperate.'"
Sources said that Cruz's bigfooting of the Montebello cops and minimizing the seriousness of the Christmas party fight, was illustrative of a pattern that also played out during his tenure running Men's Central Jail. (Cruz's term as CJ's commanding officer was just ending around the time of the notorious Christmas party.)
Reportedly Cruz had long been seen as being "too buddy, buddy" with deputies in the jails and not enough of a commanding officer wishing to run a tight ship. As a consequence, he reportedly had a habit of being glacier-like when processing complaints against the deputies, and/or failing to turn in "force packages"—meaning reports of use of force—in a timely fashion.
"Complaints and force packages have a year time clock on them," explained a former LASD higher up, who was one of those who suggested that Cruz let force packages languish. "So if you sit on force packages, and the year runs out, we can't do anything about investigating those complaints even if we want to."
---
A SCANDAL BREAKS OPEN
For a Los Angeles Sheriff's Captain to be relieved of duty, is rare. However, Cruz is the 2nd LASD captain in three months. In April,** Captain Bernice Abram, who was, at the time, the commanding officer in charge of the department's Carson station, was put on leave after federal authorities notified LASD higher ups, that Abrams voice may have been heard on an FBI narcotics wiretap.
Then, a few months after the news on Abram broke, the jails abuse scandal began to unfold in earnest.
In mid September, WitnessLA's Matt Fleischer reported a culture of abuse in the jail system, and how when attempts were made to address the abuse, certain members of LASD command staff actively blocked reform. To illustrate the severity of the abuse, WLA told of the case of jail inmate Juan Pablo Reyes, who said he was beaten so badly by deputies that it fractured his orbital bone, then was tossed in a cell with gang members who sexually assaulted him throughout the night without any deputy intervention.
Two weeks later, the ACLU released a scathing report on inmate abuse, with 72 sworn affidavits by both inmates and civilian witnesses, highlighting the Reyes case.
The LA Times followed with its own series of excellent reports about the growing jails scandal.
While the reporting, the FBI had been widening its investigation to include multiple alleged instances of abuse of inmates by deputies inside the LA County Jail system, subpoenaing, among other things, tons of discipline records detailing years of use of force incidents by deputies.
As the fall wore on, in rapid succession, Mike Gennaco's Office of Independent Review issued a harsh report on the jail abuse situation, the LA County Board of Supervisors voted to appoint a special commission to dig into the matter, and Sheriff Baca, who had for years denied the existence of any but the most isolated of problems, finally snapped awake and announced the appointment of his own two task forces to investigate, saying that he'd been insulated by his command staff from seeing the severity of the jails abuse problem.
But heads had yet to roll—or even wobble-–in the upper echelon of the Sheriff's Department.
Until Dan Cruz.
---
WHO IS TO BLAME?
For the past few weeks, our sources in and around the LASD have been taking bets as to who would mostly likely be held responsible for the jail abuse mess. Put another way, who at command staff level would be selected by higher ups to take one for the team.
The name we heard most often was that of Captain Daniel Cruz.
Thus when word came down on Wednesday that he'd been put on leave, the gossip mill went into overdrive.
The collective conclusion: Cruz meet bus.
Of course, the investigation is at its very beginning, and cynical gossip is only cynical gossip. Captain Cruz may very well be found to have handled things just fine–(or not). Perhaps attention will eventually focus farther up the department ladder.
Whatever the case, we would like to respectfully suggest that one does not acquire a culture of abuse in the nation's largest jail system through the mismanagement of a single captain.
There's more to come.
Stay tuned.
---
MEANWHILE, FROM THE SHERIFF….
Sheriff's Bulletin #587 November 4, 2011
ATTENTIVENESS TO INPUT AND CRITIQUE

As a leader of the Los Angeles County Sheriff's Department, I am always open to input and critique, and value recommendations that strengthen the effectiveness of our Department. Recently, I accepted responsibility for alleged deficiencies in the jails, where it was later revealed that input from a variety of sources, including Department members, was not adequately addressed or possibly ignored. This is unfortunate and unacceptable.

As leaders on the Sheriff's Department, regardless of rank, we have a positive duty to remain open and attentive to all input. If deficiencies are observed, we have an obligation to take a leadership role in working toward a solution and following up on input from everyone.

I expect all complaints, suggestions, recommendations or input to be handled to conclusion and channeled through the chain of command consistent with Department policy and common sense. I am not afraid of criticism and have an "open door" policy. Therefore, any questions regarding who should be notified about any matter can be resolved by simply contacting me directly.

Our Core Values require each of us to "do right and fight wrongs." I admire the strong leadership throughout our Department and know we will continue to uphold and strengthen our outstanding Tradition of Service.
---
**NOTE: I originally reported that Bernice Abram was put on leave in August, which is incorrect. Although news of her leave broke in August, she was actually put on leave in April.