California's Racial and Identity Profiling Advisory Board (RIPA) publicly released its first annual report this week on disparities in law enforcement interactions with civilians. The annual reports are a new state requirement brought about by AB 953, the "Racial and Identity Profiling Act," introduced by
Assemblymember Shirley Weber (D-San Diego) in 2015, and are meant to "inform best practices, create and evaluate trainings and policies, and build trust and improve police-community relations."
AB 953 requires 463 law enforcement agencies across the state to gather new policing data and report it to the California Department of Justice.
The first report includes new information about citizens' complaints against officers. (Future reports will include new information on stops and searches.)
The 451 agencies that submitted data to the state DOJ reported a total of 514 complaints that alleged racial or identity profiling in 2016. There were 388 complaints that included allegations of racial profiling, 28 complaints involving mental disability profiling, 32 based on physical disability, 22 based on sexual orientation, 8 complaints of profiling based on gender/identity expression, 41 complaints of profiling based on gender, 6 complaints of profiling based on religion, and 12 complaints involving age-related profiling.
The 451 agencies reported a total of 9,625 complaints, 90.1 percent (8,670) of which were for non-criminal actions. A total of 625 (6.5 percent) were for conduct that would qualify as misdemeanor offenses, and 330 (3.4 percent) for conduct that would constitute felony offenses.
Not all complaints reach disposition within the same year they were reported. Of those complaints that were resolved in 2016, 911 (11.8 percent) were sustained, 1,744 (22.5 percent) were not sustained, 1,381 (17.8 percent) were exonerated, and 3,712 (47.9 percent) were unfounded.
At the local level, the Los Angeles Police Department (9850 sworn) reported 1,997 complaints, 52 of which were for alleged profiling. In comparison, the LA County Sheriff's Department (9,316 sworn) reported 920 complaints against LASD members, 1 of which involved alleged profiling.
The next largest agency, the California Highway Patrol (7,197 sworn) reported 394 complaints, 22 of which alleged profiling.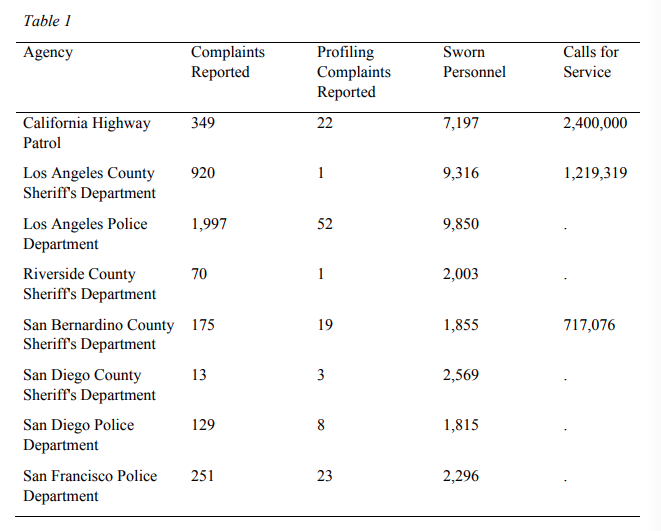 Of the medium-sized agencies, the Oakland Police Department (750 sworn) reported 41 out of a total of 1,197 complaints. Of the 939-member San Jose Police Department's 278 complaints, 51 were for profiling. The Orange County Sheriff's Department (1,745 sworn) reported just 10 complaints, none of which were for profiling.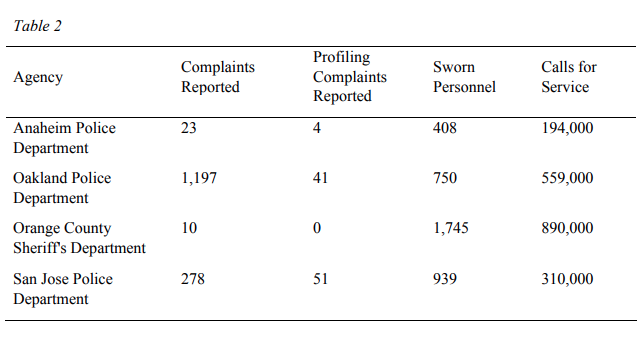 Based on this data, as well as a 16-question survey sent to departments, the RIPA Board recommends that agencies increase outreach to inform civilians–especially in isolated and marginalized communities–of how to access and submit complaint forms.
"Accessibility is a core tenet of an effective civilian complaint procedure," the report states. "If civilians do not know about or cannot easily access civilian complaints, the numbers of complaints filed with an agency will naturally be lower and risk becoming unrepresentative of broader concerns, including grievances regarding racial or identity profiling."
The board also recommends increasing the number of languages that complaint forms are available in, and increasing the use of translation services for individuals not proficient in English. Additionally, agencies should have a separate manual on how to conduct investigations into civilian complaints, as well as training for those who investigate the complaints. The board pointed out that some agencies use civilian investigators to conduct the inquiries.
Beginning in 2020, the report will also contain the collection of data by California law enforcement agencies on the racial makeup of all those stopped by the police, and other information, including the reasons for and outcomes of those stops. In July 2018, the state's largest law enforcement agencies will begin collecting data on every stop—each detention and search.
AB 953, the bill requiring the new data collection, was a controversial one, with some law enforcement officials saying that gathering additional data would be costly and would stick officers with needless additional paperwork, pulling them away from more pressing police work.
Advocates argued that collecting data that will illuminate racial and identity profiling problems, is an invaluable tool that can lead to improved police-community relations.
"In 2014, the young people of Ferguson, MO awakened the country, afresh, to the deeply-felt pain of communities of color with respect to law enforcement sworn to protect them," said Reverend Ben McBride, Co-Chair of the RIPA Board and Co-Director of People Improving Communities Through Organizing (PICO) CA. "The chasm of mistrust moved thousands into the street, including across California, to ultimately pass AB 953, in 2015. The work of the RIPA Board has been to deny the false choice of 'us vs. them' and find ways to collaboratively protect all Californians, providing them with dignity and respect."
The RIPA Board is co-chaired by Edward Medrano, President of the California Police Chiefs Association, who praised the first year of RIPA work and data collection.
"We hope that in the future, through the collection of data, we can identify the true scope of racial and identity profiling and establish an evidence-based approach to increase public trust with the police," said Chief Medrano. "This first report by the RIPA board is the beginning of a journey that will allow Californians to understand the level of racial and identity profiling in policing and assist in the development of community-police partnerships and programs to improve trust in the police."
In addition to data on complaints, the first report also gives background information on disparities in law enforcement, in general, as well as the current policies at work to prevent bias in policing.
For example, 93 percent of 114 agencies that responded to a board survey reported that they have specific policies on racial and/or identity profiling.
A total of 80 percent (91 agencies) address the issue of bias in policing within their policy or training on reasonable suspicion and/or probable cause, 71 percent address the issue in policy or training on investigative stops, 60 percent include the issue in policy or training regarding conducting searches, and 56 percent address the issue in their policy or training on use of force.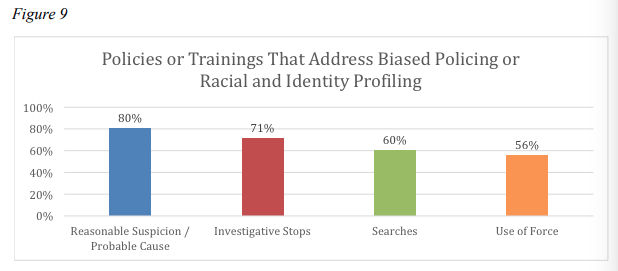 A total of 76 percent (84) of responding agencies told the board that they had specific policies and/or practices in place focused on improving police-community relations, while 24 percent said that they did not.
The report also breaks down what the board's work will look like moving forward.
The board says it will conduct a more in-depth analysis of law enforcement agencies' policies and training regarding racial and identity profiling. The board also plans to develop a list of best practices to ensure that the policies and trainings are effective.
"The RIPA Board's work is critical to ensuring public safety and effective law enforcement-community relations," said Attorney General Xavier Becerra. "From experiencing a police stop as a young man, to sitting down with family members of individuals who have lost their lives, and working today with our men and women who wear the badge and strive to keep us safe, I can tell you this work is crucial for us to get right."