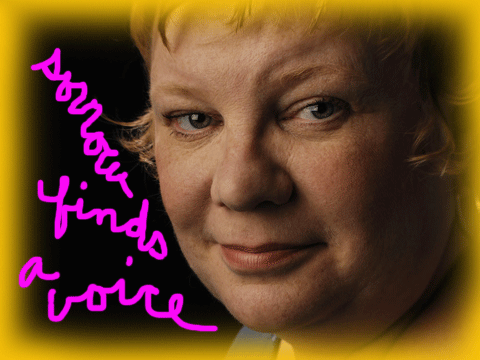 Wednesday's Fresh Air, featured a poet named Kathleen Sheeder Bonanno who has recently released her first collection of poetry called Slamming Open the Door that is getting a great deal of well- deserved attention.
In 2003, the lives of Kathleen Bonanno and her husband plunged into a life-shattering tragedy that was very similar to the one that has overtaken Greg Burk and Deborah Drooz, the parents of Lily Burk.
2003 was when Kathleen's daughter Leidy Bonanno was found dead in her apartment, strangled with a telephone cord by an ex-boyfriend. The poems in Slamming Open the Door chronicle Leidy's murder and each step of the aftermath.
The work is almost unbearable to read—or to hear read, as Bonanno does on the show—but it also shimmers with jagged-edged beauty, courage and power. The poems are rageful. Drenched in the deepest kind of grief. Totally cleansing.
It was actually WLA commenter Woody who brought the show and Bonanno's poetry to my attention. And, in the last comment thread, he has written more eloquently about the broadcast than I have.
I was hesitant to post about this book—for obvious reasons. Yet the fearful symmetry was difficult to ignore. And I judged the poems might, for some, offer an unlikely form of comfort.
I leave you to listen and make up your own mind.
Here is the link.
And here are five of the poems. Be sure to read the last one.

Death Barged In


In his Russian greatcoat,
slamming open the door
with an unpardonable bang,
and he has been here ever since.



He changes everything,
rearranges the furniture,
his hand hovers
by the phone;
he will answer now, he says;
he will be the answer.



Tonight he sits down to dinner
at the head of the table
as we eat, mute;
later, he climbs into bed
between us.



Even as I sit here,
he stands behind me
clamping two
colossal hands on my shoulders
and bends down
and whispers to my neck:
From now on,
you write about me.

What People Give You

Long-faced irises. Mums.
Pink roses and white roses
and giant sunflowers,
and hundreds of daisies.


Fruit baskets with muscular pears,
and water crackers and tiny jams
and the steady march of casseroles.
And money,
people give money these days.


Cards, of course:
the Madonna, wise
and sad just for you,
Chinese cherry blossoms,
sunsets and moonscapes,
and dragonflies for transcendence.



People stand by your sink
and offer up their pain:
Did you know I lost a baby once,
or My eldest son was killed,
or My mother died two months ago.



People are good.
They file into your cartoon house
until it bows at the seams;
they give you every
blessed
thing,
everything,
except your daughter back.

Confessions

Don't pity me:
I was too lazy to walk
up the stairs
to tuck her in at night.



When I brushed her hair
I pulled hard
on purpose.



And always
the sharp,
plaintive edge
on the rim
of the spoon
of my giving.

Ant


An ant rears its front legs,
its rosary-bead parts
startling and black,
but I do not see it.



You name it.
I cannot see
what she can
not see.

Poem About Light

You can try to strangle light:
use your hands and think
you've found the throat of it,
but you haven't.
You could use a rope or a garrote
or a telephone cord,
but the light, amorphous, implacable,
will make a fool of you in the end.



You could make it your mission
to shut it out forever,
to crouch in the dark,
the blinds pulled tight—



still, in the morning,
a gleaming little ray will betray you, poking
its optimistic finger
through a corner of the blind,
and then more light,
clever, nervy, impossible,
spilling out from the crevices
warming the shade.


This is the stubborn sun,
choosing to rise,
like it did yesterday,
like it will tomorrow.
You have nothing to do with it.
The sun makes its own history;
light has its way

.