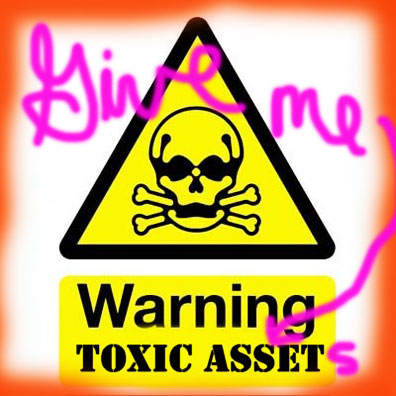 While Congress argues over financial reform, with the fights inevitably fracturing along partisan lines (again), the radio show This American Life has managed to bring out a perfectly timed show that deals with how one single hedge fund firm made hundreds of millions of dollars for itself while blithely worsening the financial crisis for the rest of us—and how it knew what it was doing all along.
The show is called "The Inside Job." Here's the summary:
A hedge fund named Magnetar comes up with an elaborate plan to make money. It sponsors the creation of complicated and ultimately toxic financial securities… while at the same time betting against the very securities it helped create. Planet Money's Alex Blumberg teams up with two investigative reporters from ProPublica, Jake Bernstein and Jesse Eisinger, to tell the story. Jake and Jesse pored through thousands of pages of documents and interviewed dozens of Wall Street Insiders. We bring you the result: a tale of intrigue and questionable behavior, which parallels quite closely the plot of a Mel Brooks musical.
The musical this debacle most resembles is The Producers––in which the protagonists figure out that they can make much more money on a failed musical than on a successful one. So they set about trying to make the worst musical in the world.
That is basically what Magnetar did. Right as the mortgage market was about to collapse, they forced the creation of billions of dollars worth of the riskiest possible mortgages to package into securities. Since they were betting against those mortgages, it was more profitable if they failed.
Anyway, just listen. This is something that you really ought to hear.
---
Meanwhile, the LA Times reports that the unemployment numbers are looking very grim. Here's the opening of the story:
Despite optimism over recent job gains, one grim statistic casts a long shadow over the recovering economy — a record 44% of the nation's 15 million unemployed have been out of work for more than six months.

And the evidence suggests that many of them may never completely rebuild the working lives they lost.

Never since the Great Depression has the U.S. labor market seen anything like it.…
if you think your blood preassure can stand it, read those statistics over again once you've listen to the TAL segment.
---
(NOTE: Lighter blogging than usual, but up to speed again tomorrow.)