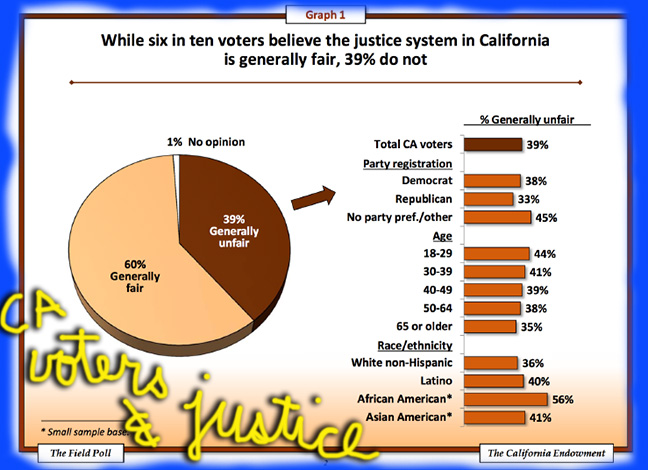 IN NEW POLL CALIFORNIANS MOVE TOWARD COMMUNITY-BASED SOLUTIONS TO MANY PUBLIC SAFETY PROBLEMS
According to a Field Poll released last week, 39 percent of California voters view the justice system as "generally unfair." That means, of course, that over sixty percent of those questioned saw the American justice system as "generally fair."
Yet, among certain demographics, those generally fair/generally unfair numbers reversed themselves. For instance, the majority of African Americans chose the more pessimistic of the justice, as did nearly half of young voters ages 18-29.
When asked about specific concerns regarding the unfairness of the justice system, 41% of all voters surveyed, and 54% of those under age 30, felt the system unfairly penalizes people of color more than whites.
But a larger segment of California voters (53%) agreed that their primary concerns when it came to the justice system centered around the system's treatment of the innocent—specifically that "too many innocent people, regardless of their race and ethnicity, are arrested unfairly, mistreated by police, wrongly convicted for crimes, or given overly harsh punishments."
---
HOW TO BUILD A SAFER COMMUNITY
Interestingly, when it came to programs and strategies to make their communities safer, a hefty majority of those polled said they strongly supported community-based prevention strategies for promoting community safety over strategies that mandated spending more money on police and prisons.
Then when asked about specifically what methods they felt might improve community safety, two thirds of the state's voters said they "strongly support" having their local governments spend funds to increase access to mental health services (66%). The same percentage of voters (66%) favored providing more job training programs (66%). Increasing support programs for young people also drew 66%, while slightly less—56%—wanted to increase access to substance abuse treatment.
Still, a healthy 39% were strongly supportive of increasing the number of police, however just 11% favored building more jails and prisons as a strategy to make their communities safer.
---
SUPPORTIVE OF KIDS BEING KIDS
Voters seemed to have the most agreement when it came to the need for programs to keep kids in school and out of the justice system.
For instance, greater than eight in ten voters (86%) agreed that suspending or expelling students from school for misbehaviors ranging, from minor misconduct to violent offenses, should only be employed as a last resort after other approaches have been tried "to hold students accountable while keeping them in school."
This view was shared by the majorities of voter across all age, ethnic and party lines—although Democrats, Latinos, African Americans, and voters under age 30 expressed the strongest agreement for taking this no-expulsion approach.
Similarly, greater than two in three polled said they believed the government's education and health care systems are better suited than the juvenile justice system to oversee the rehabilitation of juvenile offenders
And by a two to one margin, California voters surveyed told Field that they believed the justice system should treat juvenile offenders differently than adult offenders.
---
NO FOR-PROFIT DETENTION CENTERS FOR IMMIGRANT DETAINEES
In the last topic area that the survey covered, pollsters found the majority of Californians would make changes in how undocumented immigrant detainees are treated.
Most California voters (68%) favored a policy of releasing undocumented immigrants, refugees, and asylum-seekers into the community under supervision or electronic monitoring rather than holding the immigrants in a jail or detention center (31%) while they wait to go to court to determine their residency status.
The numbers on this topic are most dramatic with voters under age 30, where close to nine in ten favored community-based supervision.
And if undocumented immigrants are locked awaiting their court appearances, three in four Californians (73%) said these immigrants should be held in government-run facilities rather than in the private, for-profit jails or detention centers (25%) that currently house the majority of immigrant detainees.
---
SUGGESTIVE NUMBERS?
It is not clear whether or not these poll numbers are indicative of how voters will vote on the ballot propositions relating to justice issues, like Propositions 66 and 62, which both deal with the death penalty, pro and con, and Governor Jerry Brown's Proposition 57, which would take the power to transfer kids to adult court out of the hands of prosecutors and give that control back to judges, along with increasing parole eligibility for non-violent offenders who have completed the base sentence for their primary offense, and boosting access to early release credits.
Yet representatives from the California Endowment, which requested the Field poll, said they were pleased by the what the numbers suggested about Californians' evolving views and perceptions.
"As a health foundation, we believe it's time for a new vision of community safety centered on health, education and investing in young people," said Mary Lou Fulton, Program Director for the Endowment. "It's encouraging to see that a majority of California voters support moving our tax dollars and policies from punishment to prevention."