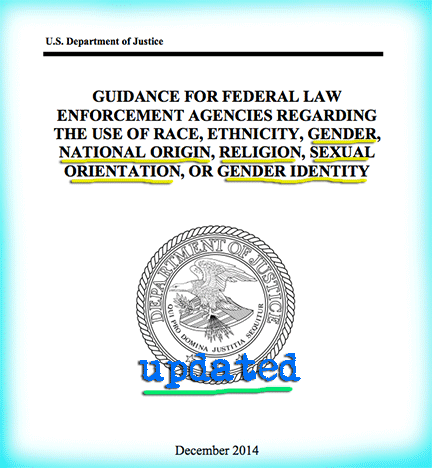 NEW GUIDELINES: WHO (AND WHEN) FEDERAL LAW ENFORCEMENT AGENTS CAN PROFILE
US Attorney General Eric Holder has announced new profiling guidelines for federal law enforcement agencies. Now, federal officers can no longer discriminate based on religion, national origin, gender, sexual orientation and gender identity. Before, only discrimination based on race or ethnicity was banned.
While the move does appear to be a step in the right direction, advocates say it may not make a huge difference in curbing profiling across the nation. For instance, the guidelines are only for federal agencies—not state and local departments, and some of these new rules don't apply to TSA and border patrol officers.
The LA Times' Timothy Phelps has some helpful examples of changes the new policy will bring (and things that will not be changed). Here are some clips:
Will the new rules help prevent the kinds of deadly encounters seen recently in Ferguson, Mo., and New York that have left African American men dead at the hands of white police officers?

Not likely. The new guidance applies only to federal law enforcement officers, such as those from the FBI and Justice Department. Local or state police would have to abide by the guidelines only if they were working on a joint task force with federal officers.

But Justice Department officials said Atty. Gen. Eric H. Holder Jr. is hopeful that the federal guidelines will become a nationwide model that is eventually embraced by local law enforcement as well.

[SNIP]

Can federal law enforcement investigate someone simply because they are gay or lesbian?

No. For the first time, sexual orientation and gender identity are protected in the anti-profiling guidelines. Gay rights advocates have praised the new language.

Does the new policy apply to terrorism and national security cases?

In theory, yes. The new guidance revoked the national security exemption that had existed under the old rules.

But like border agents, the FBI and other agencies that investigate terrorism argued that profiling was sometimes needed to protect the nation. Civil rights lawyers say other provisions in the rules appear to permit certain kinds of profiling in the name of national security.

The new guidance specifically allows the FBI and other federal law enforcement to continue to "map" communities, focusing their investigations on neighborhoods or communities based, for example, on religion or national origin. Also, some critics of the new rules are concerned that Holder was noncommittal Monday when asked whether the FBI field manual would be updated to reflect the new guidance, raising questions about whether federal agents will change their behavior.
---
ANOTHER DOJ ANNOUNCEMENT (WITH THE DEPT. OF EDUCATION): EDUCATION FOR CONFINED KIDS
On Monday, AG Eric Holder also announced, with the U.S. Secretary of Education Arne Duncan, a new Correctional Education Guidance Package to help states and local agencies provide better education services to locked up kids. The package comes as a result of President Barack Obama's My Brother's Keeper initiative aimed at improving outcomes for boys and young men of color.
The package instructs juvenile facilities to provide boys and girls with equal access to education programs, end discriminatory discipline practices, and better serve the education needs of english-learning kids.
Evie Blad has more on the new guidance in a story for Education Week. Here's a clip:
The guidance consists of "Dear Colleague" letters that outline the education obligations of juvenile justice residential facilities under federal civil rights laws, clarify that many confined youth are eligible for federal Pell grants for higher education, and specify facilities' obligations under the Individuals with Disabilities Education Act. The agencies' also released a set of "guiding principles" for providing education in juvenile justice settings.

The package includes a special focus on issues that are especially relevant to education in juvenile justice settings, including coordination with schools as students transition in and out of their care, use of highly qualified and credentialed teachers, promoting a positive and safe climate for learning, and identifying special education needs.

"Although the overall number of youth involved in the juvenile justice system has been decreasing, there are still more than 60,000 young people in juvenile justice residential facilities in the United States on any given day," Catherine E. Lhamon, the Education Department's assistant secretary for civil rights, and Vanita Gupta, the acting assistant attorney general for civil rights, wrote in the guidance.

Holder noted that the agencies released the guidance at a time of "growing national dialogue about ensuring that America's justice system serves everyone equally." Youth in detention facilities are sometimes recipients of inadequate instruction or no instruction at all, Holder said, calling such experiences "unacceptable failures" and "lost opportunities."
---
LASD CIVILIAN OVERSIGHT VOTE MAY COME TODAY
Today (Tuesday), the LA County Board of Supervisors is expected to vote on the creation of a permanent citizens' oversight commission for the Los Angeles Sheriff's Department. The motion, previously submitted by Mark Ridley-Thomas and termed-out Gloria Molina, was rejected by the board. (Ridley-Thomas has championed the idea for more than two years.) Now, Ridley-Thomas and new Supervisor Hilda Solis have reintroduced the proposal. And new 3rd District Supervisor Sheila Kuehl has said before that she will support civilian oversight.
An LA Times editorial urges the board to approve the motion. Here's how it opens:
New leaders bring fresh perspectives, so there is reason to believe that Los Angeles County government will be reinvigorated by the four officials who took office earlier this month. But sometimes it's not enough to change faces and ideas; the structure of government itself needs an occasional shake-up. So it's doubly heartening that the reconstituted Board of Supervisors on Tuesday will take up the idea of a citizens commission to oversee the Sheriff's Department. The action is overdue.

Sheriffs are directly elected by county voters, affording a level of independence so great that it sometimes veers into unaccountability. That was part of the problem with former Sheriff Lee Baca, whom voters returned to office repeatedly while he presided over a department in which management breakdowns led to inmate abuse in the jails and other critical and costly problems. For years, voters had too limited a view into the department to know of its failings; the Board of Supervisors had too many other things on its plate to adequately spotlight them; and outside monitors who had access and knowledge had no public forum at which to share them.

To address that structural shortcoming, new Sheriff Jim McDonnell supports the creation of a citizens oversight commission — a panel to scrutinize the department's actions and operations and report on its findings in a public setting. A divided Board of Supervisors rejected such an idea in August but one of its new members, Hilda Solis, has joined with Mark Ridley-Thomas to reintroduce it. New Supervisor Sheila Kuehl noted numerous times on the campaign trail that she, too, is in favor.
(The Long Beach Press-Telegram editorial board is also calling for civilian oversight.)
---
CONVERSATION ABOUT SPECIAL PROSECUTORS BUILDS IN THE WAKE OF NON-INDICTMENT OVER ERIC GARNER DEATH
Advocates as well as New York officials and lawmakers—like state Attorney General Eric Schneiderman and New York Public Advocate Letitia James—are pushing for cases involving death at the hands of law enforcement officers to be handled by independent state prosecutors. The calls became more urgent after a grand jury did not indict NYPD officer Daniel Pantaleo in the chokehold death of Eric Garner.
The AP's Jennifer Peltz has more on the complicated issue. Here are some clips:
The city's elected public advocate and some state lawmakers are pressing for appointing special state prosecutors for police killings, saying Eric Garner's death has bared problems with having DAs lead investigations and prosecutions of the police who help them build cases. State Attorney General Eric Schneiderman asked Gov. Andrew Cuomo on Monday to give Schneiderman's office the authority to investigate deaths at the hands of police.

Similar legislation has been proposed in Missouri since the police shooting of an unarmed 18-year-old in Ferguson.

"This is a watershed moment," New York Public Advocate Letitia James said by phone. "It's clear that the system is broken and an independent prosecutor is needed."

She's advocating appointing such prosecutors whenever police kill or seriously injure someone. Assemblymen Karim Camara and Marcos Crespo are proposing special prosecutors for police killings of unarmed people.

Cuomo said last week on CNN's "The Situation Room with Wolf Blitzer" that the state should examine whether DAs should bring such cases and "potential roles for special prosecutors," as part of a broad look at the criminal justice system.

[SNIP]

"There has to be a permanent special prosecutor for police misconduct because of the inherent conflict" in tasking local prosecutors with exploring allegations against the police who are often their partners, said civil rights lawyer Norman Siegel.

But DAs bristle at the implication that they're too close to police for public comfort.

"Why would the people's choice to be their elected law enforcement officer be disqualified in favor of some political appointment?" said Onondaga County District Attorney William Fitzpatrick, the Syracuse prosecutor who is president-elect of the National District Attorneys Association.

[SNIP]

Some states have established permanent special prosecutors' offices for various types of cases. Maryland's handles everything from election law violations to misconduct by public employees, including police.

But the idea of a special prosecutor specifically for police has a particular history in New York. The state created a state special prosecutor's office in 1972 to explore police corruption in New York City, responding to the allegations later chronicled in the 1973 film "Serpico"….
The New York Times Editorial Board agrees that an independent prosecutor should be brought in to eliminate possible bias on the part of local DAs who work closely with police. The editorial suggests that law enforcement agencies should welcome such a shift. Here's how it opens:
It is a long-established and basic reality of law enforcement in America: Prosecutors who want an indictment get an indictment. In 2010 alone, federal prosecutors sought indictments in 162,000 cases. All but 11 times, they succeeded.

Yet the results are entirely different when police officers kill unarmed civilians. In those cases, the officers are almost never prosecuted either because district attorneys do not pursue charges in the first place or grand juries do not indict, as happened most recently in Ferguson, Mo., and Staten Island.

There are various explanations for this, but the most obvious is the inherent conflict of interest that exists for prosecutors, who rely heavily on the police every day. Cops arrest suspects; they investigate crimes; they gather evidence; and they testify in court, working essentially in partnership with prosecutors.

Whether or not bias can be proved in a given case, the public perception of it is real and must be addressed.

The best solution would be a law that automatically transfers to an independent prosecutor all cases in which a civilian is dead at the hands of the police. This would avoid the messy politics of singling out certain district attorneys and taking cases away from them.

The police should be among the strongest supporters of this arrangement because both their authority and their safety are undermined when the communities they work in neither trust them nor believe that they are bound by the same laws as everyone else.
For further recommended reading, Alameda County public defender Seth Morris explains how easy it is to get an indictment. Here's how it opens (but read the whole thing):
It is, we are told, very hard to get grand jurors to indict police officers — which supposedly explains why Darren Wilson and Daniel Pantaleo walk free, despite the men they killed in Ferguson, Mo., and on Staten Island. But as a public defender, I know exactly what it takes to get an indictment. I could get one in either case. In fact, I am ready and willing to fly to any town in this country to get an indictment in any case where a police officer kills an unarmed civilian. It's just not that hard.

I'd start by saying this. "A man, a member of our community, has been killed by another. Only a trial court can sort out what exactly happened and what defenses, if any, may apply. I believe in our trial system above all others in the world. I ask for an indictment so that all voices can be heard in a public courtroom with advocates for both sides in front of trial jurors from the community. This room is not the room to end this story. It's where the story begins."

I'd do it by asking the grand juries to apply the law to these men as the law demands it be applied — equally. I'd ask them to consider the recent fateful events as the work of ordinary humans, not police officers. I'd explain that the cases are too important to be settled in a secret grand jury room. The lives lost are too valuable to avoid a public trial.

I'd ask them not to consider the defenses the men may raise at trial, because these are irrelevant to the question of indictment. Judges routinely tell my clients — indigent, poor, often young men of color — that they will face trial because probable cause is an exceedingly low standard of proof. All it requires is a suspicion that a crime occurred and a suggestion that the defendant may be responsible for the crime.