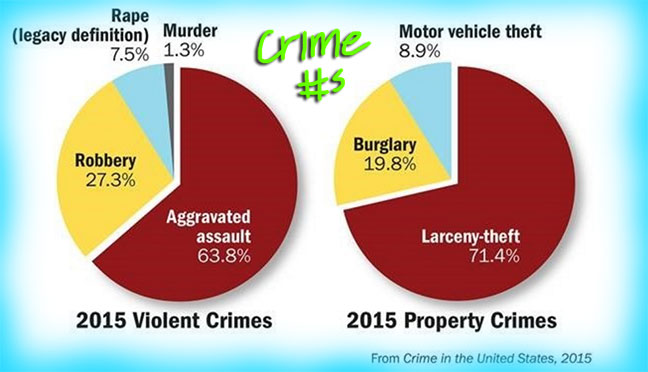 IN 2015, VIOLENT CRIMES, ESPECIALLY MURDERS, WENT UP BUT WE'RE STILL EXPERIENCING A HISTORICALLY LOW LEVEL OF CRIME
According to the FBI's annual crime report, which was released Monday, the murder rate jumped 10.8% in 2015 (15,696 murders and non-negligent manslaughters) compared with 2014 (14,164).
Violent crime rates are still close to historic lows. The 2015 homicide rate is still about 40% lower than it was in 1991 when Los Angeles killings were at their highest. The FBI report numbers reveal that the United States is experiencing the lowest property, burglary, and larceny crime rates since the 60s.
On Monday, US Attorney General Loretta Lynch pointed out that 2015 was still the year with the third-lowest violent crime rate in 20 years. AG Lynch said the new data shows that the nation is moving in the right direction. "It shows that in many communities, crime has remained stable or even decreased from the historic lows reported in 2014," AG Lynch said.
Normally more homicides means more minor crimes, too, but, interestingly, nonviolent crimes dropped during 2015. Crime experts are unsure what's behind the anomaly.)
"An increase in the crime rate in some of our cities amounts to very small numbers," says William Lansdowne, who has previously served as Police Chief of San Diego, San Jose, and Richmond, California. "It is not that we are saying the increase is not important, but instead that it takes small numbers to move the rate ten or twelve percent because the crime rate is so low. We are doing very well."
A majority of the 10.8% increase (1,532) in homicides can be attributed to a cluster of cities, including Chicago, Baltimore, Washington DC, and Houston, according to an analysis by the Brennan Center for Justice.
And actually, in Chicago, it's just a small number of neighborhoods—the poorest communities—that are suffering from a spike in killings. Most of the city's neighborhoods are still enjoying record low homicide rates. "Homicides are extremely concentrated in a few of these city's most impoverished and segregated neighborhoods," says Ronald Sullivan Jr., a law professor and Director of the Criminal Justice Institute at Harvard Law School.
Crime trends viewed over a decade or more provide a much clearer and broader picture, criminal justice experts agree.
In Baltimore and Washington DC, murder rates are already coming back down this year. "We can't read too much into year-to-year fluctuations," say Sullivan. "Two of the cities with homicide increases in 2015 are the District of Columbia and Baltimore. Yet, already in 2016 we are seeing near double-digit decreases in both cities."
During the first presidential debate on Monday night, candidates Hillary Clinton and Donald Trump did briefly discuss the crime rates and other criminal justice issues.
Citing recent shootings of unarmed black men in Oklahoma and North Carolina, Clinton said she would work to improve police-community relations (through better training, policies, and more). Clinton says she will also push for "common sense" gun reforms to combat "the leading case of death of young African American men—more than the next nine causes put together." More than 70% of 2015's murders were committed with a firearm, according to the FBI stats.
Donald Trump brought up the homicide problem in Chicago where "you walk down the street, you get shot." Trump said a return to "law and order" will reduce crime. "Is this a war-torn country? What are we doing?" he asked.
Trump proceeded to make a case for bringing back controversial stop-and-frisk practices in cities like Chicago. Back in 2013, a federal judge ruled that the NYPD's use of stop-and-frisk was unconstitutional because it involved unfairly targeting blacks and Latinos for searches.
The FBI report's release, just two months before an extremely consequential election, has caused a number of experts to caution against politicizing these numbers.
Mandatory minimum sentences and other tough-on-crime laws and policies haven't worked, says former Assistant U.S. Attorney Miriam Krinsky (who was also the executive director of the Citizens Commission on Jail Violence here in Los Angeles). "If we could arrest and jail our way out of the gun violence problem, the neighborhoods in Chicago and elsewhere where there had been an uptick in crime would probably be the safest in America. But that's not what the facts tell us."