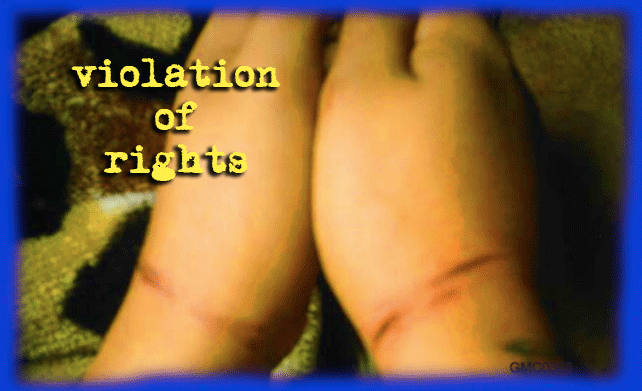 THE VERDICT
The jury members sent their note to Judge George H. King, announcing that they had a verdict, just before 12 noon on Wednesday. The seven-woman, five-man panel deliberated for just about four hours before finding former Los Angeles County Sheriff's Department sergeant Eric Gonzalez, and LASD deputies Sussie Ayala and Fernando Luviano, guilty of a string of civil rights abuses for delivering a vicious beating to jail visitor Gabriel Carrillo, then conspiring to falsify criminal charges against Carrillo in order to cover up the abuse.
When the verdict was read aloud in Judge King's courtroom on the 6th floor of the Edward R. Roybal Courthouse on Temple Street, Ayala and Luviano sat motionless next to their attorneys. Gonzalez, however, uttered a agonized guttural sigh before slumping forward into himself, his head in his hands.
---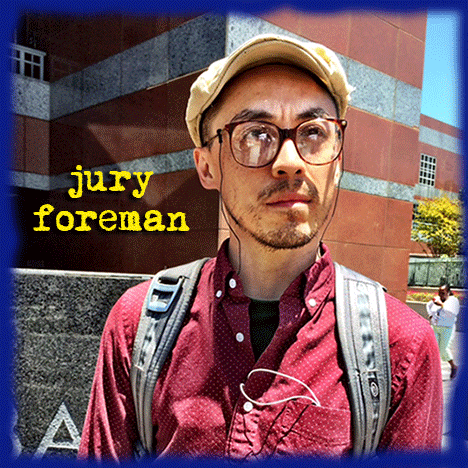 THE JURY
Jury Foreman, 35-year-old Tony Tran, said that, from the beginning there were no dissenters among the jurors."The whole case was dependent on whether or not the suspect was in handcuffs," he said. "And that photograph that showed the marks on wrists erased any doubts."
Tran, who is a student at Cal Poly Pomona, with plans to teach high school history, said that the jurors also found the testimony of two former deputies—Noel Womack and Pantamitr Zunggeemoge—to be particularly persuasive. "They were very credible," he said.
When asked whether he and the others were affected by the defense team's suggestion that Womack and Zunggeemoge—who made deals earlier this year with the government in return for their testimony—were simply telling the feds what they wanted to hear and lying to the jury, Tran shook his head.
"When we looked at the evidence, we had no doubts," And nothing the defense said could rattle that certainty, said Tran. "We considered them whistle blowers, and trusted their testimony completely."
And now that his job as juror was finished, did Tran hope the verdict sent any kind of message? "I hope the message does go out that this code of silence, and the feeling on the part of some law enforcement that they can violate people's rights with impunity….it has to stop."
---

THOUGHTS FROM THE PROSECUTION
Assistant U.S. Attorney Lisabeth Rhodes, and fellow A.U.S.A Brandon Fox were the prosecutors on the case and, in an impromptu press conference in front of the courthouse after the verdict was announced, they characterized the case as important one.
"I believe that an individual who carries a badge and a gun and who uses their authority and power to violate people's constitutional rights, as was the case here, is one of the worse kind of criminals, and should be brought to justice," said Rhodes. "We believe justice was done here."
---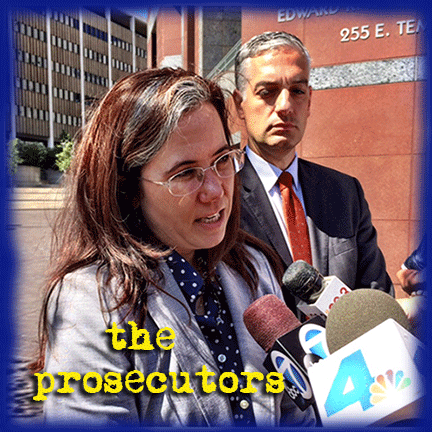 THE PRISON SENTENCE THAT COULD HAVE BEEN
Peter Eliasberg, legal director of the Southern California ACLU, also talked about the importance of the case. "The thing that amazed me," he said, "was that, not only were the deputies willing to savagely beat a jail visitor, who had done nothing more than not offer them what they believed was enough respect. Then they were willing to lie about the abuse, and those lies became the basis of the criminal case against Mr. Carrillo that could have resulted in years in state prison. That's where he'd be right now if he didn't have a really good criminal defense attorney.
Carrillo's attorney, Ronald Kaye, was present for much of the federal trial and had a particularly strong reaction to the testimony of deputies Womack and Zunggeemoge, who, when on the stand, both described in detail the way the charges against Carrillo were falsified, and the thinking behind it, namely that anything other than backing one's partner was considered absolutely unthinkable, no matter the lies or damage that resulted.
"It was so, so vindicating," said Kaye. "In the criminal case against Gabriel, we were a week from trial. He was looking at a possible fourteen years in prison, if we lost. And in the case, we were facing five sheriff's deputies and a sergeant who all had completely consistent reports." But in that week, Kaye said, they found the photos of Carrillo's wrists. "Grace took phone pictures of his wrists along with a bunch of other photos of him, but then she forgot about them, and didn't realized how important they were." Plus Kaye found a neutral witness who had been in the visiting center, sitting right outside the break room, a middle-aged woman with no criminal record, who was able to describe what she heard coming out of the room. "She was really important," said Kaye.
Thus, instead of going to prison, Carrillo works in construction as a fork lift operator and is married to his former girlfriend, Grace Torres, who was with him on the day of the beating. The couple has two young children. And this past weekend, Kaye said, with their court appearances behind them, they were able to have a belated wedding reception, after which the two spent a few days in Las Vegas for a honeymoon. "That's all the time they could take," said Kaye, who attended the reception. "Gabriel had to get back to work."
Last year, there was one more piece of very good news for Gabriel Carrillo when LA County agreed to pay $1.17 million to settle a civil lawsuit arising out of the beating and the false charges that formed the basis of Wednesday's conviction.
---
SENTENCING
The conviction of the three LASD defendants, which will almost certainly be appealed, could mean 70 months in a federal prison for the deputies. Gonzales, who was the group's supervisor, and signed off on all the falsified reports, and who could receive a an even longer sentence. The statutory maximum sentence on such charges, however, is up to 30 years, Gonzales could face up to four decades, although such lengthy sentences are considered unlikely.
Judge King will sentence the threesome on November 2, the day that the trial of former LASD Captain Tom Carey, and former undersheriff is due to will begin jury selection.
---
VIDEO NOTE: The video above shows Carrillo being interviewed a few hours after his beating by then LASD Sergeant Eric Gonzalez, who had, a few hours before, supervised the beating and the cover-up. It was shown at trial and the jury watched it with rapt attention. ABC-7 News producer Lisa Bartley obtained the video, so we have her to thank for being able to show it to you. For further insight to the trial and it's aftermath see these excellent reports by Bartley and ABC-7 reporter, Miriam Hernandez here and here.