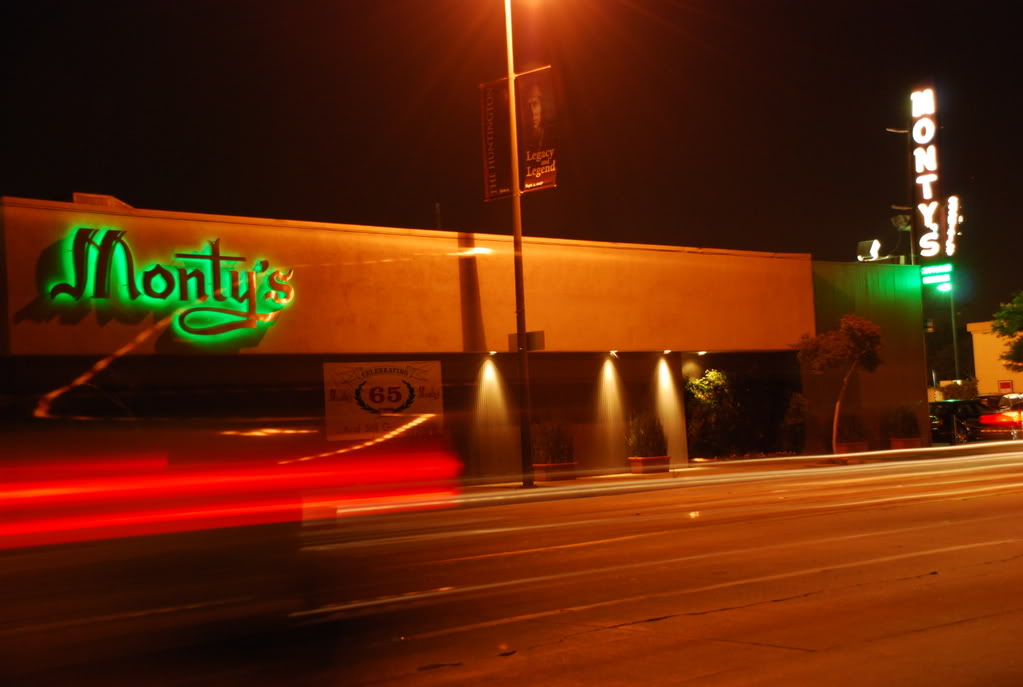 Soon-to-be the empty Monty's
Here's some breaking news off the social-justice and Southern California restaurant beat: Monty's Steak House, an old money Pasadena hangout for 66 years, is closing Saturday, giving some 25 employees a week to find new jobs.
Come again? The Pasadena institution, where aging and bulging waitresses wore mustard-colored mini skirts until a decade or so ago, gives its loyal workers a measly one-week notice?
It wasn't supposed to go down like this. The original closing date was July 31, but the deal is closing early, said Monty's grand-daughter, Debbie Levine, general manager of the restaurant. She said she found out last Friday along with the rest of the crew.
"It's really sad for all of us. We all knew there was something in the works, but none of us realized that it would happen as quickly as it did."
Levine said she isn't sure what's in store for the property on Fair Oaks Avenue, which also houses a a Chinese restaurant and a massage parlor; Monty's employees said they heard it would become medical offices. Across the street is the monolithic Huntington Hospital, which recently added a huge wing.
Monty's has been in the Levine family since 1941, when Monty bought an existing bar called Perry's. The patriarch died about eight years ago and the restaurant is now owned by Debbie's father, Dennis, and her uncle, Larry. They also own one in Woodland Hills.