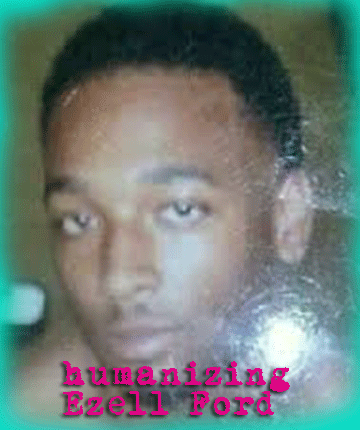 EZELL FORD: BEFORE THE DEADLY ENCOUNTER WITH LAPD OFFICERS
Going beyond Ezell Ford's controversial death at the hands of LAPD officers last August, KPCC's Sharon McNary shares important pieces of the young man's history—from his promising childhood (one filled with not so far-fetched dreams of playing pro basketball), to getting hit by a bullet during a gang-related shooting in 2008, to his battle with mental illness. Here are some clips:
"To his aunt December 25, 2004. My goals in life. What do I want to be when I am 20 years old? I would like to be a pro basketball player. I would like to be in college studying to be a doctor."

Ford, at 16, filled the page with his careful, neat printing. He imagined each decade of his future life: practicing medicine during his pro-basketball off-season, retiring from the game, owning a nice home.

At age 50, Ford wrote, "I would be relaxing with my wife. I would still like to be a doctor."

[SNIP]

In September 2007 Ford was arrested on felony charges of possession of marijuana with intent to sell and carrying a loaded firearm. He was 19.

[SNIP]

Two days after that conviction he was shot in his own neighborhood.

66th Street is home to a subset of a street gang known as the East Coast Crips. It got the name because it's just east of the 110 freeway. Walls in the vicinity are prominently tagged with the gang initials, ECC.

Ezell Ford was one of the early casualties in a gang war that took at least four lives and wounded at least 13 people….

Neighbor Vanessa Santory lives on the Fords' block. As she watches her granddaughter play on a skateboard in an apartment house driveway, she recalled that shooting.

"Oh, yes, I remember a little bit vaguely about it when they shot Little E in the foot, I think, or the leg? He got shot."

But she said Ford was an innocent bystander.

"I would say so, because I never seen him gang bang or anything like that, none of [Tritobia Ford's] boys, really, none of them," she said.

She said that after he was shot, his mental illness became more noticeable.

Clark said his mother took him to doctors. "They diagnosed him as being bipolar, and they put him on medication."

Ford walked for hours at a time to clear his mind, she said.

Clark says that's what he was most likely doing on the day of his fatal encounter with two gang police officers last Aug. 11.
---
LA SHERIFF ANNOUNCES DROP IN CRIME RATES, DISCUSSES IMPLICATIONS
On Wednesday, LA County Sheriff Jim McDonnell announced that the number of homicides in LASD territory last year went down 10.5% from 2013—the lowest recorded number of murders (149), since 1970. McDonnell also shared the county's 5-year statistics. Homicides fell 26% from the number recorded in 2009.
Major violent crimes dropped 4.9% from 2013, and 20.7% between 2009 and 2014. And despite law enforcement predictions that realignment (and more recently, Prop 47) would increase property crimes, the number, in fact, decreased 6.2% from 2013, and 5.8% from 2009.
LA Sheriff Jim McDonnell says the overall decline can be attributed, in part, to fewer gang crimes (although, he said, the majority of the county's homicides were still gang-related), improved policing, and building better community relations.
The LA Daily News' David Montero has the story. Here's a clip:
In 2013, there were 164 homicides, compared to 149 in 2014. By comparison, the high-water mark for homicides in Los Angeles County dating back to 1960 was 424 in 1992.

But he acknowledged most homicides are rooted in gangs. Last year, 63 percent of the 149 homicides in the county were gang-related. He said the department will continue to push youth-based activities to keep kids off the streets.

"The gangs drive our violent crime rates and particularly the homicide rate," [LA Sheriff Jim McDonnell] said. "We know most of our gangs are young kids that grew up in an environment that was often dysfunctional. The opportunities that are there for kids in some of our neighborhoods weren't there for them and they went down the wrong track."
KPCC's Frank Stolze also reported on the sheriff's announcement. Here's a clip:
While McDonnell credited better policing, he also said improving community relations as one reason crime is down. Those relationships have gotten better over time, he argued, despite news of corrupt and brutal deputies inside the jails.

"It really comes down to a great partnership with the community," the sheriff said.

That partnership has improved in part because of the declining influence of street gangs, according to Captain Rod Kusch, who heads the Sheriff Homicide Bureau.

"Their strangleholds on neighborhoods is weaker," Kusch told KPCC. "In the past, that's driven people away from cooperating with us. They've been afraid of retaliation."

Illegal drug transactions occur mostly behind closed doors now and gangs are less visible in many neighborhoods, Kusch said. "If you have confidence you can talk to police without repercussion, you're more likely to talk to them."
---
FLASHBANGS: HAZARDOUS, UNCHECKED OVERUSE
Diversionary grenades that issue a blinding light and deafening noise, flashbangs, have become a common tool, valuable for uses in extreme situations, like stopping an active shooter, by SWAT teams in big cities.
But in raids across the US, undertrained police officers (many in small municipalities) deploy flashbang grenades, with minimal oversight, often during drug raids that turn up little or no contraband. The unchecked use of flashbangs has resulted in grievous injuries to citizens and officers, including severed limbs and severe burns.
An ACLU report released last June found that SWAT teams were 14 times more likely to use flashbangs during drug raids than any other type of raid (like, you know, hostage, barricade, or shooter situations).
Propublica's Julia Angwin and Abbie Nehring have more on the issue. Here are some clips:
Police argue that flashbangs save lives because they stun criminals who might otherwise shoot. But flashbangs have also severed hands and fingers, induced heart attacks, burned down homes and killed pets. A ProPublica investigation has found that at least 50 Americans, including police officers, have been seriously injured, maimed or killed by flashbangs since 2000. That is likely a fraction of the total since there are few records kept on flashbang deployment.

The U.S. Court of Appeals for the 7th Circuit wrote in 2000 that "police cannot automatically throw bombs into drug dealers' houses, even if the bomb goes by the euphemism 'flash-bang device.'" In practice, however, there are few checks on officers who want to use them. Once a police department registers its inventory with the Bureau of Alcohol, Tobacco, Firearms and Explosives, it is accountable only to itself for how it uses the stockpile. ProPublica's review of flashbang injuries found no criminal convictions against police officers who injured citizens with the devices.

[SNIP]

If there was ever a flashbang injury that might have warranted criminal charges against an officer, it would be the case of Bou Bou Phonesavanh, a 19-month-old baby who last May was nearly killed by a flashbang during a drug raid in Georgia. The case garnered national attention.

Bou Bou was sleeping in a portable playpen at the foot of his parents' bed when the Habersham County Special Response Team broke down the door to the room and threw a flashbang. The grenade landed on a pillow next to Bou Bou's face. The blast blew a hole in his chest, severed his nose, and tore apart his lips and mouth. The SWAT team was looking for the boy's cousin, Wanis Thonetheva, who a day earlier had allegedly sold a bag of methamphetamine to a confidential informant on the property. But Thonetheva wasn't there, and no drugs or weapons were found. Hours later, Thonetheva surrendered peacefully when officers knocked on the door at a nearby house where he was staying.

At the hospital, Bou Bou was placed in a medically induced coma for almost a month. He has had eight reconstructive surgeries, including skin grafts, and racked up $1.6 million of medical bills that his family cannot afford to pay. In the next few months, he will need surgery to remove black flashbang powder that embedded in his face, arms and chest before it gets infected. And because his skin grafts won't grow as he grows, Bou Bou will need reconstructive surgery every two years for the next 20 years. His mother, Alecia Phonesavanh, said that she and her husband plan to donate their own skin for the future grafts. Bou Bou often wakes up in the middle of the night screaming and shaking and holding his mouth. "It almost seems like he's remembering what happened," said Alecia Phonesavanh, who has been unable to hold down a job since the accident because of the demands of caring for her son.

In October, a Habersham County grand jury declined to indict the officers involved. "Some of what contributed to this tragedy can be attributed to well-intentioned people getting in too big a hurry," the grand jury wrote in its findings.
Angwin and Nehring spoke with one of the first men to build flashbangs for police use, who stopped selling the grenades when he realized the scope of officers' misuse and resulting injuries. Here's a clip:
But, as flashbangs became ubiquitous, Nixon worried that departments weren't training officers to use them properly. Reports of accidents started to trickle in. A prison guard in Nevada lost her hand when a flashbang exploded during a training exercise. And then, in 2002, an officer closer to Nixon's home in Arkansas was injured. An Omni Blast exploded in the hand of Brandt Carmical, a North Little Rock police officer, as he conducted a flashbang demonstration for a local Boy Scout troop. It pulverized his right hand, blew out his right eardrum and perforated his left eardrum. "I saw all this flesh," Carmical recalled. "I couldn't hear anything." At the hospital, Carmical's hand was amputated at the wrist. Later, he had to go back for further surgery because black powder from the flashbang was causing his skin to rot.

Carmical sued Nixon, arguing that the Omni Blast was defective and exploded too quickly. Nixon said that although it is possible that his device was faulty, he suspects that the accident occurred because the spoon was prematurely released. The dispute was settled out of court for an undisclosed amount (which Carmical said allows him to forgo a second job), and no judicial determination was made about the cause of the accident.

Nixon said he stopped selling flashbangs two years after Carmical's accident, concerned that police officers are not sufficiently trained to use them. "I realized that, let's say this is the perfect device," Nixon said, "it's still going to hurt people." In Nixon's opinion, the police are wrong to treat flashbangs like less destructive weapons such as tear gas and sound cannons. "It boggles my mind," he said.
---
ANOTHER STUDY EXPLORING THE EFFECTS OF PARENTAL INCARCERATION ON KIDS: PERCEPTIONS OF LOCK-UP
A new first-of-its-kind study published in the journal Applied Psychology in Criminal Justice takes a look at what at-risk kids understand and perceive about parents' incarceration.
The study analyzed responses from the interviews of 106 kids between ages 8 and 14: 42.5% with parents who had been arrested before, and 32.4% with parents who had been incarcerated.
The majority of kids believed that jails and prisons are violent, unsafe places. Many kids believed that only bad people get locked up, and more than 12% believed parents were not allowed to see their kids while incarcerated.
Kids' beliefs about incarceration, researchers said, could induce anxiety about their moms and dads' safety and health while locked up.
Here's a clip from the study:
Of note, many youth described jail as a violent place where offenders are not safe. Particularly for youth with incarcerated parents, these perceptions may provoke anxiety about the parent's well being during the separation. A subset of youth indicated that incarcerated parents could not see their children during their incarceration.

Although this is true in some situations (e.g., long distance between the youths' home and the facility), it may be disturbing for youth to believe they will not be able to see their parent if he or she is incarcerated. Of additional concern is the belief that individuals who go to jail are "bad people," which was prevalent in the current sample. These perceptions, when held by the peers of youth with incarcerated parents, may lead to stigmatization of the youth, who might be regarded in a similar way (Hagen & Myers, 2003). Similarly, if youth with incarcerated parents believe their parent is a "bad" person, they may in turn internalize that belief about themselves, which may lead to psychological maladjustment.

Youths' understanding of incarceration and perceptions of offenders may be shaped by a variety of sources of information, including the media, school, and discussions with others. In the current sample, viewing jail-related media was the most common source of information, with youth watching shows such as Cops. Although the media has the opportunity to provide realistic depictions of incarceration and offenders, it more often portrays these subjects in a sensational light that likely leads to distorted perceptions, particularly among youth who may not be critical consumers. In contrast, youth described learning largely factual information about incarceration and offenders in school and receiving warnings (e.g., parents warning their child, "you really don't want to go there") when discussing these subjects with adults in their lives. Although about half of the youth reported learning about incarceration in school and a quarter had discussed it with someone, a large number only received information from the media. This finding in particular highlights a gap in the communication of knowledge about incarceration.