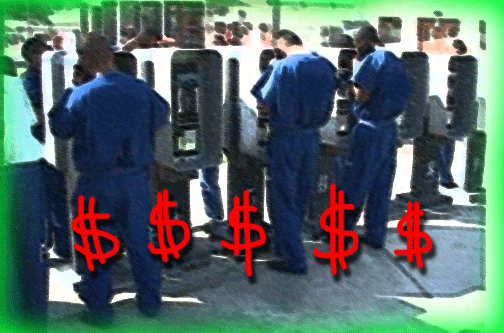 CRAZILY EXPENSIVE PHONE CALLS FROM INMATES TO THEIR FAMILIES AND MUCH-NEEDED REFORM
In mid-July the Federal Communications Commission held a workshop in D.C. to explore potential reforms to the issue of preposterously expensive prison phone calls. Families wanting to have a few short phone conversations with their loved ones in prison (and even in county jail) can easily rack up hundreds of dollars a month in charges. Those who have not committed the crime—families and friends of inmates—are the ones bearing the brunt of the expense, often when they can't afford to. And, there's the added fact that multiple studies have shown that consistent contact with family and friends is one of the prime factors in how well (or poorly) an inmate succeeds once released.
Here are some clips from the Counsel of State Governments Justice Center's story by Angela Tolosa:
On July 10, the Federal Communications Commission (FCC) held a daylong workshop in Washington, D.C., to explore reforms on prison telephone calls. The first of its kind for the FCC, the workshop brought together more than 100 family members of prisoners, advocates, and state regulators from across the country while thousands more participated online.

"I believe that we must do everything we can to ensure a reasonable mechanism for families to stay in touch with their loved ones during this separation," said FCC Acting Chairperson Mignon Clyburn. "Ensuring that the costs of prison payphone calls are reasonable will enable meaningful progress toward that goal." Ms. Clyburn is leading the commission's effort to lower interstate long distance rates from prisons.

The issue first came to the FCC's attention in 2003 when a Washington, D.C.-area woman, Martha Wright, said she was paying about $200 a month for one 15-minute phone call a week with her grandson, who was in prison. Civil rights groups filed a class-action suit on her behalf; the courts dismissed the case and Wright was referred to the FCC.

[SNIP]

These high rates often prohibit low-income families from having regular contact with incarcerated loved ones. Maintaining relationships between prisoners and family members, especially their children and spouses, promotes rehabilitation and reduces recidivism. And given that 2.7 million children in the United States have at least one parent in prison, making these calls affordable is imperative to keep families together and to help individuals successfully reintegrate into society.
We at WitnessLA have been on this topic even prior to WLA's existence (go here for an article Celeste wrote for LA Weekly back in 2001 about prison phone calls, and here for more recent WLA coverage).
---
SEVENTY-YEAR-OLD COURT EMPLOYEE FIRED FOR HELPING INNOCENT MAN CONVICTED OF RAPE GET DNA TESTING
Sharon Snyder, a seventy-year-old court worker in Kansas, was fired nine months before she was scheduled to retire for helping a wrongfully-convicted man properly fill out the paperwork necessary to request DNA testing on a rape conviction. The prisoner, Robert Nelson, had been denied the DNA testing twice on technicalities, but with a sample motion received from the court clerk, was approved and subsequently exonerated twenty-five years after his conviction.
The Atlantic's Conor Friedersdorf explains the real significance of this story. Here are a couple of clips:
Outrage rippled across the web earlier this week as Americans heard the story of Sharon Snyder, "a 70-year-old great-grandmother who was fired nine months before she was scheduled to retire." Her transgression? An employee of Jackson County Circuit Court, she helped a man in prison who sought to have the DNA evidence in his case tested, but had his request rejected twice on technicalities because he hadn't managed to properly fill out the paperwork.

Robert Nelson, 49, sought DNA testing to overturn his rape conviction in 2009 and again in 2011, but Judge David Byrn denied both requests because he hadn't crafted the motion properly. "After the second motion failed in late October 2011, Snyder gave Nelson's sister, Sea Dunnell, a copy of a motion filed in a different case in which the judge sustained a DNA request," AP reports. Using that public document as a guide, Nelson finally won the right to have the DNA evidence tested on February 22, 2012. Last month, that DNA test proved him innocent.

And five days after he was released, Synder was fired for involving herself in a case before the court.

[SNIP]

The true outrage in this case is that Nelson was twice denied a DNA test that ultimately proved his innocence. Judge Byrn may have been following the letter of the law when he denied those two DNA requests, but he wasn't serving justice — he was keeping an innocent in jail for two extra years. Why deny any inmate a DNA test that could definitively prove that he was innocent, especially in a country where DNA evidence has led to the post-conviction exoneration of 310 people? On average, those wrongfully incarcerated men served 13.6 years in prison.
---
A HALF-BILLION DOLLARS SAVED THROUGH RETROACTIVE FAIR SENTENCING ACT
The Fair Sentencing Act of 2010 remedied, for the most part, the awful 100-1 federal sentencing discrepancy between convictions for crack cocaine sales and powder cocaine sales, bringing it down to about 18-1. New data on the applied retroactivity of 2011 amendments to the FSA shows that a little over 7,300 defendants received an average of 29 months off their original crack sentences, and thus, saved tax-payers about 500 million dollars. Better justice and better budgeting—a win-win!
Doug Berman over at Sentencing Law and Policy pointed out this recent US Sentencing Commission data report on the effects of the retroactivity on applicable prison sentences. Here's a clip:
Based on the information reflected in Tables 1 amd 8 of this data report, it appears that just over 7300 defendants received, on average, a 29-month reduction in their crack sentences thanks to the new FSA-inspired crack guidelines being made retroactive. Significantly, this average reduction merely lowered the average crack sentence from roughly 12.5 years to just over 10 years for the group receiving sentence reductions; this means that even the new-average-lowered sentence for crack offenses were still significantly higher that the average sentences imposed for any other federal drug crimes.

For those eager to gauge the potential economic impact of FSA retroactivity, it appears that the retroactive guidelines as implemented has now saved almost 16,000 cumulative years of federal imprisonment, with a consequent savings to federal taxpayers of approximately a half-billion dollars (based on a conservative estimate of a taxpayer cost of roughly $30,000 per prisoner for each year of federal incarceration). And for those concerned about racial sentencing dynamics, Table 5 of this data reports that more than 85% of those benefiting from reduced crack sentences have been black prisoners, demonstrating once again the historically racialized reality of federal crack prosecutions.
---
WARREN OLNEY AND WWLA? TALK BLUE RIBBON FOSTER CARE COMMISSION
Wednesday's Which Way, LA? with Warren Olney featured a discussion on the LA County Board of Supervisors-created Blue Ribbon Commission on Child Protection, which will hold its first meeting today, Thursday. Guests include Commission member Marilyn Flynn, the LA Times' Garrett Therolf, and other child welfare advocates. Be sure to take a listen!
---
---
Photo taken from LA County Supervisor Zev Yaroslavsky's website.