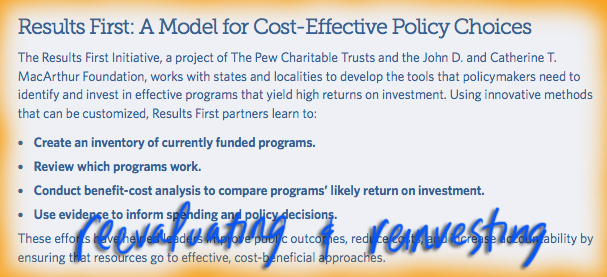 FOUR CA COUNTIES LEADING THE PACK ON EVIDENCE-BASED POLICY-MAKING POST-REALIGNMENT
According to a report by PEW Charitable Trusts that we didn't want you to miss, Fresno, Kern, Santa Barbara, and Santa Cruz counties are setting a precedent for CA's 54 other counties by successfully establishing evidence-based criminal justice programs since California's public safety realignment strategy was launched in October 2011.
(If you need a refresher: Realignment, AB 109, shifted the incarceration burden for certain low-level offenders away from the California Department of Corrections and Rehabilitation to the states' 58 counties. Realignment has provided counties with an opportunity (and funding) to rise to the challenge of taking on state prisoners, in part by developing new evidence-based re-entry and anti-recidivism programs.)
"When Realignment came, it put enormous demand on the system and created a tremendous challenge…" said Tanja Heitman, a Santa Barbara deputy chief probation officer. "We had the funding, but we didn't have the technical assistance to make sure we were headed in the right direction. It was a really beautiful transition into Results First, and I think we're leading the effort in making sure that we use our dollars for evidence-based programs and bringing our corrections community along."
In partnership with the Pew-MacArthur Results First Initiative, the four counties took a look at what programs were working and used a cost-benefit analysis to evaluate their currently funded programs. The Results First partnership, a project of The Pew Charitable Trusts and the John D. and Catherine T. MacArthur Foundation, helped counties to prioritize cost-effective, evidence-based programs, and develop new programs that work and save counties money.
"The program inventory laid it all out for us, showing us where we were doing things right and where we were not," said Cassaundra Friedberg, a Kern County Probation Dept. analyst. That, along with the research knowledge we gained through Results First, helped us make the right adjustments to create a continuum of care for our population."
Santa Barbara County identified expendable rehabilitation and reentry programs that weren't working and weren't saving the county money against the costs of incarceration. One of the programs the county chose to redirect funding to was Reasoning and Rehabilitation, an evidence-based cognitive behavioral therapy program, which is expected to save $19.49 for every dollar spent.
Santa Cruz County Chief Probation Officer Fernando Giraldo says the county plans to evaluate its "legacy programs" that have been in place for decades, but have no evidence to prove their usefulness. The county is moving funding to a cognitive behavioral therapy program, which was predicted to save $418,950 and reduce recidivism by 13.4%.
"We're definitely going to use the information from Results First to help shape the kind of services we're looking for," said Merickel, the Kern County chief probation officer. "We're going to say that we want to use evidence-based programs wherever we can."
---
LAPD AUDIT FINDS CONTINUED CRIME REPORTING ERRORS LAST YEAR, OFFICIALS SAY IT'S BECAUSE REFORMS HADN'T KICKED IN YET
In August of 2014, an investigation by the LA Times' Joel Rubin and Ben Poston found that the LAPD mislabeled close to 1,200 violent crimes as minor offenses, significantly altering the city's crime statistics. After the story broke, the LAPD announced that it would implement crime reporting reforms.
Now, a year following the investigation, the police department is still struggling to accurately classify serious assaults according to an internal audit released Tuesday. In a review of last year's crime data, the audit found aggravated assaults would have been reported as 23% higher if not for continued classification errors.
The audit, which sampled approximately 1000 major and minor crimes, was conducted before the reforms were fully implemented, and that next year, the margin of error should be much lower, LAPD officials said.
Last year, Los Angeles experienced a 28% spike in serious assaults this year over last, but because of the misclassification issue, the real number might have actually been higher. But 2013's numbers were misreported by the department, too, so it may be hard to determine how accurate the crime rate comparisons are between recent years.
The LA Times' Ben Poston has more on the audit's findings. Here's a clip:
The report says the "department did well with classifying crime" as it related to serious and minor assaults. Commissioner Robert Saltzman disagreed with that characterization.

"If, in fact, the error rate is 20%, that does not strike me as doing well," Saltzman said…

Following The Times report, the LAPD instituted a series of reforms including additional training, new accountability rules and the establishment of a Data Integrity Unit to ensure accuracy in crime data sent to the FBI.

LAPD officials stressed the new audit was conducted before the reforms and training took effect this year and said error rates should improve in the future.

"I am confident that the systems we put in place will make us much better," Chief Charlie Beck said at a news conference…

The latest audit analyzed a random sample of roughly 1,000 serious and minor assaults. The error rate identified for minor assaults was higher than those in previous audits in 2012 and 2011 that found error rates of 3% and 6%.

The highest misclassification rate was found in the LAPD's Central Bureau — which includes downtown, northeast and east L.A. — where 13% of minor assaults were incorrectly categorized.
---
HUMANIZING CAMPUS-STYLE ARCHITECTURE AND REENTRY-MINDED POLICIES AT A WOMEN'S JAIL IN SAN DIEGO
Where a crumbling 60's-era San Diego County women's jail once stood, is now an experimental women's colony built to look more like a campus than a traditional detention center, with long walkways and greenery, dorm-style rooms for the lower level offenders, and a lot of natural light.
At the unconventional Las Colinas Women's Detention and Re-entry Facility, the women are treated like responsible human beings and are provided with education, job training, substance abuse treatment, and mental health services to give them a better chance at reintegrating into their communities.
Guards are placed in the common areas and among the dorm areas, rather than in separate guard stations, so that officers and inmates have more interaction and opportunity for conflict resolution.
It's still too early to tell if the Las Colinas model will successfully lower recidivism, and if it does, whether its replicable in other CA counties and elsewhere in the nation.
OZY's Meghan Walsh has more on the women's colony (be sure to go over to OZY to look at the photos). Here's a clip:
The campus is spacious and green, with a grassy amphitheater and palm trees, volleyball nets, even a yoga studio. Inside, the earthy tones continue: abundant natural light, murals of waves crashing into the cliffside. From his second-floor office, Edwin Schroeder reflects on his view: "You don't get that gut-dropping feeling anymore."

Schroeder isn't a professor and the vista isn't of a liberal arts college. He runs a women's jail, but one that emphasizes the avant-garde over security guards. "We're not here to punish," says Schroeder, which isn't exactly a line you'd expect from a gatekeeper. But this San Diego County jail, which houses everyone from petty criminals to accused murderers and was once known for its sickening decrepitude, is at the forefront of a new and, of course, controversial movement in prison design, one that manifests a counterintuitive idea: You could build a lockup so pleasant and thoughtfully devised that inmates would never come back. In fact, they don't even call it a jail. Welcome to Las Colinas Women's Detention and Re-entry Facility.

It's a lofty goal. And while it remains to be seen whether administrators will succeed at rebuilding lives, few would doubt that they've built a one-of-a-kind facility. This will surely raise hackles among tough-on-crime folks, but this isn't one of those pay-to-stay country club prisons for stock brokers. It's more of a social experiment. In an era when more women than ever are imprisoned — the female incarcerated population in the U.S. shot up nearly tenfold between 1980 and 2010, to 205,000 — Las Colinas is testing a new theory: by treating inmates as autonomous, responsible human beings, they might actually behave like autonomous, responsible human beings. Some would say it's taking a woman's touch. There's not a barbed wire in sight (they're there, just not visible), and long outdoor walkways provide a feeling of freedom. Thus, when a woman needs medical attention, she walks across that green campus to a waiting room that looks like one in any other doctor's office. Even booking looks less like a holding room and more like a health clinic, with separate walk-up windows for arrestees to take care of various intake procedures.