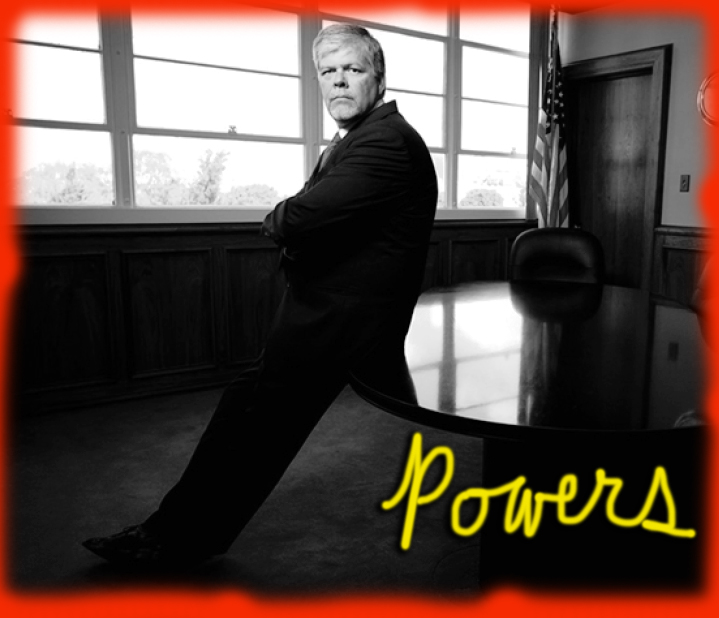 UPDATE: POWERS RESIGNS, SUPES UNANIMOUSLY ACCEPT RESIGNATION
Late Tuesday afternoon, all five members of the Los Angeles County Board of Supervisors accepted the resignation of LA County Probation Chief Jerry Powers.
As WitnessLA reported earlier, Powers is scheduled to leave his post on January 4.
Powers reportedly has negotiated what is said to be a generous exit package, although details have not yet been made public. This is despite the report that he was asked to resign around the issue of his alleged romantic relationship with his aide, Kym Renner, which sources close to the board said could open LA County to risks of high ticket lawsuits for sexual harassment, or related allegations, should Renner or other employees decide to sue.
In addition, county officials are also looking into reports that Powers bypassed the usual background checks to hire Renner, according to the LA Times' Garrett Therolf.
---
POWERS TO EXIT
LA County Probation Chief Jerry Powers is expected to announce his resignation on Tuesday.
Rumors had been swirling about whether or not Powers would step down as, in recent weeks, the the embattled chief reportedly negotiated privately with county officials about the terms of his possible exit.
Yet, although no announcement has been made in Los Angeles, we have learned that, when he saw a group of colleagues at a meeting for the Chief Probation Officers of California (CPOC),where he serves on the executive committee, Powers chatted about the fact that he was leaving his post as the head of the nation's largest probation department. Meanwhile, back in LA, his agency's rank and file still didn't know if their boss was staying or going.
The idea that Powers might be leaving his LA post sooner than planned began surfacing in late October of this year due to allegations of a personal relationship between the chief and his top administrative aide, Kym Renner.
The relationship was considered problematic, not merely because Renner, 42, is his subordinate, but because there was evidence that the 52-year-old Powers began the relationship prior to Renner joining the LA County Probation Department. In addition, Powers reportedly brought Renner on board at a salary that is now nearly twice what she was making in a prior position in Stanislaus County.
Powers, if you'll remember, was the probation chief for Stanislaus County before taking the job in LA in the fall of 2011. Renner, who was married when Powers took the LA job, worked in Human Resources for the same county with a base salary of $87,812. In August of 2013, Renner—who was then still going by her married name of Vieira—-left Stanislaus to take a job as director of human resources in Redondo Beach, at a base salary of $32,505.
Four months later, on December 16, 2013, Vieira/Renner went to work at LA County Probation as Chief Powers' closest aide. At present, Renner oversees the department's $820 million budget, accounting and expenditures, for a base salary of $159,660, plus benefits—bringing the total package well past $200,000.
---
LEGAL EXPOSURE
Due to concern that Powers' alleged relationship with Renner could potentially leave the county exposed to a large sexual harassment lawsuit, should Renner wish to take legal action, LA County officials hired an outside law firm to look into, among other things, whether any romantic relationship preceded her hiring.
One of the elements that caused the relationship rumors to hit critical mass in October was when each member of the board received an anonymous email that contained what were purported to be scans of receipts for three-different purchases and deliveries of flowers sent by Powers to Renner, each complete with a mushy message along the order of: I LOVE YOU AND I ALWAYS WILL.
(WitnessLA too received the mailing with the flower receipts.)
The first of the supposed flower deliveries took place on December 6, 2013, when Renner was still working at Redondo. The second floral arrangement was supposedly delivered to Renner at probation headquarters on January 8, 2014. The third delivery of two dozen long-stemmed roses was again supposedly sent to Renner at probation headquarters, this time on February 11, 2014, in advance of Valentine's Day.
In addition to the flower orders, WitnessLA, along with at least some of the supervisors, received a copy of what appears to be a receipt for COSCO-purchased airline and accommodations reservations for a trip for two to Jamaica booked for May 8-15, 2015, in the names of Jerry Powers and Kym Renner, for a total package price of $4277.98, with Powers listed as the purchaser.
WitnessLA also has a copy of a receipt for a 2014 trip to Mexico, with both Powers and Renner listed on the reservations.
More tellingly, perhaps, in addition we have a receipt showing flowers and candy sent to Renner, along with a note signed: JP (YOUR HERO). The delivery date for the items is October 15, 2013, two months before Renner was hired at LA County Probation.
Word is that Powers may leave his post as chief as soon as January 4.