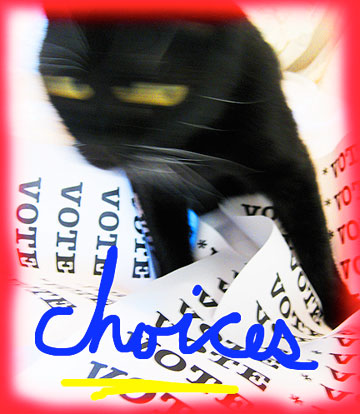 ELECTIONS: PLEASE, PLEASE, PLEASE, PLEASE VOTE
---
MAYOR:
WLA hasn't made an endorsement in the mayor's race, and we're not going to do it now.
We know and like both Wendy Greuel and Eric Garcetti and can make a strong case for either candidate, both of whom we believe will also grow on the job. We have respected friends and colleagues who are maniacally in favor of one over the other—some choosing Eric, others lining up behind Wendy.
We know the LA Times has endorsed Garcetti. But we hope you'll take the time to make up your own mind—which ever way you finally lean.
If you're still trying to decide, LA Weekly's Gene Maddaus "Five Key Differences.." rundown on how the two diverge provides some helpful food for thought.
---
CITY CONTROLLER
We favor Ron Galperin over Dennis Zine.
We think Zine's a good guy, personally, and we like that he occasionally rides his Harley to Sturgis for the big bike rally in the Black Hills of South Dakota.
But we think Galperin has the right skill set and temperament to be a very good, pro-active controller—which is, after all, the point.
---
CITY ATTORNEY
Mike Feuer not Carmen Trutanich—please!
Feuer is smart, has the chops, and will be good.
Trutanich, while not without talent, is vengeful, mendacious, power-hungry and seems bizarrely unclear on the law when selective dis-clarity happens to serve his personal purposes, all of which we see as….you know… problematic.
---
PROPOSITIONS C, D, E, & F
These are the propositions that propose different schemes for regulating the sales of medical marijuana, which is long overdue.
Here's the short form: YES ON D……NO on the rest.
For the long form, read what the LA Times says or the LA Weekly.
Among other things, D has the best shot at passing, and if the voters don't pass one of these puppies, the City Council may try to shut down all the dispensaries, which is a very bad idea.
---
AND IN NON-ELECTIONS RELATED NEWS….
ZEV YAROSLAVSKY INTRODUCES A MOTION FOR JAIL RENOVATION TO BETTER HOUSE MENTALLY ILL INMATES
At Tuesday's Board of Supervisors' meeting, Supervisor Zev Yaroslavsky will introduce a motion as an "alternative concept for the replacement of Men's Central Jail," which would replace one of MCJ's towers with a facility designed to house mentally ill inmates.
Evidently Zev was fed up with the various billion dollar jail building proposals that the sheriff keeps pushing, so came up with a different angle with the idea of jump starting a fresh conversation about the jails facility issue.
Here's a clip:
Instead of demolishing all of MCJ and constructing a replacement facility for the general inmate population, a better approach could be to demolish one tower of MCJ and replace it with a medical/mental health/substance abuse Integrated Inmate Treatment Center designed to serve inmates with mental illness, co-occurring substance abuse and specified medical conditions. Initial studies show that by consolidating all relevant inmates in this Center, sufficient beds would be opened up elsewhere in the system to house the County's remaining inmates. The proposed Integrated Inmate Treatment Center would be designed to meet the needs of this inmate population and could result in better and more humane outcomes for these prisoners as well as a more cost-effective solution to the problem of housing the general jail population.

Initial reviews of this idea show great promise. Studies show that recidivism on
the part of mentally ill/dually-diagnosed inmates can be substantially reduced through intensive treatment programs.
The ACLU responded to Yaroslavsky's proposal with some suggestions of their own (detailed in their letter here: Yaroslavsky Mental Health Motion). But mostly, as So Cal ACLU Legal Director Peter Eliasberg put it, "…we appreciate the fact that the supervisor has started the conversation."
We do too.
---
MERRICK BOBB'S NEWEST REPORT ON THE LASD LOOKS AT THE SHERIFF'S GANG ENFORCEMENT STRATEGY
On Monday, Special Council Merrick Bob introduced his bi-annual report on the Sheriff's Department. This particular report focuses on gang enforcement since, although crime in general is down, gang violence still remains a pressing problem affecting LA's communities.
You can find the report here: 32nd Semiannual Report 5-20-13.
We'll likely return to discuss this report further in the next few days,
But, for now, suffice it to say that we appreciated the report's analysis of what effective, targeted gang suppression looks like, versus ineffective gang surpression—which only serves to alienate the community, wrongly criminalize some gang members, and, in excess, can actually cause crime to rise. This smart outline will, we hope, be viewed by the department as valuable feedback as they hone their gang policing methods.
Where we differ a bit from Bobb's report is that we're not at all that sure about the notion that, in addition to smart, targeted, strategic—and community-respecting—surpression (policing), that the LASD should also be engaged in gang prevention and intervention.
The report is, of course, dead on when it points out that, historically, we've learned that gang surpression alone, doesn't lower gang crime. Every study tells us that we need the prevention/intervention/reentry pieces for violence reduction and community health.
With this in mind, certainly it's essential for law enforcement to be cooperative with those agencies that provide prevention, intervention and reentry programs, et al —places like Homeboy Industries, Communities in Schools, Homies Unidos, and Aquil Basheer's BUILD Youth Empowerment Academy, and others. However, it's not the job of the cops to offer those services themselves.
We'd rather see the County instead carve out some money to help the intervention/reentry folks, since they are the people actually doing—and equipped to do—that work.
All this is a longer discussion. But that's the short form..