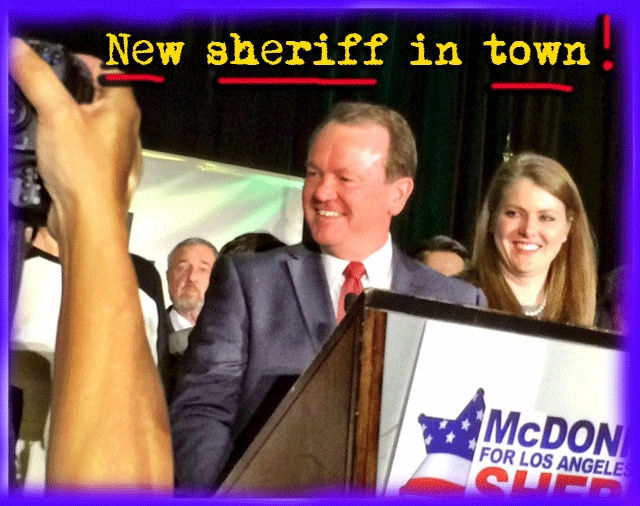 IT'S MCDONNELL, OFFICIALLY, FINALLY
Brand new LA County Sheriff-elect Jim McDonnell took the stage last night around 10:45 p.m. at the Marriott hotel downtown. "I entered the race for sheriff less than one very long year ago…" he said, "because I realized the change needed in the LASD would not, and could not, come from within." As a member of the citizens commision on jail violence, he said, he had seen "a failure of leadership" at the department's highest levels…."But the fine men and women of the department are ready for a new day."
After thanking everyone who needed to be thanked and then talking a bit about the department being at an historic crossroads, McDonnell paused and looked at those assembled, face flooded with emotion and resolve.
"I promise that I will not let you down," he said.
In addition to his wife and two daughters, the new sheriff was surrounded on the stage by much of the leadership of the city and the county: Mayor Eric Garcetti was there, as was District Attorney Jackie Lacey, her predecessor Steve Cooley, Supervisors Mark Ridley-Thomas, Don Knabe, Supervisor elect, Hilda Solis, City Attorney Mike Fuerer and acting sheriff John Scott. A good portion of the LA City Council, had showed up, including Herb Wesson who MC'd part of the festivities, and Mitch Englander who, together with Congressman Tony Cardenas kept flashing thumbs-up signs for the cameras.
The political figures who spoke to the crowd were nearly giddy in their praise for the new guy at the top of the LASD.
"He is up for the task! He is committed," said Mark Ridley-Thomas and then urged audience members to turn to those around them and exchange high fives.
"We now have a sheriff who is worthy of that title," said Mayor Eric Garcetti.
---
We got back from the various election events ver-r-r-rry late last night, so this is just a snapshot post.
We'll have more on the election—among other important topics—as the week goes on.