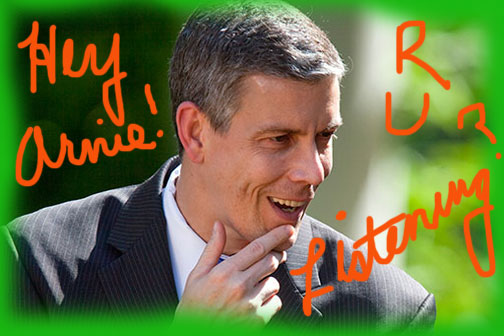 Yesterday, a lot of LA's activist Teachers were emailing and Tweeting a link to the open letter to US Education Secretary, Arnie Duncan, by veteran educator and author turned US senator, Herbert Khol. It speaks to the question of why American educators who love teaching hate No Child Left Behind.
Here is the opening clip:

In a recent interview with NEA Today you said of my book 36 Children, "I read [it] in high school … [and] … wrote about his book in one of my college essays, and I talked about the tremendous hope that I feel [and] the challenges that teachers in tough communities face. The book had a big impact on me."

When I wrote 36 Children in 1965 it was commonly believed that African American students, with a few exceptions, simply could not function on a high academic level. The book was motivated by my desire to provide a counter-example, one I had created in my classroom, to this cynical and racist view, and to let the students' creativity and intelligence speak for itself. It was also intended to show how important it was to provide interesting and complex curriculum that integrated the arts and sciences, and utilized the students' own culture and experiences to inspire learning. I discovered then, in my early teaching career, that learning is best driven by ideas, challenges, experiences, and activities that engage students. My experience over the past 45 years has confirmed this.

We have come far from that time in the '60s. Now the mantra is high expectations and high standards. Yet, with all that zeal to produce measurable learning outcomes we have lost sight of the essential motivations to learn that moved my students. Recently I asked a number of elementary school students what they were learning about and the reactions were consistently, "We are learning how to do good on the tests." They did not say they were learning to read……
Read the rest here.