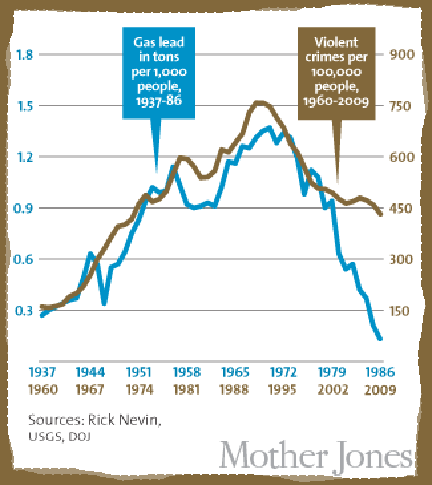 THE UNLIKELY AND POSSIBLY TRUE STORY OF THE AFFECT OF LEAD GASOLINE ON THE AMERICAN CRIME RATE
Yes, it sounds loopy. But the seemingly whacked-out notion that there may be a cause-and-effect relationship beween the discontinued use of leaded gas and the dive—20 years later—in America's crime rate, is a theory that is slowly gaining traction among serious researchers.
Even sober-minded law prof Doug Berman over at Sentencing, Law and Policy, calls Kevin Drum's story about the relationship between lead and crime in the January/Fberuary issue of Mother Jones' Magazine "the the first 'must read' of 2013 for crime and punishment fans."
No single clip really does the story justice, so I recommend reading the entire thing. But here're a couple of snippets that will give you at least a feeling for what Drum is on about:
….it's not just New York that has seen a big drop in crime. In city after city, violent crime peaked in the early '90s and then began a steady and spectacular decline. Washington, DC, didn't have either Giuliani or Bratton, but its violent crime rate has dropped 58 percent since its peak. Dallas' has fallen 70 percent. Newark: 74 percent. Los Angeles: 78 percent.

There must be more going on here than just a change in policing tactics in one city. But what?

THERE ARE, IT TURNS OUT, plenty of theories. When I started research for this story, I worked my way through a pair of thick criminology tomes. One chapter regaled me with the "exciting possibility" that it's mostly a matter of economics: Crime goes down when the economy is booming and goes up when it's in a slump. Unfortunately, the theory doesn't seem to hold water—for example, crime rates have continued to drop recently despite our prolonged downturn.

[BIG SNIP]

…..More prisons might help control crime, more cops might help, and better policing might help. But the evidence is thin for any of these as the main cause. What are we missing?

Experts often suggest that crime resembles an epidemic. But what kind? Karl Smith, a professor of public economics and government at the University of North Carolina-Chapel Hill, has a good rule of thumb for categorizing epidemics: If it spreads along lines of communication, he says, the cause is information. Think Bieber Fever. If it travels along major transportation routes, the cause is microbial. Think influenza. If it spreads out like a fan, the cause is an insect. Think malaria. But if it's everywhere, all at once—as both the rise of crime in the '60s and '70s and the fall of crime in the '90s seemed to be—the cause is a molecule.

A molecule? That sounds crazy. What molecule could be responsible for a steep and sudden decline in violent crime?

Well, here's one possibility: Pb(CH2CH3)4.
---
YOGA TURNS OUT TO BE A LOW-COST, HIGH BENEFIT PROGRAM FOR CASH-STRAPPED U.S. PRISONS, INCLUDING CALIFORNIA'S 33 ADULT LOCK-UPS
The NY Times' Mary Pilon has the story. Here's a clip:
….The ancient art of yoga, a physical, spiritual and mental practice whose benefits have been promoted as improving relaxation, has found an unlikely home: prisons.

When many states have cut their wellness and education programs for inmates, citing cost and political pressure, some wardens looking for a low-cost, low-risk way for inmates to reflect on their crimes, improve their fitness and cope with the stress of overcrowded prison life are turning toward yoga.

The number of yoga programs is not officially tracked, but many wardens said they were interested in pursuing them. Typically programs start informally, a hodgepodge of volunteer efforts by instructors and correctional facilities. At least 20 prisons now offer yoga through the Prison Yoga Project, a program that began in California 12 years ago when its founder, James Fox, began teaching yoga to at-risk youth. Mr. Fox holds trainings for yoga teachers and said he has sent more than 7,000 copies of his manual to inmates to practice yoga on their own.

States' spending on corrections has quadrupled during the past two decades, to $52 billion a year, according to a 2011 report from the Pew Charitable Trusts. Despite a focus on rehabilitation and deterrence of future crimes, however, roughly 4 in 10 adult American offenders return to prison within three years of their release, the report found.

"Any program that gives an inmate a chance to reflect is going to have positive benefits," said Bill Sessa, a spokesman for the California Department of Corrections and Rehabilitation, which has expanded yoga offerings to most of its 33 adult prisons.

"What we're trying to do with any program is get is get inmates to think about how responsible they are for the crime they've committed and the consequences."
---
DO ARMED GUARDS REALLY MAKE SCHOOLS SAFER?
Approximately one third of the nation's public schools have armed security staff on campus.
In an Op Ed for the San Diego Union, Barbara Raymond, director of schools & neighborhoods policy for The California Endowment, looks at whether armed guards really make schools safer.
Here's a clip:
In the 2009-10 school year, about one-third of all public schools had armed security staff. These are typically sworn officers who are part of local police or sheriff's departments. Additionally, many large school districts operate their own police departments, with the Los Angeles Unified School District having the largest force in the nation with more than 350 officers.

Despite the growing number of school police, research does not support the thesis that an armed presence improves school safety. What is proven, however, is that more police on campus means more young people are sent into the justice system. Police are not typically trained in youth development, child psychology, or how to best respond to youth misconduct, which sometimes leads to an escalation of conflict and charges filed for misbehavior that used to be handled by the school. One study found that campuses with school resource officers had nearly five times the rate of arrests for disorderly conduct as schools without an officer, even when accounting for school poverty. And in Los Angeles in the last three years, school police issued 33,000 tickets to young people that required them to go to court – with 40 percent of those tickets going to kids younger than 14.