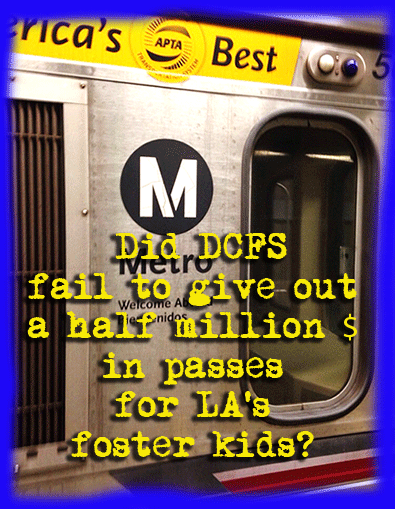 THE VANISHING MTA PASSES
In an audit released Friday afternoon, the LA County Auditor-Controller's office revealed that, in a four month period, at least $160,000 word of MTA passes and/or tokens—and very probably $571,000 worth of those same passes/tokens—were never given out to the foster kids who urgently need them.
Here's the deal: The Department of Children and Family Services (DCFS)—AKA foster care—provides transit passes or tokens to eligible foster youth who need to use public transportation in order to get to school, counseling sessions, family visitations, and and other required activities.
Transit passes/tokens are, as you might imagine, considered cash equivalents thus, as the auditor controller's report put it, "should be safeguarded in the same manner as cash to prevent theft or misuse."
And just give you an idea of the kind of "cash equivalents" we're talking about, in FY 2012-2013, DCFS gave out approximately $12 million in passes.
With the above in mind, the A-C reviewed DCFS's pass/token policy and record keeping, starting in FY 2014-2015, to make sure that the chronically troubled agency was safeguarding its inventory of passes and—even more importantly—to determine if the passes and tokens were getting to the kids who depend on them.
The results were not cheering.
We verified that during a four-month period, DCFS regional offices never distributed 1,906 transit passes valued at $160,000. We also reviewed MTA usage records for the same four months and noted that an additional 4,818 transit passes valued at $411,000 may have expired without being used. Based on our findings throughout this review, it is unlikely that all 4,818 of the transit passes were distributed to clients.
---
"MISAPPROPRIATED" WITHOUT DETECTION??
So what happened to the half-million $$ in passes that appear to never have been used in that four month period?
And are there more discrepancies where those came from?
Despite much looking into the matter, the auditor-controller's office ultimately wasn't sure. The report points to finding "critical internal controls and recordkeeping which could result in County funds being misappropriated without detection."
To try to get to the bottom of the issue of the non-used passes, the A-C referred its concerns to its investigative arm, the Office of County investigations, or OCI—hoping that the sleuths could determine if the passes were stolen, lost, or just stuck in drawers and forgotten about. But because of DCFS's sloppiness in record keeping, the investigators reportedly found themselves stymied.
Due to the lack of accountability and poor internal controls, OCI was unable to conclude whether County funds were misappropriated."
Great.
---
SO WHERE DID THE PASSES AND TOKENS GO?
When the investigators visited 7 local DCFS offices and interviewed samplings of social workers, they found that 90 percent of the MSWs they interviewed kept the passes and tokens (that are, remember, the equivalent of cash) in unlocked desk draws, in overhead cabinets, unsecured in their purses, and like locations. In the case in one office, 38 of the things—all unused, and worth a total of $2,300—were sitting in the employee's inbox in full view of anybody who strolled by.
Worse, when asked to produce the most recent monthly passes/tokens the workers had been issued, 30 percent of the 20 interviewed, couldn't locate or account for all the tokens they had received.
In addition to the physical carelessness with the passes and tokens themselves, the A-C reported that, due to the shockingly bad record keeping maintained by regional offices, there was no way to know if small or large numbers of passes and tokens were vanishing regularly.
Regional offices do not maintain perpetual inventory records, and do not accurately complete reconciliation forms – None of the seven regional offices we visited maintain perpetual inventory records of transit passes/tokens. The regional offices also do not conduct monthly physical inventory counts, as required, or accurately complete monthly reconciliations. For example, one office's reconciliation showed an ending balance of 6,452 tokens, but their beginning balance for the following month was 2,972 tokens. Regional office staff could not explain this discrepancy.
---
PASSES? WHAT PASSES?
When the passes actually were theoretically given out to foster kids, they were not necessarily given to the right people, or in a timely fashion. In some cases, they were simply not given out at all. And records of who got what were either sloppy or nonexistent.
For instance, in a random sampling of 65 kids who were marked as having to gotten passes/tokens, 20 percent reported to investigators they "did not receive any or all of the transit passes/tokens."
In one instance, the guardian of a kid indicated that the child in his/her care had not received any of the required transit passes for six months. When confronted by this, the social worker "subsequently admitted that he had given the child's transit passes to other clients. He could not recall who actually received the passes, but he claimed that he did not 'keep or sell them.'"
Never mind that, for a kid to be issued the monthly passes/tokens, the distribution must be justified with a court order or case plan.
Out of the sampling, another 20 percent of the kids who had requested monthly passes got the passes, but "an average of 14 days afterthe month began, even though the requests had been submitted at or before the beginning of the month."
And then there was the case of the social worker who had a form signed by the "client," indicating that he or she had gotten the monthly passes when, in fact, the passes were still sitting on the MSW's desk.
(And what sanctions have been levied against these people? Or never mind. Forget we asked.)
---
THE DOG ATE OUR ABILITY TO DISTRIBUTE MTA PASSES
The report also includes the response from DCFS, which—while no doubt well meaning—feels full of excuses.
For instance, among its plans to solve this lovely mess the department intends to reissue the rules and regulations around the passes, and institute—what else?—new rounds of training.
ln September 2014, the Department began working with the Auditor-Controller's OCI Division to coordinate training for nearly 250 DCFS management supervisory level staff regarding Fraud Awareness. Training commenced on January 14,2015, and is scheduled to be completed by the end of June 2015…..
And so on. There's more if you wish to read it. But the above is representative.
From sources close to the board of supervisors we have heard that the Supes are really.., really not happy with all this nonsense.
Good.
Laissez les têtes tomber.