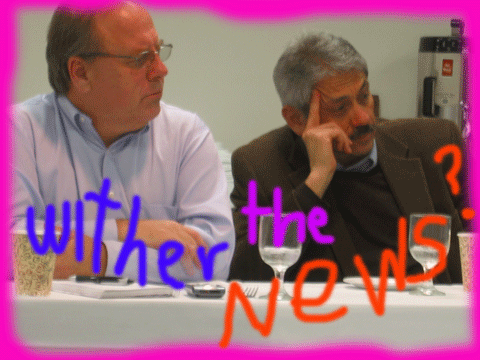 (The serious-looking guys above are Kevin Roderick, creator and editor of LA Observed, and Carlos Rajo, political analyst for Telemundo station KVEA.)

If you somehow missed yesterday's WaPo article by David Simon on the state of newspapers, here's the link. Below I've imported a few of the emblematic lines.

The topics that Simon brings up were also the center of a three hour round-table discussion (sponsored by the Institute for Justice and Journalism) in which 20 journalists from the LA Times, KTTV, LA Observed, La Opinion, The Daily Journal, KPCC and more got together to discuss the future of news reporting.
Okay, here's Simon.

…It Isn't the news itself still valuable to anyone? In any format, through any medium — isn't an understanding of the events of the day still a salable commodity? Or were we kidding ourselves? Was a newspaper a viable entity only so long as it had classifieds, comics and the latest sports scores?

It's hard to say that, even harder to think it. By that premise, what all of us pretended to regard as a viable commodity — indeed, as the source of all that was purposeful and heroic — was, in fact, an intellectual vanity.

Newsprint itself is an anachronism. But was there a moment before the deluge of the Internet when news organizations might have better protected themselves and their product? When they might have — as one, industry-wide — declared that their online advertising would be profitable, that their Web sites would, in fact, charge for providing a rare and worthy service?

And which, exactly, is the proper epitaph for the generation that entered newspapering at the very moment when the big-city dailies — the fat morning papers, those that survived the shakeout of afternoon tabloids and other weak sisters — seemed impervious, essential and ascendant? Were we the last craftsmen prepared for a horse-and-buggy world soon to prostrate itself before the god of internal combustion? Or were we assembly-line victims of the inert monopolists of early 1970s Detroit, who thought that Pacers and Gremlins and Chevy Vegas were response enough to Japanese and European automaking superiority? ….
Here's the rest …