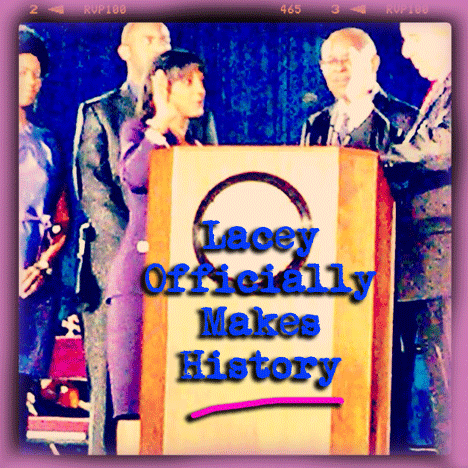 JACKIE LACEY IS SWORN IN AS DISTRICT ATTORNEY—LA's FIRST WOMAN AND FIRST BLACK DA
Frank Stolz of KPCC and the Daily News's Christina Villacorte are among those who reported on Jackie Lacey's swearing in on Monday afternoon.
Here's a clip from Frank's story:
Lacey, 55, born and raised in the Crenshaw District in South L.A., was the first in her family to go to college. She graduated from USC Law School and spent 26 years as a prosecutor before taking the top job. Her mother was a seamstress, her father cleaned lots for the city of L.A. The daughter will now lead the largest local prosecutors office in the country.

"How cool is that?" Lacey said at ceremony where her nine-year-old niece sang and the Inner City Youth Orchestra performed.
Well, pretty cool, actually.
We don't yet really know what kind of DA Lacey will be. That will come soon enough. But for now we're willing to savor the delight of the historic moment.
My friend Sal Martinez, who brought his 11-year old honor student daughter to USC's Galen Center to see the swearing in, captured the general mood of the event. "My beautiful daughter Carol is now part of L.A. County history!" he said happily.
(It should be noted that Sal is his own kind of barrier-breaker. Now a community leader in Boyle Heights, and the Vice President of the LA County Probation Commission, he was once a teenage gang member who was shot twice and stabbed three times before he was 18. He credits his turnaround to the influence of the late and legendary probation officer, Mary Ridgway.)
Steve Cooley administered the oath of office for Lacey, and former DA John Van de Kamp presented Lacey with her badge.
---
JAIL COMMISSION HEAD COUNSEL MAY BE APPOINTED BY SUPES TO MONITOR LASD JAILS REFORMS
Supervisor Mark Ridley Thomas will introduce a motion Tuesday morning to appoint Richard Drooyan as the "Implementation Monitor," whose job would be to watchdog "the implementation of the recommendations of the Citizens Commission on Jail Violence."
Appointing Drooyan is a good idea, and evidently has been in the works for a while, due to the fact that the Supes don't, shall we say, have 100 percent trust that Sheriff Baca will make sure that all the agreed upon reform recommendations are actually put into place.
A former Assistant U.S. Attorney, Drooyan has served as the president of LA's police commission and, more recently, as the general counsel for the Jails Commission, which meant he oversaw the work of the teams of attorney/investigators. (In his day job, Drooyan is a partner in the LA law firm of Munger, Tolles & Olson.)
---
FEUER IN TRAFFIC ACCIDENT ON WAY TO SWEARING IN
And in a weird side story, Former Assemblyman Mike Feuer, who is challenging Carmen Trutanich in the City Attorney's race), was headed for LacEy's swearing in when a truck blew a red light and slammed in to Feuer's Prius. Fortunately Feuer is okay—relatively speaking. But he will spend a couple of days in the hospital, according to a representative of his campaign.
---
A NEW, YOUNGER MAJORITY EMERGES IN TEACHERS' UNIONS (PROMINENTLY INCLUDING UTLA) WITH POTENTIALLY INTERESTING CONSEQUENCES
This Washington Post Op Ed by an LA Teacher ran on Friday, but it's too interesting to let slip.
Written by Michael Stryer, an LAUSD high school teacher on leave, who is a member of United Teachers Los Angeles (UTLA) and the executive director of Teachers for a New Unionism.
Here's how it opens:
We have all heard about the dramatic changes in the American electorate and how, because he spoke to the concerns of the growing numbers of Hispanic, black, female and younger voters, President Obama was reelected despite adverse economic conditions.

Another critical demographic shift is occurring. This one is taking place, quietly, in teachers unions: Over the past several years, teachers who have spent 10 years or fewer in the classroom have become the dues-paying majority. The impact of this new majority is as important to the role of unions as the changing electorate is to presidential elections. These newer teachers, along with many longtime teachers, are looking for their unions to elevate the profession — not to sacrifice teaching quality for job security.

But the word is definitely not out. I'm a teacher and a union member — and a member of the new majority. Not long after the Chicago teachers strike ended, I had dinner with lifelong Democrats. Instead of support for a revitalized union movement or sympathy for the plight of teachers, the conversation included such comments as: "The last thing teachers unions think about are students," "Teachers unions haven't addressed teacher-quality issues, especially with the weakest teachers" and "Teachers unions have to start focusing on something other than pay and tenure."

It was painful to hear this — especially because such sentiments accurately describe the situation in many large urban teachers unions. In smaller unions across the country, however, progressive teachers are committed to meeting student needs and advancing the profession. And the new majority is accelerating those changes….
Read the rest.
(And a hat tip to The LA School Report for drawing our attention to this story.)
---
NOTE: Pre-scribbled and pre-Instagrammed photo courtesy of Sal Martinez.