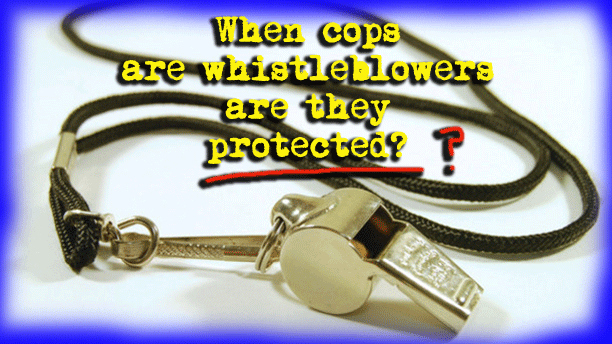 9TH CIRCUIT SAYS POLICE ARE PROTECTED AS WHISTLEBLOWERS BY 1ST AMENDMENT
The decision on Wednesday by the 9th Circuit Court of Appeals is very interesting, and also very important.
Here's the deal: A former Burbank police detective, Angelo Dahlia, said he was suspended after reporting that fellow officers had beaten suspects and then told him to keep his mouth shut about it. After witnessing the abuse, he first reported what he had seen to his direct superior, but was told to "stop his sniveling," according to the court. Any further attempts were met with the same dismissal.
Next Dahlia went to Burbank PD's Internal Affairs, and the real retaliating allegedly began.
When Dahlia finally went outside his agency and talked to investigators from the Los Angeles Sheriff's Department, and eventually to the FBI, he was reportedly directly threatened by one of the Burbank PD's lieutenants who, according to the ruling, warned Dahlia, "Fuck with me and I will put a case on you, and put you in jail." Plus there were reportedly other unpleasant retaliations.
And then he was put on administrative leave.
So he sued.
A lower court tossed out his lawsuit, contending that Dahlia's actions did not constitute whistleblower activity, so were not eligible for First Amendment protections because, according to a 2009 ruling, Huppert v. City of Pittsburg, as a law enforcement office, reporting wrongdoing was a part of his job.
The 9th circuit disagreed. They ruled that, the moment Dahlia went outside of the Burbank PD, he should be accorded the same First Amendment protection as a private citizen.
So they reinstated his lawsuit.
This ruling, which may be appealed to the U.S. Supreme Court, struck down Huppert, which had denied cops most whistleblower protection, to set an important new precedent.
"The practical reality," wrote a court member, "is that quite a few police officers are reluctant to report acts of police abuse committed by their fellow officers. The 'officer code of silence' describes the understanding that "an officer does not provide adverse information against a fellow officer. The public's trust is diminished when a law enforcement officer abides by the code of silence to cover up misconduct engaged in by fellow officers. To strengthen the public's confidence in the integrity of its law enforcement officers, it is essential that an officer be encouraged or required to report misconduct committed by fellow officers."
Indeed.
Scott Michelman, attorney for the advocacy group, Public Citizen, which helped to bring the appeal, credited the decision with helping to ensure transparency when "public officials are engaging in misconduct," writes Tim Hull, reporting for The Courthouse News Service.
"Courageous police officers like Angelo Dahlia are in many circumstances the public's best or even only available source of information about police corruption and abuse," Michelman said in a statement.
Sources tell us that the ruling will come as very good news to the various members of the Los Angeles Sheriff's department who have filed lawsuits against the department for alleged retaliation when they attempted to blow the whistle on LASD corruption and abuse.
---
JUDGE AWARDS $3 MILLION TO NORTHRIDGE TEENAGER, ZAC CHAMPOMMIER, WHO WAS SHOT AND KILLED BY A DEA AGENT IN INCIDENT WITH DEA AND LASD OFFICERS
This case goes back to the tragic 2010 shooting of 18-year-old Zachary Champommier that WLA reported on here and here.
Both Frank Stoltze of KPCC and The Associate Press were in court and have reports that will give you the details.
Here are two clips from Stoltze's story:

In a rare ruling against a federal law enforcement officer, a judge in Los Angeles on Wednesday found an undercover U.S. Drug Enforcement Administration agent committed battery when he shot and killed an 18-year-old man in the parking lot of a San Fernando Valley strip mall in 2010.

U.S. District Judge Michael Fitzgerald awarded the parents of Zachary Champommier $3 million dollars in general damages. Champommier had graduated from Granada Hills High School three weeks before his death.

[SNIP]

The incident occurred as plainclothes DEA agents and L.A. County Sheriff's Deputies gathered outside a Studio City restaurant after serving a search warrant on a nearby house. The officers were in the process of detaining a man Champommier was coming to meet.

Witnesses said that as Champommier started to drive away, he struck a sheriff's deputy. Federal attorneys argued that DEA agent Peter LoPresti shot Champommier because he believed he was a threat. The sheriff's deputy also fired his weapon.
And from the AP:
….They said Champommier drove his mom's car to the parking lot to meet someone he befriended on a social networking website. The friend went looking for Champommier's white Corolla and became a suspect when he looked into an agent's light-colored vehicle, which had seized guns and drugs.

Agents were in the process of arresting the friend when the deputy approached the scene with his gun drawn.

Champommier's parents claimed the deputy stepped in front of their son's car and "vaulted" on top of its hood like a Hollywood stuntman.

Fitzgerald wrote that within two seconds of the "low-speed impact" of the collision, DEA agent Peter Taylor LoPresti fired through the driver side of the window from about 2 feet away, killing Champommier.

The judge noted that LoPresti "did not articulate at trial exactly how shooting the driver of a moving vehicle while another officer was on the hood would be helpful to the besieged officer."

He found that five subsequent shots fired by LoPresti and the deputy "unquestionably lacked justification."
Thom Mrozek, spokesman for the US Attorney's office, said the government is considering an appeal.
---
WHAT WOULD ELMORE DO? NOW, SADLY, WE HAVE TO ANSWER THAT QUESTION ON OUR OWN
Among my favorite tales about the gloriously talented and much-beloved crime and mystery writer Elmore Leonard, who died on Tuesday, has to do with the wonderful FX series, Justified, which is based on one of Leonard's short stories called "Fire In the Hole." It seems that Justified's creator, Graham Yost, was so intent on the tone of the show remaining true to Leonard's unique voice that he gave everyone on the writing and acting staff little blue rubber wristbands printed with WWED? "What Would Elmore Do?"
For aspiring writers—hell, for any writer—those four letters are a far better guide to good work than many graduate school degrees.
A master of the American crime thriller, Leonard's novels raised crime writing to art.
His partly humorous, part deadly series "10 Rules for Writing," written in 2001 for the New York Times, are worth noting:
1. Never open a book with weather.
2. Avoid prologues.
3. Never use a verb other than "said" to carry dialogue.
4. Never use an adverb to modify the verb "said"…he admonished gravely.
5. Keep your exclamation points under control. You are allowed no more than two or three per 100,000 words of prose.
6. Never use the words "suddenly" or "all hell broke loose."
7. Use regional dialect, patois, sparingly.
8. Avoid detailed descriptions of characters.
9. Don't go into great detail describing places and things.
10. Try to leave out the part that readers tend to skip.
Of the obits I've read thus far on Leonard, I recommend this one by mystery novel reviewer, Marilyn Stasio for the New York Times, and this one for The Daily Beast by Malcolm Jones…and this lovely essay about Leonard's unbeatable sense of voice, by Joan Acocella for the New Yorker.
---
MORE INTERVIEWS WITH CANDIDATES FOR SHERIFF: THIS TIME WITH PAT GOMEZ
Now that challengers in the race for sheriff, Bob Olmsted, Paul Tanaka and Lou Vince, have been interviewed on KABC, it's Pat Gomez's turn.
Pat will be on Larry Elder Thursday at 5:14 pm, and on with Doug McIntyre on Monday at 7:15 am.
We will continue to try to keep you reasonably up-to-date on events related to the race for sheriff. If we miss something please let us know.
PS: For anyone who missed the various Larry Elder interviews, then—like me—noted that the podcasts are vexingly hidden behind a pay wall, for a mere $4.95 you can buy a monthly membership to Elder's podcast club, and listen to talk from the three previous candidates. (But don't forget to cancel your membership when the month is up if you don't want it to auto renew.)