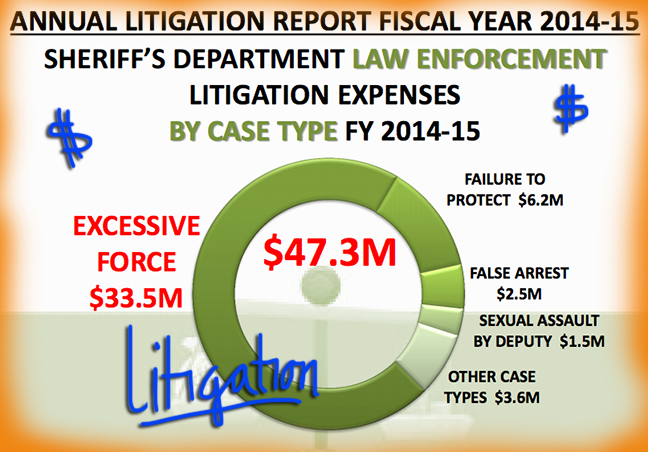 THE LA COUNTY SHERIFF'S DEPT. SPENT $61 MILLION ON LAWSUITS LAST YEAR
LA County spent $118.9 million during fiscal year 2014-2015, an increase of 24% over the $95.6 million spent in FY 2013-14 according to a new report from County Counsel.
The LA County Sheriff's Department alone spent $61 million on litigation, up 50%—$20 million—over the previous year's $40 million. The LASD spent more than half—$33.5 million—on excessive force incidents, most of which were patrol cases (only 3.7% were jail cases). The excessive force cost was up nearly $10 million over the previous year.
Much of these cases date back several years. So while the sum paid out for law enforcement cases has risen over the past few years, instances of excessive use of force are actually declining. A report from the County CEO's Office, also presented to the board Tuesday, says that use of force numbers dropped 22% from fiscal year 2013-2014 to 2014-2015.
Nearly half of the total $118.9 million was spent on litigation via attorneys' fees and costs.
"Every cent the county spends on litigation is precious funding that we cannot use to house the homeless, promote better health and wellness for children, upskill our workforce and provide countless other needed services to our communities," said LA County Supervisor Hilda Solis in a statement.
---
ANOTHER YEAR, ANOTHER SETTLEMENT: LA COUNTY APPROVES $1.6 MILLION LASD SETTLEMENT
After County Counsel presented a breakdown of last year's legal costs to the Supervisors, the board approved a $1.6 million settlement in a lawsuit against the LASD over the fatal shooting of an 80-year-old man, Eugene Robert Mallory, in his home.
The LA Times Abby Sewell has more on the settlement. Here's a clip:
The deputies were serving a search warrant at Mallory's home in the community of Littlerock near Palmdale in June 2013 while investigating reports of a suspected meth lab.

No evidence of methamphetamine was found. Sheriff's officials at the time said that marijuana was discovered on the property.

Mallory's wife filed a wrongful death suit against the department. According to a statement released by her attorneys at the time, deputies claimed that Mallory had confronted them with a gun, but his wife said he was "sleeping in his bed when he was confronted and shot without warning."

In a memo to the supervisors, county attorneys said the county denies the allegations in the lawsuit but recommended settling the case "due to the risks and uncertainties of litigation."
---
EVEN MORE SETTLEMENT$ IN LA: CITY COUNCIL APPROVES $24.3 MILLION FOR WRONGFUL MURDER CONVICTIONS
The LA City Council has approved $24.3 million in settlements to two men, Kash Delano Register and Bruce Lisker, who spent decades behind bars for murders they did not commit.
The city will pay $16.7 million to Kash Delano Register, who spent 34 years in prison, and $7.6 million to Bruce Lisker, who spent 26 years in prison after being falsely convicted of killing his mother when he was 17.
CBS has the story. Here's a clip:
Register had been convicted of the April 6, 1979, shooting death of 79-year-old Jack Sasson in West Los Angeles. A key witness in the case, Brenda Anderson, testified that she saw Register at the crime scene. Register was found guilty despite claims by his girlfriend that she was with him at the time.

Anderson's sister, Sharon, testified at a court hearing in 2013 that her sibling had lied. According to attorneys for the Project for the Innocent, another Anderson sister tried to tell police investigating the shooting in 1979 that Brenda had lied to authorities, but the claim was never presented to Register's defense attorney.

Los Angeles Superior Court Judge Katherine Mader ruled that the prosecution had failed to disclose exculpatory evidence and used false testimony at Register's trial. That ruling cleared the way for the then-53-year-old Register's release in 2013…

Register's New York-based attorney, Nick Brustin, said he is "hopeful that Los Angeles will build on this settlement by adopting reforms to their eyewitness identification procedures."

"This case should also be a lesson to Los Angeles and other cities to take a hard look at other cases where inmates proclaim their innocence, even where, as here, there was no remaining physical evidence to do testing like DNA," he said.

[SNIP]

Lisker was convicted in 1985 of second-degree murder and sentenced to 16 years to life in prison for the death of his 66-year-old mother, Dorka, who was found stabbed and beaten to death in their Sherman Oaks home in 1983, when he was 17 years old.

A Los Angeles Times investigation in 2005 called into question much of the evidence in Lisker's trial, and his conviction was overturned in August 2009 by a federal judge in Riverside, who ruled that false evidence had been used and that Lisker had inadequate legal representation.