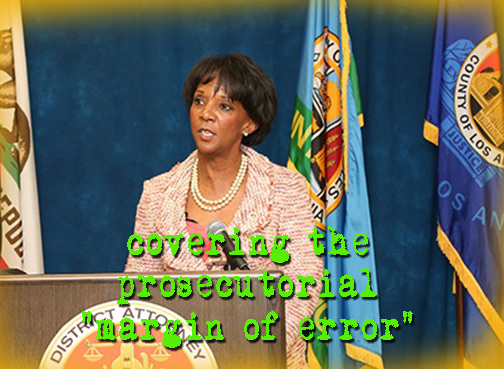 LA DISTRICT ATTORNEY'S NEW CONVICTION REVIEW TEAM
On Monday, LA County District Attorney Jackie Lacey announced a new Conviction Review Unit to investigate innocence claims, following a wave of recent exonerations in Los Angeles and across the nation.
The LA County Board of Supervisors approved $1 million to fund the unit, which will consist of three deputy district attorneys, a senior investigator, and a paralegal.
When the DA's office is presented with potentially exculpatory information, Lacey says, "The responsibility is on us, as prosecutors, to re-examine the facts and…to seek to vacate a wrongful conviction."
The DA's office prosecuted a whopping 71,000 felony cases last year. This unit is meant to cover prosecutors' "margin of error" according to DA Lacey, who told Warren Olney, on his KCRW show Which Way, LA?, that she expects the unit to review around a dozen cases per year.
In 2012, California led the nation in innocence cases, with 119 exonerations since 1989. LA County will join other CA counties with similar units including San Diego, Contra Costa, and Santa Clara.
Here's how it will work, according to DA Lacey's website:
The unit will review claims of actual innocence based on newly discovered evidence. These claims may originate from inmates, attorneys or innocence projects. The requests will be made in writing to the District Attorney's Office. This process will not require the filing of any formal court documents.

If an initial review determines that the claim appears to have merit, a formal investigation will be opened. A prosecutor and investigator will be assigned to review trial transcripts and interview witnesses. If warranted, the case will be presented to the Conviction Review Committee composed of managers similar to the group that reviews death penalty cases.

If the committee decides the office has lost faith in the conviction, prosecutors will seek to have the conviction vacated.
---
STUN-CUFFS: 80,000 VOLTS OF INSTANTANEOUS DISCIPLINARY CONTROL OVER INMATES
A pair of "stun-cuffs" wrapped around wrists or legs allow officers to send 80,000 volts of electricity through an inmate's body, remotely. In the video above, an officer at a National Sheriff's Association meeting eagerly straps his ankles into the cuffs for a demonstration. When the button is pushed, the officer immediately drops to the ground screaming and writhing while his friends laugh and joke about his reaction.
The Atlantic's Conor Friedersdorf has more on the painful cuffs, and why the officers' reaction to the demonstration is troubling. Here's a clip:
The way that the man taking the video laughs as the other man writhes on the ground in uncontrollable spasms and painful screams adeptly captures the part of human nature that leads me to believe that these devices will spread with terrible results.

They're already used on prisoners in some jurisdictions. The company itself lists some testimonials on its web site. A detention center in San Juan County, New Mexico, demonstrated the device on a prison guard back in 2012. A Missouri sheriff's department tested a similar device from a different manufacturer in 2013. They too found it extremely amusing to debilitate colleagues with painful shocks. Lots of young men would react similarly, hence my reluctance to let them put devices they approach with jocularity rather than seriousness on people that they disdain.

I am hardly alone in finding stun-cuffs creepy and suggestive of evil––for goodness sakes, Darth Vader seems to have pioneered their use on the Death Star.

Back in the real world, there are a depressing number of news articles about parents arrested for putting shock collars intended for dogs on their children. Of course, no one would equate kids with prisoners acting up in custody. But the stories are narrowly relevant for two reasons: they're written as though the shocks are self-evidently cruel, though they're far weaker and less painful than what stun-cuffs deliver; and in at least one instance, a man was arrested for putting a shock collar on his kid that he never used, suggesting that on some level, even law enforcement understands that it isn't just being shocked that matters in these situations––the burden of knowing that someone has a finger on a button that could deliver a shock at any moment matters too. When these stun-cuffs are preemptively placed on prisoners, those who don't misbehave will still suffer that psychological trauma; and recall that many prisoners have not yet been convicted of any crime.

Those problems would give pause even if America's police officers and prison guards were not prone to excessive force and prisoner abuse.
---
WILL SCOTUS RULING IN FAVOR OF OKLAHOMA'S LETHAL INJECTIONS TRIGGER LONG-DORMANT CALIFORNIA EXECUTIONS?
On Monday, in a 5-4 ruling, the US Supreme Court upheld Oklahoma's three-drug execution method challenged by three OK death row inmates after three lethal injections were botched last year.
This ruling has particular significance in California, where executions on hold for almost ten years may soon resume. California recently agreed to develop a single drug execution method to replace the three-drug cocktail, pending the SCOTUS ruling.
San Jose Mercury's Howard Mintz has more on the ruling and why it brings CA closer to carrying out executions. (And for more on the issue, read WLA's pre-SCOTUS-ruling backstory on the original OK case that went before the high court.) Here's a clip:
Under a recent settlement with families of murder victims, California prison officials agreed to propose a new single-drug execution method within 120 days of the Supreme Court's ruling in the Oklahoma legal challenge. It would mark the first progress in years toward devising a new execution procedure at San Quentin, where California has not executed a condemned killer in nearly a decade.

By upholding Oklahoma's controversial three-drug lethal injection method in a 5-4 ruling, the Supreme Court appears to have removed a key legal hurdle for California to rely on some form of lethal drug.

"(It is) a pretty strong green light for California to go forward with whatever lethal injection protocol fits their own regulations and interests," said Douglas Berman, an Ohio State University law professor and author of the Sentencing Law and Policy blog.

Death penalty opponents expressed alarm that California might resume executions, with one leading group, Death Penalty Focus, sending out an email seeking donations to back efforts to continue legal challenges to lethal injection.

"Today's decision … starts off a very long, costly and wasteful process in California," said Ana Zamora, criminal justice policy director for the Northern California ACLU.

The Supreme Court, in a decision written by Justice Samuel Alito, rejected the arguments of death penalty foes that drugs such as those used in Oklahoma risk violating an inmate's right to a humane execution. "Holding that the 8th Amendment demands the elimination of essentially all risk of pain would effectively outlaw the death penalty altogether," the court's conservative majority wrote.
---
NPR SERIES FACILITATES MEANINGFUL CONVERSATION AMONG LA COPS, COMMUNITY, AND CREATIVES
NPR's Michel Martin hosted an event called "Street and Beats: Personal stories of cops and community from across L.A." at the Los Angeles Theatre Center to open up communication between former gang members, local law enforcement, artists, and other community figures.
Panelists included actor Richard Cabral, LAPD Captain Ruby Flores Malachi, Yasmeen Muqtasid, the resident of Black Women Matter Inc., LASD senior deputy, Rafer Owens, Grammy-winning East LA rock group, Quetzal, author and journalist, Sam Quinones, and LA Poet Laureate, Luis J. Rodriguez.
Street and Beats is part of an ongoing NPR live event series.
Here are a couple of the discussion topics clipped from KPCC's write-up of the event:
1. Most cops sign up to serve

L.A. Police Captain Ruby Malachi said she wanted to join the force after a bad personal experience with the police as a teenager. "I wanted to become an officer and make a difference, treat people right. Your first encounter with an officer is a lasting, lifelong impression," she said.

"Many police officers come on for the right reasons," Malachi continued. "As tough as it is to police in this day and age, we are extremely proud to wear the badge. And that's one of the things we're campaigning at LAPD: let's show what's behind the badge."

"We're real people," she said. "We care about the job and came onto the job to serve and protect. That's what we're sworn to do."

"[Serving on LASD] is coming out of yourself and serving the community, people who need you," said Rafer Owens, Senior Deputy, Los Angeles County Sheriff's Department. "We are obligated and obliged to serve our community."

Malachi said that police and the community they serve have to work to solve problems together and that there need to be more positive contacts with police officers. "We should be teaching kids to run towards us for help, not from us."

2. Communities often don't see the concern

Yasmeen Muqtasid, President of Black Women Matter Inc., said the good intentions Malachi and Owens described oftentimes aren't seen by the community.

"For myself as a black woman, for our organization Black Women Matter, and for black people, the 'Officer Friendly' doesn't exist. It never has," she said.

"When I think about my first interactions with police, it's seeing family members being beaten to a pulp," said Muqtasid. "There's a huge disconnect between what officers say and what the community feels and experiences."

[BIG SNIP]

5. Cops are human and they're needed by the community

Growing up, Poet Laureate of Los Angeles Luis J. Rodriguez said he felt he and his San Gabriel community were at war with the police. Now, he wants police to be part of the community.

"When I was a crime reporter I learned that cops are under the gun of society that says crime is their problem, and I don't think that's true. I think crime is a social, political, and justice issue. I do think police are given the short end of the stick when it comes to that and that they should not be in charge of everything we can't resolve," he said.