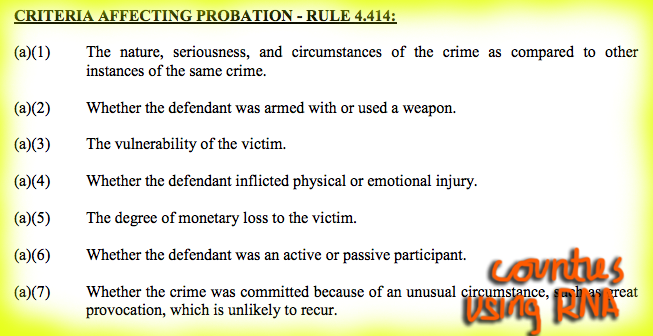 REPORT LOOKS AT 10 COUNTIES PIONEERING THE USE OF RISK ASSESSMENT DURING SENTENCING TO REDUCE RECIDIVISM
Jurisdictions across the nation are turning to risk and needs assessment (RNA) information for use during sentencing to determine whether a person can be safely and successfully supervised in the community, rather than locked up in a jail or prison.
Judges (and prisons and parole boards) using RNAinfo look at factors such as prior offenses, marital status, age, sex, education, employment, and sometimes where a person lives.
A new report by the National Center for State Courts' Center for Sentencing Initiatives looked at initiatives in ten jurisdictions nationwide, including Napa, California, through which RNA information is used during sentencing.
The other jurisdictions were Coconino County, Arizona; Mesa County, Colorado; Bonneville County/7th Judicial District, Idaho; Grant County, Indiana; Douglas County/4th Judicial District, Nebraska; Cuyahoga County, Ohio; Yamhill County, Oregon; Travis County, Texas; and La Crosse County, Wisconsin.
The initiatives included treatment programs, evidence-based supervision programs, and partnerships between the court system and probation departments.
The Napa County Probation Department employs risk and needs assessment info to assign offenders to a corresponding tier of supervision based on their risk of reoffending. Low-risk offenders report to their probation officers on a quarterly basis on the phone, and medium-risk cases were given to officers with a caseload of around 100. Thanks to the RNA system, Napa county is handing down lower jail sentences, utilizing more incarceration alternatives like electronic monitoring, and using treatment programs in probation case plans.
In Napa, probation officers also incentivize probation, reinforcing positive actions like going to a job interview, or being to the probation appointment on time with rewards, which include items from "a little basket of goodies." Since Napa started using RNA information during sentencing, the probation department experienced a decrease in recidivism rates, but it's still unclear whether the change can be attributed to using the RNA info.
Yamhill County, OR focuses specifically on offenders who would be sent to prison under Oregon's sentencing guidelines or who are repeat property or drug offenders, but can be safely and successfully supervised in the community.
Travis County, TX has seen a 77% reduction in recidivism rates for low-risk offenders and a 50% reduction in recidivism rates for medium-risk offenders. The county estimates it saved $21.3 million between 2007-2011 by using RNA information during sentencing.
(The report is a companion to this 2011 report.)
---
FULLERTON TO PAY $4.9M TO FATHER OF HOMELESS MAN BEATEN TO DEATH BY OFFICERS
On Monday, the city of Fullerton agreed to pay $4.9 million to the father of Kelly Thomas, the homeless schizophrenic man who died after being beaten and shocked multiple times by Fullerton police officers in 2011.
In a security video of police confronting Kelly Thomas, who was suspected of stealing personal items, Thomas can be heard screaming for his father.
Three former Fullerton police officers involved in the fatal beating, Manuel Ramos, Jay Cicinelli and Joseph Wolfe, were fired from the Fullerton Police Department. Ramos and Cicinelli were found not guilty and the charges against Wolfe were dropped.
The settlement is not an admission of legal liability, said Diana Fox, the attorney representing Fullerton.
The OC Register's Lou Ponsi, Theresa Walker, and Sean Emery have the story. Here's a clip:
Dana Fox, an attorney for the city of Fullerton, said the $4.9 million settlement is not an admission of legal liability by the city or police.

But Thomas' father, Ron Thomas, disagreed.

"They know they were guilty of murder," he said during a news conference that included blown-up photos of his son as a child playing with his family and holding up a fish he caught, and the now-familiar photo of an adult Kelly Thomas in a cowboy hat.

"By offering that amount, they feel they are getting off lucky."

Civil rights lawyers and advocates for the mentally ill said the amount sends a strong message to all police and the public that the lives of the homeless have value.

"You can't look at these folks on the streets and deal with them in any less a human manner than you would with a regular working Joe," said Eric Traut, former president of the Orange County Trial Lawyers Association.

Erwin Chemerinsky, a constitutional scholar and dean of the UC Irvine School of Law, said the amount "sends a message that something really wrong was done here."

"If the amount was $10,000, that's a very different message than $4.9 million. Obviously, the city would not have settled for $4.9 million unless they felt there was a substantial risk that they would lose much more before a jury."

The wrongful death lawsuit named the city, former Fullerton police Officers Manuel Ramos, Jay Cicinelli and Joseph Wolfe, who were all fired from the department. Others included in the suit: Fullerton Officers Kevin Craig and James Blatney, who remain with the department; ex-Chief Michael Sellers; and his predecessor, Patrick McKinley, who sat on the City Council at the time of the incident and was later recalled.

In a criminal trial that ended early last year, Ramos and Cicinelli were found not guilty and charges were dropped against Wolfe.

"These officers are trying to get their jobs back," said Garo Mardirossian, an attorney for Ron Thomas.

"We wanted to make sure they can't."

Kelly Thomas, who was known as a transient in Fullerton and other North County communities, died five days after police tried to take him into custody at the Fullerton Transportation Center for possibly stealing small personal items.

A city security video that surfaced after the incident showed several officers threatening Thomas. Though the video isn't clear on all that transpired, Thomas was unconscious at the end of the encounter and his injuries included a compressed trachea and broken bones in his face.
---
RACHEL KUSHNER DEPICTS CALIFORNIA CRIMINAL JUSTICE SYSTEM IN SHORT FICTION FOR THE NEW YORKER
In Rachel Kushner's "Fifty-Seven," a short story in this week's issue of The New Yorker, a homeless man who is released from an LA County jail with five dollars and nowhere to go quickly finds himself locked back up, this time for killing a woman during a robbery. The story follows the man through the court system, and back into prison, where he stabs a guard and gets himself thrown in solitary confinement indefinitely.
In conversation with The New Yorker's Deborah Treisman, Kushner says that "Fifty-Seven" was inspired by her many interviews with men and women in Los Angeles jails and the rest of California's justice system, whose childhoods involved "extreme situations of poverty and abuse." Here's a clip:
The story emerged from what has preoccupied me both as a person and as a writer for the past few years, which is the world of Los Angeles jails and criminal courts and California prisons, and who moves through these structures (needless to say, very poor people and people of color, disproportionately). The character in the story is released with no place to go (as are probably half of the people let out of the county-jail system downtown every day and night). He then commits a crime that puts him in prison for life. I have spent a lot of time listening to people who are serving life sentences and getting to know them and the circumstances of their lives.

I have never met anyone serving a long prison sentence who had anything close to what I could call a childhood; instead, the upbringings always—always—involve extreme situations of poverty and abuse. The second half of the story, when the character is in prison, was influenced by what I've observed on prison yards, especially the Level Four maximum-security facilities, like Salinas Valley, which is the prison my character initially goes to. C Yard there is an intense place, a very "active" yard. These yards have specific energies. You can feel it when something is about to take place. And meanwhile these guards, all puffed up in their stab-proof vests (they supposedly get paid extra to wear them), are yelling at you to stay close to the wall, not to talk to groups of people, and so on, as if you were on, say, a safari. But these are people, not lions, and in a way the people I feared most were the guards themselves.
---
LAUSD SCHOOLS WITH BIGGEST NEED FOR ARTS EDUCATION GET BIGGER PORTION OF $1 MILLION IN STATE FUNDS
On Monday, the Los Angeles Unified School District announced a $1 million in funding for arts education—especially for schools lacking arts education—from the state.
KPCC's Priska Neely has more on the new (and much-needed) funding. Here's a clip:
Money went out based on student enrollment and the results of the district's new Arts Equity Index, which was released this spring. That survey was used to figure out which schools were providing arts education and which weren't — to help the district determine the greatest need.

"We are bringing more equity and access to the funding and support of schools," said Rory Pullens, head of the district's arts education branch, in an interview…

Principals can decide how to spend the money. One school that ranked low on the index, Madison Middle School, received nearly $5,000. "Our school is in desperate need of supplies, so this will go into supplies for art enrichment programs," said principal Estelle Baptiste in a statement.

Another school is starting a new music program from scratch.