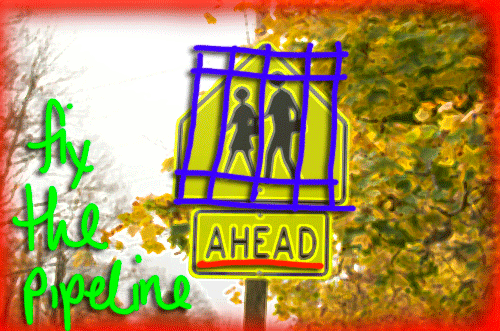 SEN. DURBIN TAKES ZERO-TOLERANCE SCHOOL DISCIPLINE ISSUES TO THE NATIONAL STAGE
Senator Dick Durbin will be holding a hearing on ending the "school-to-prison pipeline" next Wednesday. We're heartened that this issue is being taken seriously on a national level and hope it leads to effective policy change.
Here's a clip from the announcement from Sen. Durbin's office:
The first-ever Congressional hearing on the matter will investigate the troubling increase in the number of young people sent to the juvenile delinquency system as a result of relatively minor school discipline issues. Since the 1990s, many students nationwide have been pushed out of the classroom and into the courts for relatively minor, non-violent offenses. Once young people enter the criminal justice system, they are more likely to fail in school and commit new crimes, creating increased public safety risks.

This "school-to-prison pipeline" also wastes scarce government resources on ineffective policies and has led to striking racial disparities. Over 70 percent of students in school-related referrals to law enforcement are African-American or Latino. The hearing will explore the problems with the pipeline as well as successful reforms and new initiatives to help end it.
---
PTSD SURPRISINGLY RAMPANT AMONG CORRECTIONAL GUARDS
Thirty-one percent of guards in correctional facilities suffer from PTSD, a number higher than any other law enforcement personnel, according to a fascinating new report from Desert Waters Correctional Outreach.
Salon's Natasha Lennard has the story. Here are some clips:
The most recent National Comorbidity Study asserted that the prevalence of PTSD in the general population in 3.5 percent — nearly 10 times less prevalent than in prison security guards. 14.3 percent of New York firefighters were found to suffer from PTSD — a prevalence rate nearly half that of correctional officers. A National Institutes of Health study from 2009 put the prevalence rate of PTSD in Iraq war veterans (20 percent) below that of prison security officers.

[SNIP]

"Corrections environments represent uniquely unsafe workplaces due to repeated exposure to trauma, compared to most occupations. While not widely recognized, corrections professionals are exposed to the same types of VID-related events as are emergency responders and war-time military personnel, and they are potentially exposed to even more life-threatening experiences than law enforcement personnel over time," the study noted.
---
CA'S BAN ON GAY CONVERSION THERAPY FOR MINORS GETS TANGLED IN CONTRADICTORY FEDERAL RULINGS
A federal judge upheld California's ban on gay conversion therapy for minors Tuesday, in a case brought by former patients and their parents against the new legislation. This ruling came just a day after a different federal judge declared the ban a violation of the therapists' First Amendment rights. The conflicting rulings likely mean that the the new law will be tangled up in the courts over the coming months.
NY Times' Erik Eckholm has the story. Here's a clip:
Because Monday's ruling by Judge William B. Shubb, of Federal District Court in Sacramento, was applicable only to three plaintiffs in the suit before him — two practicing therapists and a former patient — it appeared the state's ban would take effect on Jan. 1 as planned.

But the contradictory rulings, and the prospect of appeals from both sides of the issue, suggested that the law, the first of its kind, could be embroiled in the courts in the months ahead.

The ban had been hailed by gay rights advocates and mainstream mental health groups that call therapies that try to alter the sexual orientation of youths potentially damaging.

Judge Shubb's ruling sharply challenged the law, and left little doubt that in his court, as he put it, "the plaintiffs are likely to succeed" with their argument that the law violates free speech.

But on Tuesday, Judge Kimberly J. Mueller, in another federal court in Sacramento, held that the plaintiffs in her case — two former patients and their parents, who also challenged the law — were unlikely to prevail and refused to prevent the law from taking effect. While the law's supporters appeared to have the upper hand, advocates on both sides said they planned to keep fighting in court.

California's attorney general, Kamala D. Harris, said, "My office will continue to protect California minors by vigorously defending this law."
---
CA ATTNY. GEN. HARRIS SAYS LAW ENFORCEMENT DOESN'T HAVE TO KEEP IMMIGRANTS LOCKED UP FOR ICE
CA Attorney General Kamala Harris announced Tuesday that local law enforcement agencies are not required to comply with ICE's requests for law enforcement to hold immigrants for deportation under Secure Communities.
LA Times' Lee Romney and Cindy Chang have the story. Here's a clip:
It was Harris' first public assessment of Secure Communities, under which all arrestees' fingerprints are sent to federal immigration officials, who then may ask police departments to hold suspected illegal immigrants so deportation proceedings can begin.

While the intent may have been to improve public safety, Harris said that a review of data from March through June of this year showed that 28% of those targeted for deportation in California as a result were not criminals. Those numbers, she noted, changed little since Immigration and Customs Enforcement pledged a year earlier that the program would be reformed to better target the most serious criminals.

"Secure Communities has not held up to what it aspired to be," Harris said. The law enforcement bulletin she issued Tuesday stated that "immigration detainer requests are not mandatory, and each agency may make its own decision" about whether to honor them.

Some elected officials and local law enforcement agencies have complained that — in addition to pulling in those arrested for minor offenses — Secure Communities had made undocumented immigrants fearful of cooperating with police, even when they themselves were the victims.