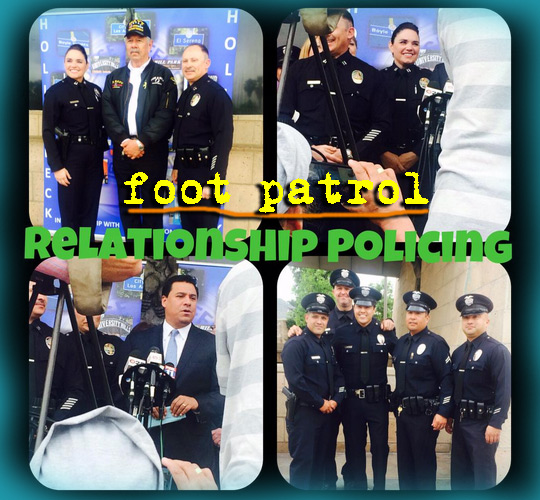 LAPD ANNOUNCES A COMMUNITY POLICING PILOT PROGRAM THAT WILL ADD 16 NEW FOOT PATROL COPS TO EASTSIDE
On Monday, the Los Angeles Police Department announced a pilot program that will increase the number of foot patrol officers in its Hollenbeck Division.
The "Hollenbeck Community Partners Program" will have sixteen beat cops walking corridors in areas like Boyle Heights, Lincoln Heights and El Sereno, as part of the LAPD's increased community policing and crime prevention efforts. Eight new pairs of beat cops may not sound like a lot, but the move is a significant one for a department that has traditionally relied on officers in cruisers to patrol its territory, which stretches 468 square miles and has a population of four million.
KPCC's Frank Stoltze has more on the program and what the department and members of the community hope it will achieve. Here are some clips:
Relationship-based policing requires staying in a neighborhood. It is an increasingly popular term among criminal justice experts and civil rights activists who say police have become too disconnected from the communities they police. The Los Angeles-based Advancement Project is one proponent.

The LAPD, which has fewer officers per capita than many big city police departments, has used foot patrols on a limited basis on Skid Row, in Venice and elsewhere. The sprawl of Los Angeles makes it hard to patrol effectively and efficiently by foot.

The increase comes less than a month after the LAPD announced it's quadrupling the size of its elite Metropolitan Division to 200. In contrast to the foot patrols, Metro cops are assigned to swoop into high crime areas with an eye toward making a lot of stops and arrests. Some worry that effort could hurt community policing efforts.

[SNIP]

Foot patrol officers typically make fewer arrests.

"I like to think of it as more preventing crimes," said Officer Joe Romo, who may be the most veteran foot officer in the city at 16 years. "It's a more positive way to police."

He said he arrests about ten people a year. Officers in patrol cars responding to radio calls arrest five to ten people a month, he said.

"I'm not expecting these guys to be hauling people in left and right," said Baeza, the area captain. "I am expecting them to build relationships and partnerships with the community."
The LA Times' Kate Mather also reported on the LAPD's program. Here's a clip:
If the effort goes well, officials said, they will look for ways to expand "foot beats" across the city.

It's a back-to-basics approach that is common in other cities that are more compact, like Chicago, or that have larger departments, like New York, but it never became a staple of policing in Los Angeles, where officers rely on patrol cars to cover the city's roughly 470 square miles.

"We have foot beats that come and go and foot beats that work some areas, but none that will be like in Hollenbeck," said Assistant Chief Jorge Villegas. "One hundred percent of the time, that's all they'll do."

The move marks a step away from the iconic image of LAPD officers cruising down palm-lined streets in black-and-white cars.
Newsweek's Victoria Bekiempis has an interesting story exploring the "catch-22" of placing more cops—even cops intending to rebuild police-community relations—on the streets in communities that are feeling over-policed in the first place. Here's a clip, but go read the rest:
The President's Task Force on 21st Century Policing, meanwhile, is charged with determining the best ways police can reduce crime and build trust with communities. In early March, the task force published an hundred-plus page interim report that emphasizes community policing as a way to achieve these goals—in fact, "Community Policing & Crime Reduction" is one of the six listed "pillars" in the report. Some of the recommendations in this section seem almost tailor-made for foot patrol proponents. Police must communicate with people at times other than emergency calls or crime investigations, the report recommends. Law enforcement agencies must allow officers time "to participate in problem solving and community engagement activities" during patrols, the report says.

Foot patrol sounds like an even better idea when you look at the data. Research has indicated it both improves police-community relations and fights crime. Though these positive outcomes make foot patrol quite an appealing policing tactic today, they happened before a year that saw the police-involved deaths of Eric Garner, Michael Brown, Akai Gurley, Tamir Rice and Walter Scott—and, most recently, Freddie Gray.

While man-on-the-street interviews wouldn't provide quantitative data, I had been looking into foot patrol for a while, including earlier reporting on St. Petersburg's initiative, and I had traveled to Baltimore hours before the city burned to try to find out whether residents thought the requirement would work, both in general and in light of Gray's death. In interviews, the general sentiment was that foot patrol, like other community-policing techniques, was either a pipe dream or a paradox: Foot patrol could build much-needed trust in communities of color, but not until trust had first been restored. Residents conceded, however, that restoring trust probably wouldn't happen if successful community-police engagement programs, such as foot patrol, weren't already in place.

Sure, this doesn't mean that foot patrol wouldn't work, but it suggests that officials' enthusiasm for foot patrol might be too glib—and that a lot of people supposedly poised to benefit from this kind of community policing absolutely do not want more cops on the streets right now.

On a stretch of sidewalk empty save for a few shuffling seniors, neighborhood resident Thomas Thornton says Baltimore's foot patrol program isn't inherently ill-conceived but is an awful idea given recent events. Before Gray brought police-community relations to a breaking point in Baltimore, resentment had long been building, explains Thornton, who works as a janitor. He says police routinely stop him and others in the neighborhood and ask, "Where are you going?" and "What are you doing?" Residents "see the uniform as a threat," and that perception has intensified, he says.

"At this time, I don't think it's a good time to walk around—at all," says Thornton, 45, speaking of foot patrol. "Maybe eventually, but at the present time, I wouldn't recommend it. Not right now. Because it's so tense."

Marguerite Johnston, also a neighborhood resident, doesn't think all police are bad based on the behavior of a few; she was raised not to judge people like that, she says. Johnston, 61, says the bad ones have nothing better to do than pick on people. Police officers should get to know their community, she says, recalling a time when a uniformed cop used to walk her neighborhood and even knew her by name. Maybe this kind of familiarity would build relationships, she says, and would make things better. Foot patrol is a good idea, she agrees, just not any time soon, given the present tensions.

"Maybe down the road? Probably sometime at the end of the year?" Johnston says. "It's a catch-22. The police should probably try harder to gain the community's trust before doing these projects."

Then there was outright pessimism—a lot of it, actually.

"It's only going to make it worse," says Kyree Brown, who was sitting on a stoop with friends near the police station, talking about foot patrol. "It's them against us."

Could people trust police, then, if the programs that are supposed to engender trust don't work?
---
THE COST OF PROTECTING CA'S FOSTER KIDS FROM DOCTORS PRESCRIBING THEM DANGEROUS PSYCHOTROPIC MEDS
A package of four California reform bills to address over-drugging in California foster care system could cost $8 million—and possibly over $22 million—per year, according to court estimates. The bills have bipartisan support, and have a good chance of making it through both legislative houses and onto Governor Jerry Brown's desk.
Karen de Sá, who has been doing some powerful investigative reporting on the excessive use of psychotropic medications to treat California kids in the foster care system, has more on the issue. Here's a clip:
"When you consider the long-term harm and consequences to the kids being doped up like this, it's really pennies — I personally believe $8 million is budget dust," said Mike Herald, a legislative advocate with the Western Center on Law and Poverty. "But in my experience, just about anything is subject to his rejection if it's going to cost millions of dollars."

In an early sign of possible support, however, Brown's $115.3 billion budget plan released Thursday included two surprises: $149,000 to improve data on prescribing to foster children, and an increase of $1.5 million for social worker training that includes psychotropic medication issues.

"This is an exciting development," said Kathryn Dresslar, who was chief of staff to former Senate President Pro Tem Darrell Steinberg and is with the nonprofit advocacy group Children's Partnership. "The fact that there are dollars in the budget right now that specifically mention training for psychotropic drugs, and the kind of tracking that we need, is good news — I think that means that the administration intends to address this problem in some way to a greater extent than they have in the past."

Under four bills inspired by this newspaper's ongoing investigation "Drugging Our Kids," a mix of federal and state funds would be used to hire 38 new public health nurses; provide second medical opinions, and train social workers and caregivers to watch out for side effects and to advocate for alternatives to mind-numbing meds. Juvenile court judges could not approve prescriptions for foster children without lab tests and ongoing monitoring and unless kids 14 and older consented in writing. Social workers would be alerted about prescriptions for young children and those on multiple meds; and there would be new oversight of residential group homes, where the medications are most frequently prescribed.

Policy analysts say the four reform bills authored by Sens. Jim Beall, D-San Jose; Holly Mitchell, D-Los Angeles, and Bill Monning, D-Carmel, will save the state money, with fewer costly and unnecessary drugs billed to the public health system. California taxpayers spend more on psychotropics than on drugs of any other kind for foster children, this newspaper found, more than $226 million over a decade.
---
CONTRA COSTA KICKS SOLITARY CONFINEMENT FOR KIDS TO THE CURB
As part of a groundbreaking settlement, Contra Costa County Probation and has agreed to end solitary confinement in the county's Juvenile Hall. Kids will no longer endure prolonged isolation (for more than four hours) as punishment or for convenience. After the four-hour mark, kids must either be removed from solitary confinement, be placed in an individualized program, or be sent to a mental health facility.
Contra Costa's Dept. of Education has also agreed to make sure that locked up kids with disabilities are getting their educational needs met.
Public Counsel has more on the settlement and its implications. Here's a clip:
"At a time when the nation is re-evaluating the use of solitary confinement, this settlement is of extraordinary public importance," said Mary-Lee Smith, Managing Attorney at Disability Rights Advocates. "In Contra Costa County, the draconian practice of solitary confinement will come to an end and the focus will be, as it should, on education and rehabilitation. Our hope is that other facilities across the nation will follow suit."

Under the settlement agreement with the Contra Costa County Probation Department, the County will no longer use solitary confinement (also known as room confinement) for punitive reasons, discipline, or for expediency. In line with national standards, the County may segregate a youth in his or her room for no more than four hours and only if the youth's behavior threatens immediate harm to themselves or others. After four hours, the Department must remove the youth from confinement, develop specialized individualized programming for the youth, or assess whether the youth should be transported to a mental health facility. The settlement also calls for two joint experts to review the Department's practices, implement changes to improve conditions for young people with disabilities, and monitor compliance for two years.

"This landmark settlement puts an end to the egregious practice of subjecting children with disabilities to inhumane maximum security-like prison conditions and unconscionable deprivations of education," said Public Counsel Education Rights Director Laura Faer. "The promise of this settlement for youth in the juvenile hall is real rehabilitation, support instead of isolation and segregation, and high quality special education services and options. If the Defendants bury the hatchet and focus on implementation, Contra Costa can become a model for the state and the Nation."

Under the settlement agreement with the Contra Costa County Office of Education, the County Office of Education will retain an outside expert to evaluate its compliance with federal and state special education laws and to ensure that the students with disabilities in Juvenile Hall receive the special education that they need. The expert will make recommended revisions to policies, procedures and practices as they relate to Child Find, development and implementation of individualized education plans, and discipline and monitor compliance for two years.
---
LA COUNTY SUPES APPROVE $$$ FOR TRAINING STAFF AND COMMUNITY ON HOW TO RECOGNIZE KIDS WHO ARE VICTIMS OF SEX TRAFFICKING
The LA County Board of Supervisors voted Tuesday to allocate $250,000 to train county staff and community partners to identify young victims of sex trafficking. The LA County Probation Dept. has already trained 7,000 individuals, but more must be done to protect the county's children from exploitation, according to the motion by Supe. Don Knabe.
Probation will use the money to develop further training in collaboration with other county departments and community groups, and to train thousands more people to recognize the warning signs earlier.